Glue Gelato Auto feminized seeds
Netherlands
Glue Gelato Auto is equally as impressive in taste and effect as her name makes her out be. This decadent cannabis strain comes about as a cross between two fantastic parents which need no introduction – Gorilla Glue and Gelato – to yield a hybrid which delivers up to 600 g/m² of dense, resinous flowers within 70 days from seed.
Read more
Barney's Farm
Feminized
Autoflowering
Outdoor
Indoor
40% Sativa / 60% Indica
THC 20 - 26 %
CBD 0.1 %
All characteristics
Glue Gelato Auto: High-performance Autoflowering Genetics
Glue Gelato Auto is a feminized, autoflowering cannabis strain created by Barneys Farm as a cross between two of the most popular cannabis strains in recent years – Gorilla Glue and Gelato. By crossbreeding with a development autoflower, BF have created a fantastic hybrid which has robust genetics and a very short grow cycle.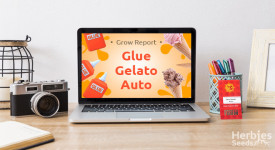 Glue Gelato Auto Grow Report
A Fantastic Hybrid With Excellent Stress Resistance
Strains with balanced genetic lineages, such as Glue Gelato Auto, are the best for indoor growing as the best characteristic of each parent can be finetuned into the new hybrid through selective breeding. Obtaining high-performance genetics is the hardest part in growing cannabis and Barneys Farm have made it significantly easier with Glue Gelato Auto – a strain which is guaranteed to impress you. With indoor yields in the range of 550 – 650 g/m2 and outdoor plants bringing in as much as 400 g per plant, give Glue Gelato Auto a try and you won't be disappointed! Here is some further information to help you grow this strain:
Medium height – Glue Gelato Auto reaches a final height of 0.9 – 1.2 m indoors and up to 1.5 m outdoors.
Max EC of water – 1.0 in veg, up to 1.4 in flower.
Water pH; 5.8 – 6.0
Recommended lighting: Veg: 300 W CMH, Flower: 750 W LED.
Recommended nutrients: CANNA COCO range.
Sweet, Earthy Taste
Both Gorilla Glue and Gelato have incredible terpene profiles however this strain takes it to the next level as her chocolate, spicy taste with hints of fruit is truly one of a kind! If you enjoy an invigorating high which fades into a long-lasting, deep-body relaxation, look no further than Glue Gelato Auto!
Characteristics
Brand

Barney's Farm

Sex

Feminized

Flowering type

Autoflowering

Suitable for

Outdoor

Suitable for

Indoor

Effect

Unique sense of cheerfulness

Genetics

Gorilla Glue x Gelato x BF Super Auto #1

Height

90 - 120 cm indoors
90 - 120 cm outdoors

Yield

500 - 600 g/m² indoors
500 - 600 g/plant outdoors

From seed to harvest

65 - 70 days

Genotype

40% Sativa / 60% Indica

THC

20 - 26 %

CBD

0.1 %
How To Post Your Review?
Thank you for sharing your opinion about our website!
Your feedback will be posted shortly after our moderator has reviewed it.
Please note that we do not publish reviews if they:
Written in all CAPS
Contain aggressive or offensive language
Have a promotional content (contact details or links to other websites)