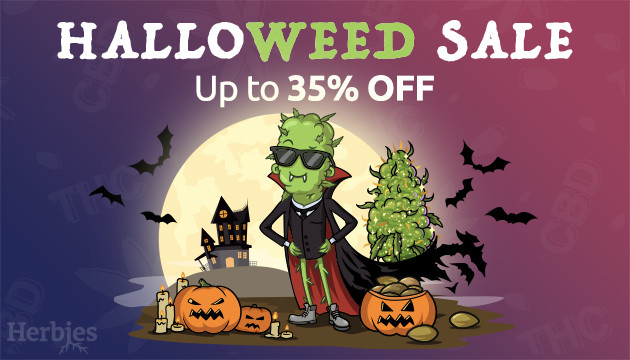 Halloween is creeping up on us, and we want to amp up the spooky fun and treat you to our fantastic strains to make the celebration unforgettable!
But hey, what's a treat without a sweet discount? That's why we're launching an insanely good sale that will last from 07:00 on October 30th (PDT) until 07:00 on November 2nd (PDT). During this time, you can save up to 35% on our hand-picked cannabis seeds.
And hold onto your witch's hat, because there's more! We're throwing in an extra free Orange Buddy Auto seed with every single order. This groovy pal with a Sativa kick will have you feeling stoked and happy, leaving you grinning from ear to ear without any dreads. Just enter our wicked promo code TRICKORSEED at checkout and watch the magic happen.
TRICKORSEED
Buy any seeds you like during our Halloweed Sale and use the promo code TRICKORSEED to get an Orange Buddy Auto seed for free. If you can't apply the promo code for some reason, please contact us via our online chat, and we'll add it to your order.
Now, get ready to drool over some of the mind-blowing strains we have up for grabs!
Critical XXL Auto (Herbies Seeds)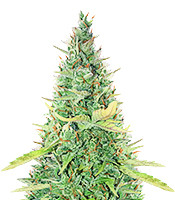 Critical XXL Auto (Herbies Seeds)
Autoflowering

Laid-back vibes

400 - 500 g/m² indoors
800 - 900 g/plant outdoors

17 - 23 %
View strain
Chill, not thrill! The Indica queen of all plants, this strain is all about those good vibes that give you a pleasant cerebral high before shifting you into full-body vacation mode. It's perfect for those moments when you want to just kick back and relax, whether it's a cozy evening or a lazy weekend. If you like to take it easy, this nighttime treat is the way to go.
Northern Lights Auto (Herbies Seeds)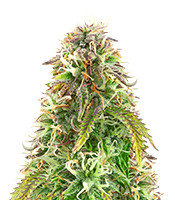 Northern Lights Auto (Herbies Seeds)
Autoflowering

All-round stone

550 - 650 g/m² indoors
200 - 300 g/plant outdoors

16 - 23 %
View strain
Why not add some lights to this creepy night? The autoflowering version of one of the most popular strains out there, Northern Lights Auto is perfect for those nights when you're battling insomnia and need a little something special to help you unwind. Get ready for a full-on body chill and a trippy head high that will send all your stress packing.
Golosa (Delicious Seeds)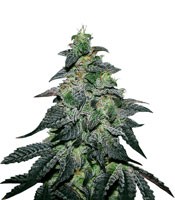 Golosa (Delicious Seeds)
Photoperiod

550 g/m² indoors
Up to 1500 g/plant outdoors

Sky-high THC content

26 %
View strain
Treat, not trick! This strain is not only known for its strong high, but also its mouthwateringly fruity flavor. Get ready for a party in your mouth with hints of tangy grapefruit and tropical green mango, all mixed together with a dash of coffee and mint. If you want a strain that'll make you feel like you're floating on cloud nine, Golosa is the one for you.
Anubis (Pyramid Seeds)
Anubis (Pyramid Seeds)
Photoperiod

Eliminates all stresses

17 %

500 g/m² indoors
500 - 1500 g/plant outdoors
View strain
Welcome the stress-slaying god! This earthy-flavored strain is not only a total mood booster but also packs a punch when it comes to medical benefits. Say goodbye to the blues because Anubis is here to tackle stress, depression, pain, insomnia, and even lack of appetite. And let's not forget about the sweet aromas that will comfort you like a cozy blanket.
This Halloween promo doesn't just end there – you can browse other discounted strains in our special collection.
Enjoy the party and have a frightfully fun time!
Herbies Head Shop expressly refuses to support the use, production, or supply of illegal substances. For more details read our Legal Disclaimer.