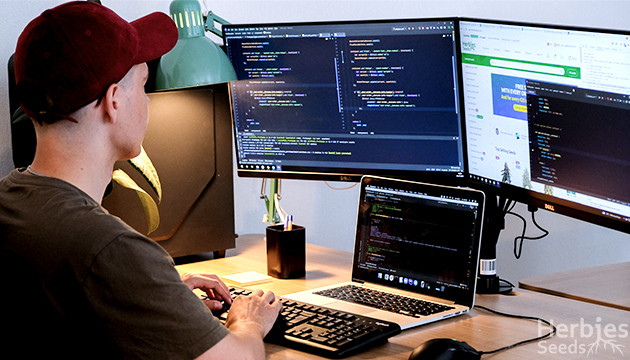 In this series of articles, we wander through Herbies headquarters, room to room, talking to our employees to get to know each of them better as well as the company at large.
Last time, we took a glimpse into the work process of Emilia, our head of sales. Now, it's the turn of Vlad, a frontend developer at Herbies. The fact that you're able to read this text from your PC or mobile device is largely thanks to his work. Let's see what it takes to work at Herbies and how our IT team is planning to improve the site in the future.
Gotta Love What You Do
If you're wondering what let Vlad score his job at Herbies, it's his passion for what he does. This guy eats and breathes programming. Just read his profile card – his hobbies are literally the same as his job! And as he says himself, it's not a recent development of his character. So how could we say no?
After high school, I studied the basics of information security, computer hardware, organizational and legal support for information security, and more. I have also always been fond of studying front-end development. The very first job I got was in IT. In my free time, I continued to study programming and worked on my own small projects, like websites for weather forecasts, cinema times, or a task manager. Some time later, I started to look for better job opportunities and began doing interviews. One of them was for a company called Herbies. I was invited to an interview with a technical development manager. After the interview, I was given a test assignment, which I successfully completed. Just like that, I got a job with Herbies and have been working here since November 2020 as a frontend developer.
Tip of the Iceberg
Joining a new company is never easy. Even though we do everything possible for the transition to be as smooth as possible, learning the complex processes that go into running the Herbies website takes some time and perseverance.
The first days at the company were tough, I won't lie. Lots of new faces and A LOT of information to absorb. Herbies is a very large and technically complex project. Every new developer needs time to become familiar with all the technology that goes into it. Believe me, a typical user of the site sees only the tip of the iceberg!
Every newcomer at Herbies is a canvas that we paint with the knowledge needed to perform well in the position. Well, technically, they paint themselves. Usually, it's lots of reading combined with a good share of practice – just to dip the toes into what's coming next.
"At the beginning of my job, I was given tasks to complete during my internship, like reading Robert Martin's Clean Code and Kyle Simpson's You Don't Know JS book series, as well as choosing one major task to undertake in order to improve the site. I chose to update the webpack module bundler, which I did successfully."
Vlad and His 0 to 100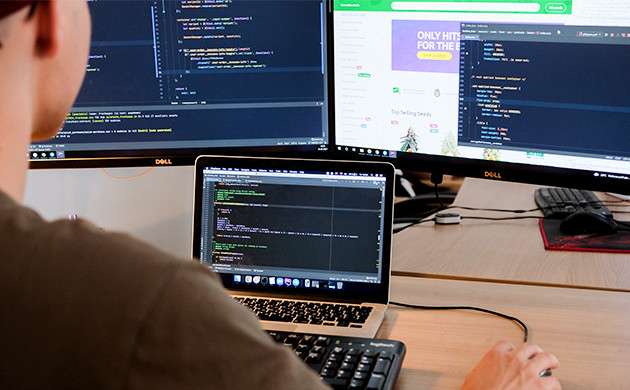 Of course, after the trial period, everything gets real. To put it simply, Vlad's work as a frontend developer is to make sure that when browsing our website, people don't even realize there's someone making it possible. Not all heroes wear capes, right?
"Now my responsibilities include creating the user interface of the store. My main task is to make user interaction with our online store as convenient as possible."
Since Vlad joined the team, the Herbies website has changed a lot, and it only proves that we made the right decision by employing him. Many of the pages on the site have changed in design, and he alongside his teammates has been working to increase the speed of the site's loading and running. Actually, the team has managed to more than double the speed of the site for mobile devices, which we're all exceptionally proud of! If you're browsing from your phone right now, the experience feels smooth, doesn't it? Well, say thanks to Vlad and his teammates!
We also completely changed the design of product pages, the checkout page, and partially the main page. Honestly, there's been so many changes in a year and the updates happen gradually, so it's hard to even remember them all.
We're not just going to stop there, of course, because for Herbies, there's no limit to perfection, and we don't care that it may sound really cheesy! We asked Vlad to share some of the IT team's plans for the future of the Herbies website, and here's what he had to say:
"Now a lot of work is going on to increase the speed of work, as well as a very extensive redesign of many pages of the site. I won't give away too much, but ahead of us are big updates of collection and seedbank pages. At the same time, as always, we'll be fixing bugs and improving the stability of existing components."
Work Hard, Play Hard
While work must stay in the focus to keep Herbies running for all of our clients worldwide, we encourage our employees to maintain a healthy work-life balance. Summers must be the best time for this at Herbies – from June to August, we have a reduced working week so that our employees can spend more time with family and friends while the weather is nice, and we ourselves like to throw summer get-togethers for every employee who wants to join.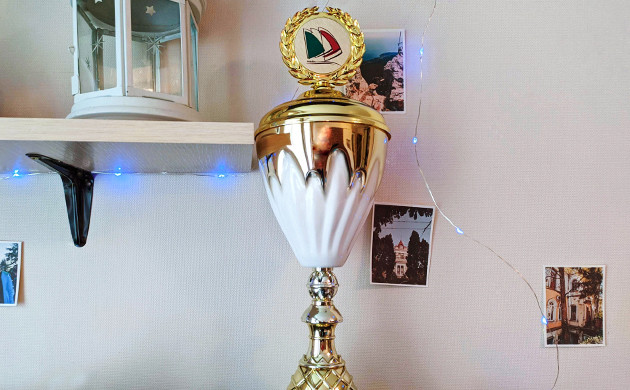 "Every corporate event is unforgettable. My favorite was the one we had this summer. We split into teams of five and had a sailboat race. Our team won first place and as a memento, I took home the victory trophy, which now adorns my workstation."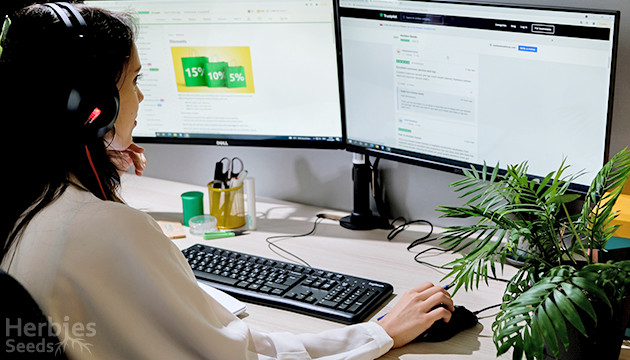 Meet Emilia, the Head of Sales at Herbies
READ NOW
Nice Meeting You, Vlad!
This was our hero working behind the scenes for all of you to truly enjoy your experience shopping at Herbies. Hopefully, this piece helped you understand our company a little better! If you have any suggestions to help improve the performance or design of our website, leave them in the comments below – we'll make sure they get to Vlad and his teammates in our IT department!
Herbies Head Shop expressly refuses to support the use, production, or supply of illegal substances. For more details read our Legal Disclaimer.