Cannabis Seeds in Hamilton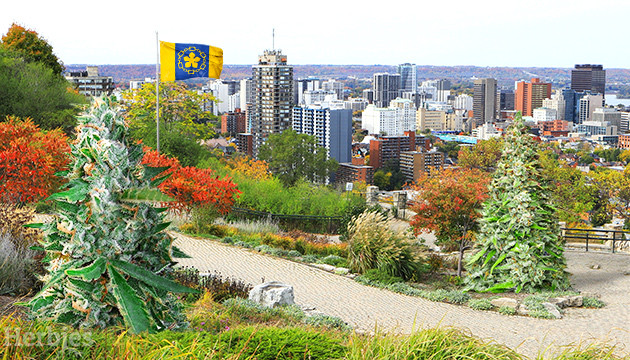 Hamilton shares the same progressive attitude and cannabis laws as the rest of Ontario. Thanks to the legalization of recreational marijuana in Canada, the green scene has been booming in Hamilton, so luckily for you, there are ways to get hammered and stoned in Hammertown!
Read on to find out where to find cannabis seeds for sale in Hamilton, the legalities of buying and growing cannabis, and the best strains to grow in this city.
Is It Legal to Buy Cannabis Seeds in Hamilton?
Yes, it's legal to purchase pot seeds in Hamilton for adults who are 19 years or older, and the number of cannabis seeds that adults can buy is unlimited. However, you can only legally buy marijuana seeds online in Hamilton from the government-run Ontario Cannabis Store or in person from authorized retailers. There are 40 licensed stores in Hamilton (you can look them up here), although not all of them sell seeds.
Can You Grow Cannabis in Hamilton?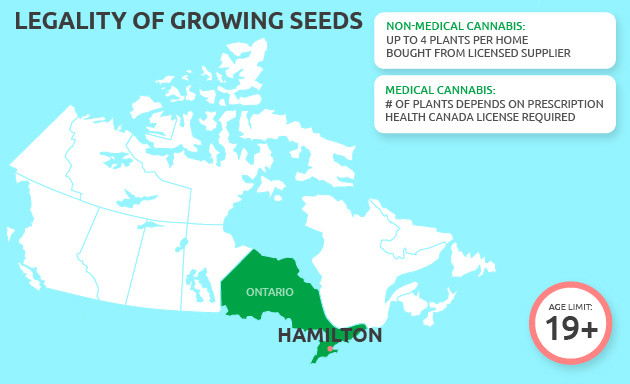 Hamilton residents aged 19 or older are allowed to grow cannabis for both recreational and medicinal purposes.
When it comes to recreational cannabis, you can legally grow up to four plants per household (not per person), as long as this is strictly for personal use and in line with your lease agreement or condo rules. Going beyond the four-plant limit can result in penalties, ranging from tickets for small amounts to up to 14 years in jail for large amounts.
As for medical marijuana, adults can acquire a license from Health Canada to cultivate it personally or designate someone to do so on their behalf. The number of plants allowed for cultivation depends on your individual needs, such as authorized daily grams and the type of garden (indoor, outdoor, or both). You can figure out how much you can grow using this calculator.
What to Consider When Buying Cannabis Seeds in Hamilton
When buying marijuana seeds in Hamilton, especially for outdoor growing, there are several things to consider. First, determine the type of weed you wish to grow, such as Indica, Sativa, or a hybrid variety – this will determine its effects and growing traits.
Next, consider the specific qualities you're looking for, such as THC levels, flavor profile, or ease of growth. Lastly, select a strain that's well-suited to the local climate and growing conditions in Hamilton.
Climate in Hamilton
When growing outdoors, you don't have as much control over the environment as you do indoors or in a greenhouse, so it's best to choose weed that's suited for the local climate. Don't let your plants freeze, as this will slow down the flowering process and can eventually kill them. Most cannabis plants will struggle once daytime temperatures drop below 12°C.
Hamilton is home to a temperate climate with warm summers and freezing winters. The growing window isn't that long, so you might want to go with strains that can mature before the onset of cold weather. Such plants can avoid the potential negative effects of frost and morning dew, such as molds or rot.
Hamilton's climate is suitable for early-harvest hybrids and autoflowers, which take less time to mature compared to Sativas. These strains typically finish flowering in September – just in time before cold weather sets in.
Where to Buy Cannabis Seeds in Hamilton
When looking for marijuana seeds for sale in Hamilton, you have several options, including the Ontario Cannabis Store (online) and local licensed stores. Shopping for seeds online offers convenience and a wider selection, but the latter isn't the strongest suit of licensed suppliers in Canada. For example, the OCS has around just 25 strains for sale, and for many brick-and-mortar shops, it's even less than that.
If you're looking for a wide variety of genetics and prices that will truly excite you, our advice is therefore to check out the big online seed stores that ship internationally. See where we're going? That's right – Herbies is your go-to place to buy marijuana seeds online in Hamilton!
You can choose from over 1,500 strains to suit your desired high, growing conditions, and budget. Get ready to unlock a whole new world of cannabis genetics! It's all safe – we deliver our products to Canada in discreet packaging to minimize the risks at customs. What's more, we provide a germination guarantee to make sure your seeds sprout successfully, along with free seeds for more fun.
Best Cannabis Strains to Grow in Hamilton
To give you a hand picking the ideal strains for your Hamilton garden, we've curated a list of the best options. These strains are well-suited to the local climate and conditions and are feminized for a hassle-free grow.
Wedding Cake (Barney's Farm)
Wedding Cake is an excellent choice for Hamilton growers – it's resilient, fast-flowering, high-yielding, and hard-hitting. Although the Indica-to-Sativa ratio is 80/20, the high tilts more to the Sativa side of things, providing uplifting, euphoric effects in the mind and body.
With a flowering period of 55-60 days, Wedding Cake churns out generous yields reaching 650 g/m² indoors and 2000 g/plant outdoors. The plants tend to get pretty tall outdoors (up to 180-200 cm), so make sure to keep your grow op stealthy if needed.
Caramelo Early Version (Delicious Seeds)
Caramelo Early Version is a real treat for Sativa lovers, with its intense euphoria and uplifting head high secured by over 24% THC. Another highlight is its sweet, fruity flavor profile with notes of musky lavender and licorice.
As for the flowering time, it's all in the name: Caramelo Early Version won't leave you waiting too long to trim your precious buds. This Sativa-dominant strain takes an impressive 45 days to finish flowering, promising a bountiful harvest by early September. Indoors, you can expect to harvest about 400-450 g/m², while outdoor-grown crops yield up to 500 grams per plant.
Sugar Black Rose (Delicious Seeds)
Meet another early-harvest variety from Delicious Seeds, but now with an Indica kick. Powered by 25% THC, Sugar Black Rose delivers a mild head rush along with a very relaxing body high almost immediately after you light those buds up.
This is an easy-to-grow and forgiving strain that's well-adapted to Hamilton's climate. After around just 45 days of flowering, you can expect your harvest in early September. Sugar Black Rose will reward your care with 450 g/m² indoors and up to 900 g/plant outdoors.
+Speed Auto (Sweet Seeds)
If you're after autoflowers, +Speed Auto is right what you need in Hamilton's climate. Despite its evenly-balanced Indica/Sativa makeup, this strain offers mostly Sativa effects felt as a pleasant, uplifting high that boosts creativity.
This fast and vigorous strain takes around just 49 days to race from seed to harvest. The yields typically reach 350-500 g/m² indoors and 30-150 g/plant outdoors.
Original Afghan Kush Auto (Fast Buds)
For those seeking a classic Indica experience, Original Afghan Kush Auto is a top-notch strain. This autoflower preserves the qualities of the renowned Afghan Kush lineage, including its potent tension-releasing, body-soothing effects and earthy, hash-like flavors.
With a rapid growth cycle of around 56-63 days, this strain adapts well to Hamilton's climate thanks to a lower risk of pest infestations or mold formation. The yields reach 400-500 g/m² indoors and 50-130 g/plant outdoors.
Explore the World of Cannabis Genetics From the Comfort of Your Home
If you're just starting out, choosing the right cannabis seeds is especially crucial for a bountiful harvest. You can easily buy weed seeds in Hamilton either from licensed suppliers or from reputable online sources like Herbies. Whichever way you go, make sure you're well-prepared by reading up on our step-by-step growing guide – and have fun!