Cannabis Seeds in Kitchener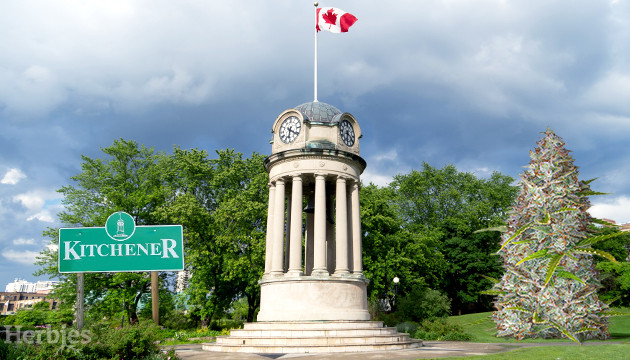 Kitchener's cannabis community has continued to flourish ever since weed was legalized in Canada in 2018. If you want to join in and are looking for top-notch cannabis seeds for sale in Kitchener, you've landed at the right spot. We'll walk you through all the essential info on the local green scene, including where to snag the best seeds and which strains are perfect for your garden.
Is it Legal to Buy Cannabis Seeds in Kitchener?
You can legally purchase and possess cannabis seeds in Kitchener, and in the rest of Ontario, as long as you're 19 years or older. However, the only places that legally sell pot seeds in Kitchener are the government-run Ontario Cannabis Store, which offers only around three dozen strains, and a few approved private stores.
Can You Grow Cannabis in Kitchener?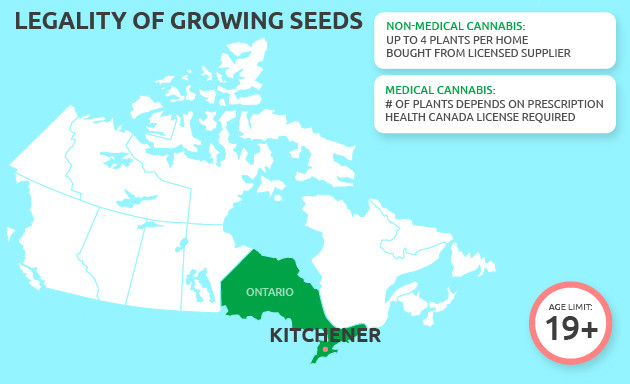 The growing regulations in Ontario are pretty relaxed compared with the likes of Quebec and Manitoba, but there are still some important things to know. First off, the rules on growing differ for those who cultivate cannabis for recreational vs. medical use.
You can legally grow recreational cannabis in Kitchener if:
You're at least 19 years old
You're growing no more than four plants per home (not per person)
It's for your personal use only
The seeds are purchased from the OCS or a licensed retailer
Your landlord or condo doesn't prohibit it
Going beyond these limits may result in penalties ranging from a fine to a maximum of 14 years in prison. Generally, a fine is issued for those caught with only a few plants over the limit, starting at around $200. Jail time is usually reserved for more severe cases, such as growing thousands of plants beyond the limit or selling them illegally.
To many of us weed smokers, this four-plant limit is not enough, and the safest way to get around it is to obtain a license from Health Canada to grow medical marijuana. The number of medical plants you can grow with a license depends on your prescribed daily grams and the type of garden (indoors, outdoors, or both). To figure out how many plants you're allowed to grow, try using this handy calculator.
What to Consider When Buying Weed Seeds in Kitchener
There's more to buying weed seeds in Kitchener than simply choosing the best strain. If you're growing outdoors, where your crops will be at the mercy of nature's whims, you'll also want to consider factors like the climate and your specific growing conditions. Don't worry, we've got you covered!
Climate in Kitchener
Kitchener has a humid continental climate. The summers are warm, and the winters are freezing and windy. The warm season lasts from late May to mid-September, which doesn't provide too wide of a growing window. So, when shopping for cannabis seeds in Kitchener, your safest bet is to go with early-finishing, mold-resistant, and cold-resistant strains, like autoflowers and Indicas/Indica-dominant hybrids.
Where to Buy Marijuana Seeds in Kitchener
There are very few licensed cannabis dispensaries that offer marijuana seeds for sale in Kitchener. The Ontario Cannabis Store offers a standard selection of photoperiod and autoflowering seeds, but the choice there is nothing compared to big online stores. Luckily, there are many seed banks that ship to Canada.
If you're ready to buy marijuana seeds online in Kitchener, you can choose from over 1,800 strains available at Herbies. We offer a germination guarantee, a caring support team, freebies with every order, stealth shipping, and more. Just head over to our catalog, set up your filters, and have your favorite seeds delivered to your doorstep in no time.
Best Cannabis Strains to Grow in Kitchener
Not in the mood for window shopping? No problem. Below, we've selected some varieties that are best suited for growing outdoors in Kitchener. All of these strains are feminized to spare you the hassle of sorting out the pesky male plants. Let's dig in!
Orange Sherbet Auto (Fast Buds)
Orange Sherbet Auto is a delightful 70% Sativa hybrid that boasts a high THC content and potent uplifting effects, offering a surge of energy and creativity. Its dreamy, creamy flavor profile with notes of sour tangerines and refreshing orange juice makes each puff a true sensory treat.
This strain takes a mere 70 days from seed to harvest, and it's quite the generous yielder. Indoors, you can expect to harvest up to 650 g/m², while outdoor-grown plants will reward you with up to 300 g each. Plus, its autoflowering nature and mold resistance make it ideal for Kitchener's climate.
Zkittlez OG Auto (Barney's Farm)
Zkittlez OG Auto is an evenly balanced hybrid that packs 20-23% THC. This strain delivers well-rounded effects that effectively neutralize pain before transporting you to a world of dreams. Its incredibly fruity terpene profile ensures each puff is a delightful burst of flavor.
With a relatively quick grow cycle, Zkittlez OG Auto takes just 70-77 days from seed to harvest. In indoor setups, you can harvest up to 600 g/m², while outdoor growers can reap up to 400 g/plant.
Mimosa Shot (Herbies Seeds)
Meet one of Herbies Seeds' finest inventions – Mimosa Shot. This high-energy strain is a 65% Indica boasting an impressive 30% THC. Despite its Indica genes, Mimosa Shot delivers uplifting, euphoric, and happy effects, making each experience feel like floating on a cloud of blissful citrus zest.
With a shorter-than-average flowering time of just 55-65 days, Mimosa Shot still manages to reward growers with bountiful yields. Indoor-grown plants bring up to 800 g/m², while outdoors, this herb churns out up to a staggering 1600 g/plant.
Sweet Skunk F1 Fast Version (Sweet Seeds)
Sweet Skunk F1 Fast Version is an Indica-leaning hybrid with THC levels testing at 18-23%. This strain delivers powerful, long-lasting effects that provide sweet body relaxation, melting away stress and tension with ease. Its aroma is both penetrating and delightful, featuring a sweet and spicy blend with notes of lemon and citrus.
With a swift flowering time of just 6-7 weeks, Sweet Skunk F1 Fast Version offers generous yields against all odds. Indoors, it brings up to 550 g/m², while outdoor-grown plants yield up to 600 g each.
Girl Scout Cookies (Garden of Green)
Last but not least, Girl Scout Cookies is a well-loved and well-balanced hybrid with a remarkable 28% THC. Known for its relaxing, euphoric effects, Girl Scout Cookies is the right treat for unwinding and setting your creative wheels in motion. Its aroma is a delightful medley of wild cherries, blueberries, baked dough, lemon hash, and even a hint of mint, offering a sensory adventure.
Girl Scout Cookies never fails to deliver in terms of yields – indoors, you can expect to harvest up to 450-550 g/m² of premium bud, and outdoor yields reach 450-750 g/m². This strain's hardiness and mold/cold resistance make it perfect for growing in Kitchener. With just 55-60 days of flowering, you'll be enjoying your harvest in no time.