Cannabis Seeds in Montreal
Welcome to the wonderful world of cannabis in the City of Saints! If you're curious about where to buy cannabis seeds in Montreal and where the law stands on it, you've come to the right place. In this article, we'll dive into the legality of buying and growing pot seeds in Montreal, discuss what to consider when making a purchase, and explore the best strains to grow in the city.
Is it Legal to Buy Cannabis Seeds in Montreal?
Good news, folks! It's completely legal to buy weed seeds in Montreal. The devil, as always, is in the details. Quebec is one of the few provinces in Canada that has a hardline stance on marijuana. You have to be at least 21 years old to buy or possess cannabis seeds in Montreal and elsewhere in La belle province.
Another tricky thing about the marijuana laws in Quebec is that you can only legally buy cannabis products, including seeds, from the government-run Société Québécoise du Cannabis (SQDC). They sell seeds both on their website and in-store on and off the island, with around 20 dispensaries in the greater Montreal area.
Can You Grow Cannabis in Montreal?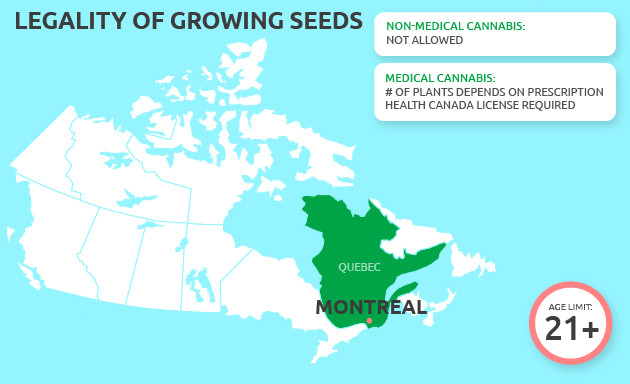 When it comes to growing marijuana seeds in Montreal, the rules for recreational and medicinal cannabis are different. Growing recreational cannabis at home is prohibited, but the laws are quite lenient: those caught growing weed for personal use pay a fine of $250 to $750 for a first offense. The amounts double for further offenses.
In Quebec, you need to get medical authorization from your physician and Health Canada to be able to grow medical marijuana. There's technically no limit on the number of plants you can grow with a permit. However, this doesn't mean you can grow as much weed as you'd like. The amount depends on your prescription and your growing conditions (use this calculator to see how much you can grow).
With a permit, you can store as much medical cannabis as you want at home. In public, medical patients are allowed to possess no more than 150 g or a 30-day supply of dried cannabis.
What to Consider When Buying Weed Seeds in Montreal
Indoor growers are blessed with the opportunity to grow all year round without worrying about weather and season changes. Outdoors, things get a bit more complicated. Before you start your cannabis-growing journey in Montreal, it's essential to consider the climate and choose the right genetics that will thrive in it.
Climate in Montreal
Montreal is home to a humid continental climate with wet, warm summers and snowy winters. The summers are relatively short, and the warmest period is from June through August. Outdoor growers must germinate their seeds by early or mid-May to avoid any late-season frost. The safest bet for your outdoor garden would be strains that are ready for harvest by September.
That's why we recommend growing autoflowers and Indicas/Indica-dominant hybrids – they're hardy, resilient, and have shorter grow cycles than photoperiod Sativas, which may get damaged by the first spell of cold weather before you can reap your rewards.
Where to Buy Marijuana Seeds in Montreal
Remember, pot seeds in Montreal are only legal as long as you buy them from the SQDC, either online or from a dispensary. In other words, you won't find above-board seed banks in Montreal because the SQDC doesn't license them. However, there are some online stores that do sell seeds in the city, like Montreal Cannabis Seeds or Montreal Seed Bank. They offer a pretty standard choice among regular and feminized Indicas, Sativas, and hybrids.
If you're looking to buy marijuana seeds online in Montreal, you should definitely check out Herbies for access to over 1800 top-quality marijuana strains. Our store offers a germination guarantee, expert customer support, free seeds with every order, and stealth shipping for your parcel to get to you safely.
Best Cannabis Strains to Grow in Montreal
Now that you know where to find marijuana seeds for sale in Montreal, it's time for the afters! Below, we've handpicked some perfect outdoor varieties for growing in Montreal so that your efforts pay off. These are four autoflowers with short grow cycles and a fast-flowering version for you to trim your buds before the first colds set in.
Purple Punch Auto (Barney's Farm)
A delightful strain with an 80% Indica/20% Sativa genetic ratio, Purple Punch Auto packs a moderate punch with 18% THC and offers a soothing euphoric experience that'll have you floating on cloud nine. With a mouth-watering aroma reminiscent of a freshly baked apple pie spiced with cinnamon and cloves, your senses will be in for a treat.
Purple Punch Auto is a grower's dream, too. It takes just 50-60 days to race from seed to harvest, so you won't have to wait long to enjoy the fruits of your labor. Yields can reach 350 g/m² indoors or a hefty 400 g/plant outdoors, making it a top choice for cannabis enthusiasts looking to grow a flavorful and potent herb in no time.
Fruit Punch Auto (Heavyweight Seeds)
Fruit Punch Auto is a lively cannabis strain that brings a burst of energy with its 80% Sativa and 20% Indica genetics. Featuring a solid 21% THC content, this strain delivers happy, uplifting, talkative, and social effects, making it perfect for sharing with friends. As the name suggests, Fruit Punch Auto tantalizes your taste buds with its sweet and fruity flavor profile.
This weed takes a reasonable 80 days from seed to harvest, and its yields are nothing short of impressive. Indoors, it produces up to a whopping 800 g/m², while outdoor growers can expect around 150 g per plant. Fruit Punch Auto is an all-around crowd-pleaser, offering a fantastic sensory experience and generous harvests, making it one of the best marijuana seeds for sale in Montreal.
Zkittlez Auto (Fast Buds)
With Zkittlez Auto, you're in for a well-rounded mix of effects with 40% Sativa and 60% Indica genetics. This autoflower offers a long-lasting, relaxing body buzz accompanied by uplifting feelings of happiness powered by 23% THC. True to its name, Zkittlez Auto tempts your senses with sweet chocolate and berry aromas that'll remind you of your favorite candy.
Growers will be pleased with Zkittlez Auto's quick and hassle-free growth, as it takes just around 8-9 weeks from seed to harvest, bringing 450-500 g/m² indoors and up to 300 g per plant outdoors. Zkittlez Auto combines a fast flowering time with great adaptability to varying weather conditions, making it a great fit for Montreal's climate.
Godzilla Cookies Auto (Herbies Seeds)
Meet a true monster with a staggering 27% THC content and a balanced blend of 60% Indica/40% Sativa genetics. Godzilla Cookies Auto delivers uplifting, creative, and social effects that are perfect for stimulating the mind and exploring your inner artist. This herb also kicks out a truly unique aroma that combines the scents of cookies and diesel.
Growers absolutely adore Godzilla Cookies Auto's relatively quick grow cycle – just 70-75 days from seed to harvest – and great yields that reach up to 600 g/m² indoors. With its potent effects, captivating aroma, and impressive harvests, Godzilla Cookies Auto is a standout strain that's sure to satisfy even the most demanding cannabis connoisseurs.
Eleven Roses Early Version (Delicious Seeds)
Last but not least, Eleven Roses Early Version is an Indica-dominant powerhouse bred for maximum efficiency. With an impressive 25% THC content, it offers a potent and blissful narcotic feeling that envelops both mind and body in a state of total relaxation. The aromas are nothing short of captivating, featuring exotic fruit scents combined with subtle earthy notes and fuel-like overtones.
Growers will be overjoyed with Eleven Roses Early Version's incredibly fast grow cycle, taking a mere 45 days from seed to harvest. Meanwhile, the yields are nothing short of astounding at up to 600 g/m² indoors and 2000 g/plant outdoors. With its potent effects, enticing aroma, and astonishing harvests, Eleven Roses Early Version is a top-tier strain that's perfect for the local climate and is overall one of the best cannabis seeds for sale in Montreal.