Cannabis Seeds in Ottawa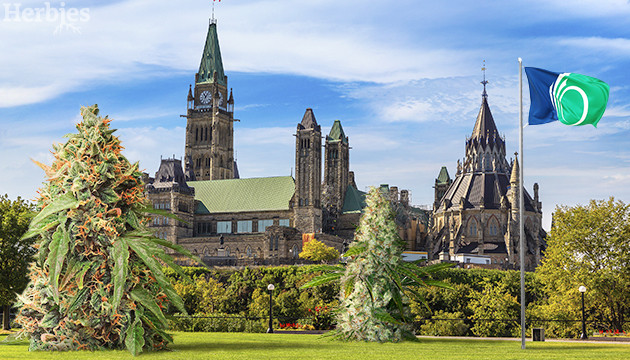 In Ottawa, marijuana use has been picking up momentum since the federal government legalized our favorite plant in 2018. If you're looking for cannabis seeds for sale in Ottawa (and rightly so), we've got you covered. Read on to find answers to all your questions about cannabis in Capital City, including where to buy the magic beans and what strains will be a perfect match for your garden.
Is it Legal to Buy Cannabis Seeds in Ottawa?
Buying weed seeds in Ottawa is totally legal as long as you're at least 19 years old. There's no limit on the number of seeds you can possess. However, you can only legally purchase seeds online through the government-run Ontario Cannabis Store (which sells around only three dozen strains) or in person from one of the few private licensed stores. The tricky part is that these stores get their supplies from the OCS too, meaning that their selection isn't great either.
Can You Grow Cannabis in Ottawa?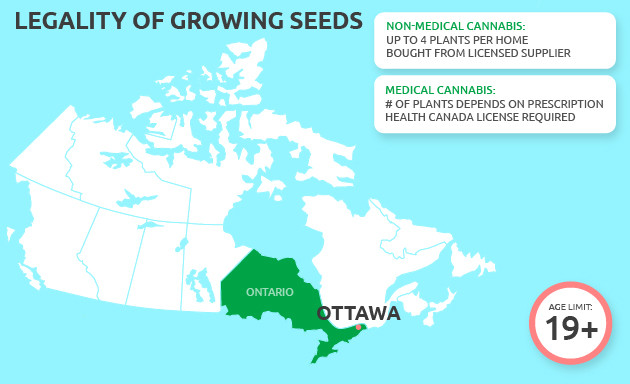 In Ontario, the rules for growers vary depending on whether you're growing for recreational or medical purposes. As for recreational cannabis, you can legally grow marijuana seeds in Ottawa if:
You're at least 19 years old
It's no more than four plants
It's only for your personal use
The seeds were bought from the OCS or a licensed retailer
Your lease agreement or condo rules don't forbid it
Those who grow beyond that limit may face penalties, from a ticket to a maximum of 14 years in jail. A ticket is the typical punishment for those who get caught with just a few plants over the limit. The costs may vary, but the lowest you can end up with is about $200. Jail time is typically the case when the offender goes well over the personal limit. Though highly unlikely, this may happen if you get caught growing thousands of plants over the limit or, even worse, selling them illegally.
If you're looking to grow more than four plants per household in Ontario, the best (and safest) way to do so is with a medical grow license. You must either receive a license from Health Canada through your health practitioner to grow the plants on your own or designate someone else to do it on your behalf. The number of medical plants that you can grow depends on your prescribed daily grams and type of garden. If you want to learn how many you can grow, this calculator may come in handy.
What to Consider When Buying Weed Seeds in Ottawa
There are a few factors to keep in mind when looking for the perfect marijuana seeds for sale in Ottawa. If you're growing outdoors, you should first consider the climate and what strains will thrive best in it. Stay tuned, as we'll dive into climate specifics and our top picks for outdoor growing in Ottawa.
Climate in Ottawa
Ottawa's climate can be quite a challenge, with hot and humid summers followed by cold, snowy winters. If you're growing outdoors, make sure to plant the seeds in May when the soil temperature is above 15°C for successful germination. When buying pot seeds in Ottawa, it's also crucial to pick early-finishing ones that can bloom by the end of September, before the first spell of cold. This means that for a good grow, you might want to choose autoflowers and Indica/Indica-dominant strains, which usually take less time to finish flowering.
Where to Buy Marijuana Seeds in Ottawa
If you, like us at Herbies, love to try all kinds of strains for yourself, the licensed stores with their tight supply might not be to your liking. Luckily, there are plenty of seed banks that ship to Canada and offer a whole host of products, so you can buy marijuana seeds online in Ottawa in just a few clicks.
Herbies is your go-to source for cannabis seeds for sale in Ottawa, offering a wide range of strains (+1,800), a germination guarantee, a stellar support team, free seeds with every order, and stealth shipping. Use the filters, browse our catalog, and discover the best seeds for your needs!
Best Cannabis Strains to Grow in Ottawa
If you're not feeling too picky, you can find your perfect strain right here on this page. Below, we've rounded up five strains that will flourish in your backyard no matter what. These strains are not only early finishing but are also resistant to mold, pests, and other common issues that may be common issues for your Ottawa garden.
Purple Haze Auto (Original Sensible Seeds)
A classic strain with a modern twist, Purple Haze Auto is a nearly-balanced 60% Sativa/40% Indica hybrid. With THC content sitting at a moderate 17%, this strain produces mostly cerebral effects that leave users feeling uplifted, euphoric, energetic, talkative, and focused. Its aroma is a captivating blend of earthy, fresh, sweet, and fruity scents, complemented by subtle hints of sandalwood.
Purple Haze Auto is as delightful as it is easy to grow. It takes only 70-75 days from seed to harvest and brings bountiful yields both indoors and out – up to 500 g/m² and 150 g/plant respectively. Despite its Sativa genes, Purple Haze Auto's rapid growth and adaptability make it perfect for Ottawa's climate.
Gorilla Zkittlez (Barney's Farm)
With an almost even Indica/Sativa ratio (60%/40%), Gorilla Zkittlez is a real beast that delivers a potent, relaxing high powered by 24% THC. The effects start off as meditative and thought-provoking before giving way to a relaxing body high and warm waves of serenity. The flavor and aroma profile of Gorilla Zkittlez is a delightful fusion of fruity notes, reminiscent of sweet fruit candy.
Growers absolutely adore Gorilla Zkittlez for its short flowering time of 55-65 days and enormous yields reaching 600-700 g/m² indoors and 2000-2500 g/plant outdoors. With a quick grow cycle, Gorilla Zkittlez is a fantastic option for outdoor growing in Ottawa's variable climate.
Purple Juice Auto (Herbies Seeds)
Purple Juice Auto is a great daytime medicine that offers mostly Indica effects with a slight Sativa kick at the onset. Thanks to an above-average 23% THC, this weed gently soothes tired bodies while alleviating a range of symptoms such as stress, pain, and insomnia. The aroma and taste profile of Purple Juice Auto is an irresistible blend of sweet, spicy, and citrusy notes that will tantalize your taste buds and entice your senses.
Growing Purple Juice Auto is a breeze, as it's very resilient and tolerates even rookie mistakes. This strain takes around just 65-70 days from seed to harvest. Indoors, it will bring up to 550 g/m², while outdoor-grown crops produce up to 250 g/plant.
Do-Si-Dos OG (Original Sensible Seeds)
Do-Si-Dos OG is an outstanding photoperiod strain with a 70% Indica/30% Sativa genetic makeup. Boasting a remarkable 28% THC, it produces potent relaxing effects that later evolve into an uplifting and buzzing high. The aroma of Do-Si-Dos OG is a captivating blend of strong fruity and minty scents, perfectly complementing its herbal and earthy flavors.
Growing Do-Si-Dos OG is a rewarding experience, as it finishes flowering in just 60-65 days. Indoor yields reach 600 g/m², while outdoor growers can reap an impressive 800 g per plant. For those looking to grow cannabis seeds in Ottawa, Do-Si-Dos OG is a must-try, as it's well-suited for the local climate and still brings an impressive harvest.
Bruce Banner Auto (Fast Buds)
Bruce Banner Auto is a mighty superhero with a 65% Sativa/35% Indica genetic ratio. Thanks to its 25% THC content, this herb delivers fast-acting uplifting effects and an instant rush of euphoria upon the first hit, making it perfect for socializing and creative activities. The aroma of Bruce Banner Auto is a delightful mix of gassy diesel scents combined with undertones of fruity berries, creating a unique and enticing fragrance.
This powerful strain takes about 10-11 weeks from seed to harvest, allowing growers to enjoy bountiful yields in a relatively short period of time. Indoor growers can fill their jars with up to 600 g/m² indoors, while outdoor plants yield up to 200 grams each. In addition, Bruce Banner Auto's resilience makes it an excellent choice for Ottawa's climate.