Cannabis Seeds in Mississippi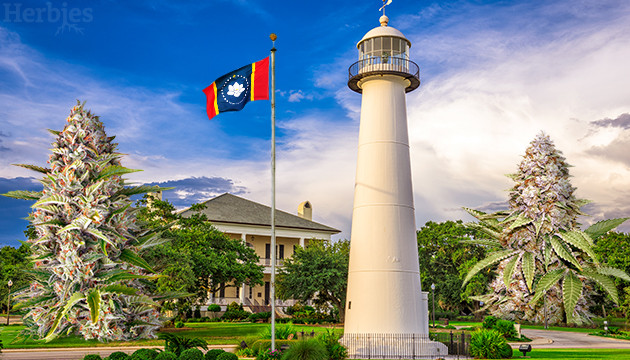 Mississippi State is slowly but surely heading toward the legalization of recreational cannabis. However, while medical cannabis is now legal, it's still strictly regulated. Cultivating your weed seeds in Mississippi therefore won't be simple, and there are a few things to keep in mind. But don't worry, we've got you covered.
Is it Legal to Buy Cannabis Seeds in Mississippi?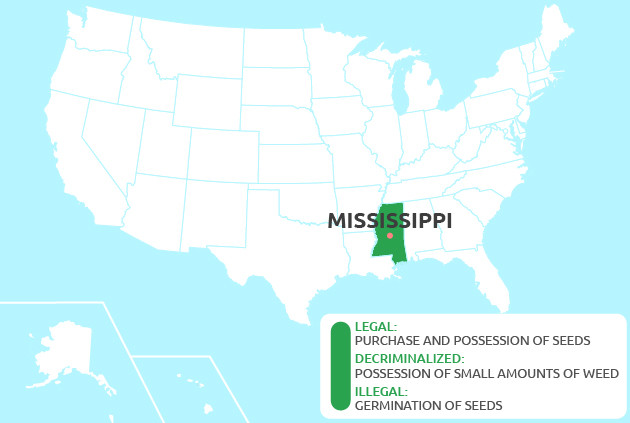 Storing and possessing marijuana seeds in Mississippi is considered legal, and federal law doesn't classify cannabis seeds themselves as a drug. You are therefore allowed to possess cannabis seeds as long as you don't cultivate them, and you can legally buy cannabis seeds in Mississippi.
Can you Grow Cannabis in Mississippi?
While storing pot seeds in Mississippi might be allowed, growing them is still considered illegal. Possession of small amounts of cannabis is decriminalized, and medical marijuana has been legal since February 2022 in the Magnolia State. However, growing cannabis seeds is still prohibited by law and could lead to certain penalties. Not even a registered patient can grow their own cannabis, although these laws could change sometime soon.
What to Consider When Buying Weed Seeds in Mississippi
First things first, you should inform yourself about the cannabis laws in Mississippi before getting cannabis seeds. Once ready to purchase some, you should look for a reputable provider. Local seed banks do not yet exist, but online, you can easily find cannabis seeds for sale in Mississippi. The next step is to find a suitable strain for the climate in your area. Below, you can find all the information you need about this state's climate and what strains to grow in such conditions.
Climate in Mississippi
Mississippi is located in a humid subtropical region of the US, with mild winters and long-lasting hot summers. The climate in this area gives growers plenty of opportunities to cultivate their seeds outdoors. It's very important to sprout your cannabis seeds at the right time, which is usually between April and May. Poor timing could lead to unwanted consequences, so be careful! For instance, the hot and humid climate may result in various diseases for your plants, so picking disease and heat-resistant strains is crucial for a successful yield. Luckily, we've already done that part for you – below, you will find the best cannabis strains to grow in Mississippi.
Where to Buy Marijuana Seeds in Mississippi
Buying cannabis seeds has never been easier, and you do so from the comfort of your home. There are plenty of online seed banks where you can find marijuana seeds for sale in Mississippi. One of them is Herbies, where you can find thousands of high-quality cannabis strains and expert 24-hour customer service to answer all of your questions. Herbies has been successfully shipping seeds to Mississippi for decades, and we do so discreetly with our special Stealth Shipping. At Herbies, you can find high-quality cannabis strains for sale suitable for all types of climates, with an in-depth description of each strain available. If you want to buy marijuana seeds online in Mississippi, look no further than Herbies.
Best Cannabis Strains to Grow in Mississippi
Mississippi growers who plant their seeds outdoors can pick any autoflowering strain and photoperiod ones that finish by the end of September. This is the only way to be sure cannabis plants will be ready for harvest before the temperature drops. The strain also needs to be resistant to mold and diseases because of the hot and humid climate in this area. Below, experts from Herbies have listed the best strains to grow in the Magnolia State.
Bruce Banner #3 Fast (Original Sensible Seeds)
Bruce Banner #3 Fast is a photoperiod hybrid strain that was developed by crossing Bruce Banner #3 and Black Domina. This 35% Indica/65% Sativa strain has an amazing fruity flavor and resin-covered buds, just like the original Bruce Banner #3. It's infused with 25% THC and has energetic and euphoric effects. The super-fast flowering period makes it the perfect cannabis strain for Mississippi's climate. Indoor growers can expect yields of up to 750g/m2 (2.46oz/ft2) within just 50 days of flowering. Outdoor plants can grow up to 280cm (9'2"), and during harvest, you can expect 900g (31.7oz) per plant.
Eleven Roses Early Version (Delicious Seeds)
Eleven Roses Early Version is a feminized Indica-dominant cannabis strain bred by crossing Appalachian Kush and Sugar Black Rose. This strain has a strong exotic fruit-like smell with a subtle earthy and diesel taste. It's highly resistant to various diseases and hot climates, which makes this strain a must-have for Magnolian state growers. If grown indoors, you can expect up to 600g/m2 (2oz/ft2), and it will be ready to harvest after only 45 days of flowering. Outdoor growers can expect up to a whopping 2000g (70.5oz) per plant, usually harvested in early September.
Runtz Punch (Herbies Seeds)
The Runtz Punch cannabis strain will make even experienced stoners feel like they're smoking for the first time. This strain has an incredible amount of 29% THC and is a great strain for those who are seeking uplifting yet simultaneously relaxing effects. Runtz Punch has a fruity aroma of tangerine and lavender that balances out its earthy flavors. It's an ideal strain for beginner growers due to its ease of cultivation. Indoor growers can end up with 600g/m2 (2oz/ft2) of bud during harvest, and if grown outside, up to 1000g (35 oz) per plant in September.
Orange Sherbet Auto (FastBuds)
Orange Sherbet Auto is a Sativa-dominant autoflowering strain infused with 24% THC. This strain has delicious and uniquely sweet fruity flavors and is a perfect variety for those seeking uplifting effects and who want to become more energized and social. Orange Sherbet Auto is one of the tallest autoflowering plants out there – it can reach up to 150cm (4'11") even indoors. During harvest, you can end up with 650g/m2 (2.1oz/ft2) of sticky, resin-covered buds. After harvest, you'll be left with leaves soaked in resin, which can be used to produce hash and other concentrates.
Green Poison F1 Fast Version (Sweet Seeds)
Green Poison F1 Fast Version is a feminized photoperiod and insanely fast-growing strain. This strain is 30% Sativa and 70% Indica containing up to 20% THC. It has pleasant fruity and sweet flavors with an earthy scent. Green Poison F1 Fast Version is highly pest and humidity-resistant and has a super-fast flowering cycle of just 6 weeks. A perfect strain for the Mississippi climate, it can easily be grown indoors and outdoors. Indoor growers can expect up to 600g/m2 (2oz/ft2), while outdoor growers can end up with 700g (24.7oz) per plant.
Auto Night Queen (Dutch Passion)
Auto Night Queen is an autoflowering strain that's primarily Indica in nature and can contain up to 26% THC. It comes with spicy and fruity flavors combined with a kushy aroma. If you want something to relax your body and mind after a long, stressful day, look no further. This strain is a perfect option for both medical and recreational users. It's suitable for indoor and outdoor growing and is a great choice for beginner growers, as it's one of the easiest strains to cultivate. During harvest, you can end up with 500g/m2 (1.6oz/ft2) of sweet bud.
Gorilla Zkittlez Auto (Barney's Farm)
Gorilla Zkittlez Auto is an Indica-dominant strain that was developed by crossing the two top-quality strains GG#4 Original Glue and Zkittlez, and it can contain up to 20% THC. It has incredible fruity flavors and an aroma of pine. This strain is especially popular among medical users since it effectively treats chronic pain and insomnia. Gorilla Zkittlez Auto is highly stress and pest-resistant, which makes it a great option for hot and humid climates. The plants grow to a pretty short height but will surprise you during harvest. Within just 10 weeks, you can expect around 550g/m2 (1.8oz/ft2) of incredible-smelling and resin-covered buds.