Cannabis Seeds In North Dakota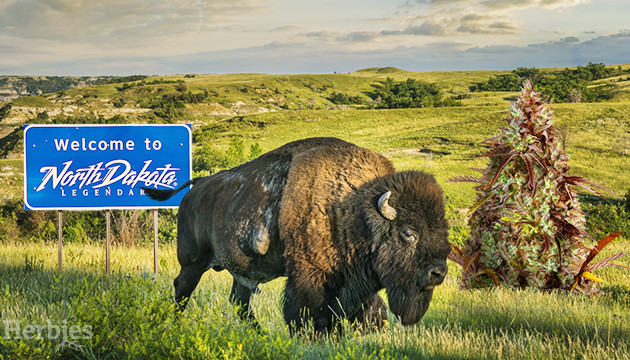 As one of the coldest regions in the United States, North Dakota offers a challenging climate for the outdoor cultivation of cannabis seeds. With an average high temperature of only 12 degrees Celsius (53.6 Fahrenheit) and extreme climate fluctuations, it's essential to understand what strains can thrive in this climate.
Is It Legal to Buy Cannabis Seeds in North Dakota?
Currently, in the state of ND USA, there are no laws that stop you from being able to buy and possess cannabis seeds. That being the case, it's still best to utilize a seed bank that uses methods like discreet shipping to prevent the seeds from being intercepted. Due to cannabis cultivation still being illegal in North Dakota, penalties may apply if a grower gets caught with plants or germinated seeds.
Here at Herbies, we've been offering pot seeds in North Dakota for years and have extremely high customer satisfaction regarding the discretion of our shipping.
Can You Grow Cannabis in North Dakota?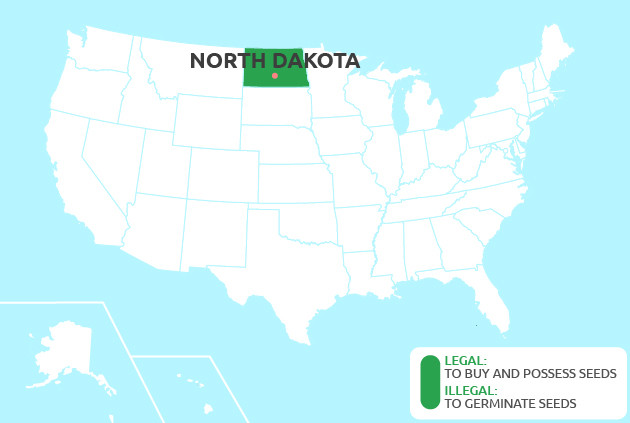 Although hemp is legal to cultivate in North Dakota, the growth of recreational cannabis plants is strictly forbidden. Several mitigating factors can help reduce the penalties, such as being a first-time offender or being diagnosed with a cannabis-related medical condition.
What to Consider When Buying Weed Seeds in North Dakota
When looking for cannabis seeds for sale in North Dakota, you will need to factor in a few things. For one, the state's high humidity and colder temperatures for most of the year make growing a challenge. This is why it's crucial to select strains that are capable of surviving in these conditions.
The Climate in North Dakota
With icy winters and hot but short summers, it's essential to select cannabis strains capable of finishing before it gets too cold. While some strains may do better with an indoor growing approach, others are still ideally suited to outdoor cultivation in this state. These should be harvested before the temperatures drop below 12°C (54°F) – in early September in North Dakota. This is the crucial point where the harvest can be damaged by the cold and potentially die. The humidity in North Dakota can also be problematic for some strains, so it's essential to consider this when selecting your seeds. Taking all of these factors into account, your safe bet for outdoor growing in ND would be to plant autoflowering seeds in June.
Where to Buy Marijuana Seeds in North Dakota
The best place to buy marijuana seeds online in North Dakota is from Herbies. We offer a wide range of high-quality strains perfect for the North Dakota climate and free cannabis seeds with every order. We also offer a germination guarantee and expert support staff to answer any questions you may have.
Best Cannabis Strains to Grow in North Dakota
Due to the challenging climate conditions, it's essential to select the right cannabis strain suited to growing in North Dakota. We've hand-selected some of our best strains for outdoor growing in the ND climate and listed them here for your convenience!
Jack Herer Auto (Green House Seeds)
Suppose a quick harvest is what you're after. In that case, this feminized autoflowering strain of Jack Herer Auto will deliver a crop from seed to harvest in just 63 days.
This Sativa-dominant strain by GHS produces bountiful indoor yields of 700g/m² (2.3oz/ft²) and THC-rich buds that deliver an anxiety- and pain-relieving 20% THC content. This mind-blowing stone is delivered with aromas to bring you down to earth, with a combination of spicy wood notes and an earthy finish. The fast-flowering nature of this auto strain makes it ideal for colder climates, so it's one of the best-suited marijuana seeds for sale in North Dakota.
Auto Skywalker Haze (Dutch Passion)
Looking for excellent yields, fast flowering times, and a long-lasting cerebral high? Look no further than Auto Skywalker Haze by Dutch Passion. Delivering a sweet lemony high with THC levels of up to 26%, this Haze is pleasant on the senses and sends you into a state of relaxation that will inspire your creative side.
Since the strain powers through from seed to harvest in just 84 days, it's ideal for North Dakota, with yields of up to 450-550g/m² (1.4-1.8oz/ft²) indoors and very tall heights when grown outdoors.
Gelato Auto (Herbies Seeds)
One of the strongest autoflowers on the market, Gelato Auto instantly elevates your mood and boosts creativity. Thanks to its high THC content of up to 26%, just a couple of tokes is enough to get you feeling 100% happy. This strain is a sweet addition to your day with flavors of creamy lime and earthy woody notes.
You can expect a fast growth time from seed to harvest in just 65 days and bountiful indoor yields of up to 400-600g/m² (1.3-2.0 oz/ft²). These generous yields and the short flowering time make it an incredibly suitable strain for North Dakota.
Bruce Banner Auto (FastBuds)
This autoflowering strain is one of the most notorious thanks to its huge buds and high THC levels. As a well-balanced hybrid, Bruce Banner Auto delivers an exhilarating relaxation that eases everyday stresses with minimal toking needed.
With sticky and potent buds that deliver a THC content of 25%, this classic strain delivers a burst of classic diesel flavors, followed by a sweet fruity aroma. Its ability to go from seed to harvest in just 70-77 days and its large yields make it a perfect candidate for the North Dakota climate. In fact, Bruce Banner Auto is an excellent choice for any grower looking to produce a potent plant in colder regions.
Fruit Punch Auto (Heavyweight Seeds)
If you want to feel like you've been escorted to a tropical beach, the fruity and citrusy flavors of Fruit Punch Auto will take you there! Fruit Punch Auto is the autoflowering version of this ever-popular strain by Heavyweight Seeds that's sure to impress. The mango and citrus notes of this strain deliver a stimulating high, which makes it an ideal daytime smoke for socializing or enhancing creativity.
With THC levels up to 21% and a CBD content of 1.1%, you'll experience a euphoria that relaxes your body and energizes your mind, bringing you waves of happiness. Able to go from seed to harvest in 70-80 days, this strain is fantastic for getting good yields before the cold hits.
CBD Lemon Auto (Herbies Seeds)
If you're looking for high CBD to THC ratios, look no further than this fantastic autoflowering strain. CBD Lemon Auto has a high CBD content of 17%, which is matched by its THC content.
This fantastic strain delivers potent relief from anxiety and pain, providing the benefits of THC along with those of medical marijuana. The pleasant lemon and citrus flavors complete the picture, providing a relaxing and creativity-inspiring high. This strain is ready to harvest in just 70-75 days, which is perfect for the shorter summers of North Dakota.
Original Big Bud Auto (FastBuds)
This autoflowering strain is perfect for beginner growers looking for high yields with little effort. With THC levels up to 23% and a fast flowering time of 56-63 days, Original Big Bud Auto produces massive, glossy buds with very little leaf to trim and a pleasant fruity aroma.
This potent auto strain is every beginner grower's fantasy. With an Indica-dominant high that produces warm waves of deep inner relaxation, this strain is perfect for an evening spent on the couch. On top of the satisfying effects of this strain, its short flowering time is what makes it one of the peak candidates for growing in North Dakota.