Do-Si-Dos OG feminized seeds
Description
Do-Si-Dos OG: Great Effects And High THC Content
Its THC content of 28-30% is so huge that even experienced smokers should be wary. This compelling treat, together with its 70% Indica genetics, gives the strain the ability to induce potent effects. It's undoubtedly a fast-hitter, with immense power in the first stages of the high as the hard stone and relaxing effects take place. However, later stages bring users up to an uplifting and buzzing high that's perfect for social activities!
Fruity and Minty Mixture Of Taste And Aroma
Do-Si-Dos OG has a classic OG aroma whose taste and flavor profile comes from the high presence of terpenes, especially limonene and caryophyllene. With its strong fruity and minty smell, together with its herbal and earthy flavors that create a magnificent essence, this strain is considered a great representation of OG's family-distinct aroma.
Do-Si-Dos OG Grow Info: A Classic OG With Massive Yields
Exceptional yields with more than 600g/m2 indoors and 800g per plant outdoors, combined with a short flowering stage of only 60-65 days before harvest, ensure a speedy and rewarding growth. Harvest time outdoors comes during late September or early October.
This strain has a flowering period of 60-65 days.
Harvesting time outdoors is during September/October.
Do-Si-Dos OG has that classic OG trait of huge yields.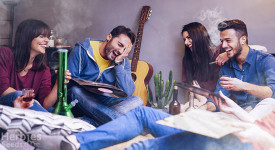 Genetics: Iconic Mix Of GSC And Colorado Ghost OG
Do-Si-Dos OG is a cross between two historic strains: Girl Scout Cookies and Colorado Ghost OG. Both are potent cornerstone strains carefully selected to create this unique Indica-dominant hybrid.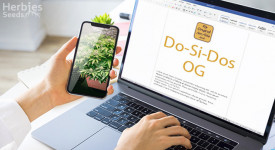 Characteristics
*Herbies sells cannabis seeds exclusively as souvenirs that aren't meant for cultivation or germination. Customers should be aware that the germination of cannabis seeds is illegal in most countries. Herbies sells cannabis seeds exclusively for collecting and preservation for future generations. We advise customers to check with their local laws before germination, as Herbies does not accept responsibility for the illegal use of our products.