Mix It Up! 3 New Seed Mixes From Seed Stockers
25 March 2021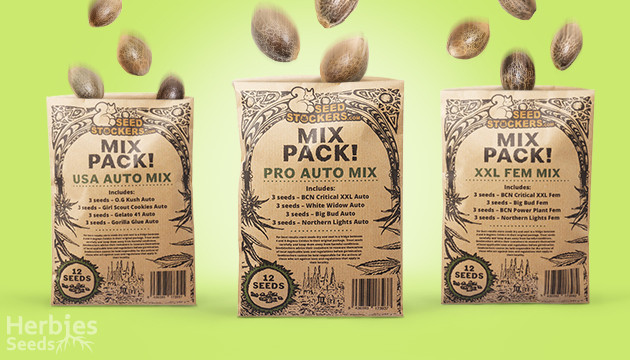 There's no need to wrack your brain to choose the perfect combination of strains for a balanced canna garden – at least, not with mixes from Seed Stockers! After the success of their first bundles, the breeder is now expanding its line of mix packs with the addition of three brand new bundles of perfectly matching feminized and autoflowering seeds.
Each pack contains 3 fresh seeds of four different strains, making for a complete grow room of 12 plants at a reduced price – and all seeds in these packs are picked to match each other in terms of growth.
Pro Auto Mix
This collection of hit strains from Seed Stockers is a great starting point for exploring the world of autoflowers. It contains only big names with big yields and bigger effects – see for yourself:
XXL Fem Mix
With XXL Fem Mix, you don't have to sacrifice on potency, quality, or flavor to produce hefty yields. Whether you're growing for yourself or on a commercial level, XXL Fem Mix will satisfy you as a set of well-rounded genetics. All four strains have great genetics that tick every box for quality, dispensary-grade weed:
USA Auto Mix
Whether you prioritize flavor or potency, ease of growth or hefty yields, USA Auto Mix has something to offer everyone, with a variety of 20%+ THC seeds sporting a range of great features. Each of these four is already a classic from the West Coast, the newest cannabis mecca.
Like the idea of buying cannabis seeds in mixes? Then you'll love our Mix Cannabis Seeds Collection, where we gather all our mixes in one place for the easiest choice there is to make.
Herbies Head Shop expressly refuses to support the use, production, or supply of illegal substances. For more details read our Legal Disclaimer.