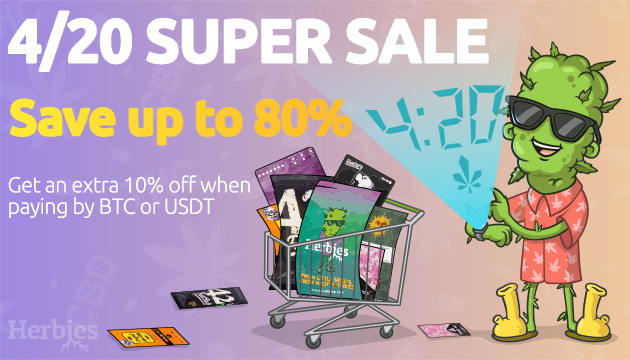 Here at Herbies, 4/20 is hands down our favorite holiday, and it's also the best time of year to be our customer.
Why? Because this year, we're going all out with a week-long 4/20 Super Sale. From 8:00 April 14th through 8:00 April 21st (PDT), we're slashing the prices of almost a hundred strains in our store by up to 80%.
But wait, there's more! If you pay with BTC or USDT during any of the sale days, you'll score an extra 10% discount on top of that. Now that's what we call a sweet bonus!
Below, we've rounded up just a few of the awesome strains that will be part of the sale. 
Grandmommy Purple (Herbies Seeds)
Herbies Seeds' flagship strain, Grandmommy Purple flaunts a sky-high 30% THC on average and is a must-have for your seed collection. Experience overwhelming feelings of euphoria and relaxation with this Indica-dominant hybrid that will serenade you into magic bliss. Grandmommy Purple's sweet, fruity aroma and taste make it a favorite among connoisseurs, and its ease of growth makes it ideal for novice growers.
Mimosa X Orange Punch (Barney's Farm)
Add some zest to your 4/20 celebrations with Mimosa X Orange Punch! This 65% Indica wonder from Barney's Farm offers uplifting effects with a long-lasting happy feel, THC levels reaching 30%, and generous yields both indoors and out. Mimosa X Orange Punch has citrus flavors with hints of sweetness and mandarin, making it a delicious smoke. Growing this THC powerhouse is a breeze, so you can focus on enjoying the good vibes.
Critical XXL (Herbies Seeds)
Get ready for a supreme high with Critical XXL! With up to 27% THC, this strain is famous for its potent, relaxing Indica effects that are best suited for nighttime or weekends. With an earthy aroma and skunky taste, it's perfect for those seeking some downtime. Growing Critical XXL is easy as pie, making it a popular choice for growers of all skill levels.
Banana Purple Punch Auto (Fast Buds)
Go bananas this 4/20 with Banana Purple Punch Auto! This balanced autoflower boasts 26% THC and offers a joyful mind-clearing high with a strong sedative potential. Its tropical banana and berry flavors are irresistible, and the yields are nothing to scoff at. Easy to grow, this strain is perfect for both rookie and seasoned cultivators.
Eleven Roses Early Version (Delicious Seeds)
Trim your buds in just 45 days of flowering with Eleven Roses Early Version, a genetic wonder by Delicious Seeds. Apart from ultra-fast harvests, this Indica-dominant hybrid is known for deeply relaxing effects ordering on the couchlock, THC levels reaching 25%, and bountiful yields despite a short flowering time. Sturdy and resilient, Eleven Roses Early Version is a top pick for growers seeking a hassle-free experience.
So what are you waiting for? This sale only comes once a year. Mark your calendars and get ready to celebrate the greenest day of the year in style. Add them seeds to your cart, score some epic deals, and let the good times roll!
Herbies Head Shop expressly refuses to support the use, production, or supply of illegal substances. For more details read our Legal Disclaimer.