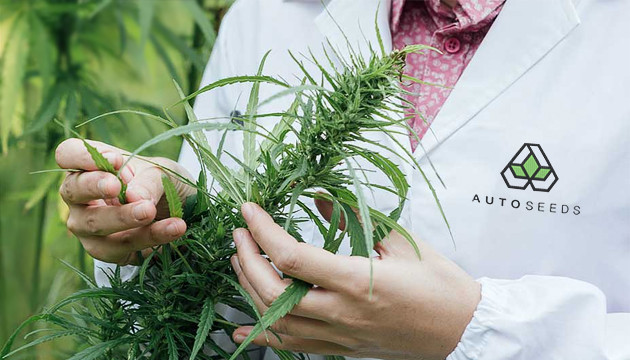 Forming back in the mid-2000s, Auto Seeds are specialists in high-quality autoflowering cannabis strains who have, through years of development and innovation, amassed a portfolio of stable, high-yielding autoflowering cannabis strains that are among some of the best on the market.
Origins – The Best Of The Best Autoflowers
Driven by a fascination of growing cannabis plants in less than half the normal time, Auto Seeds continue to deliver powerful genetic combos with strains like GSC Auto, Berry Ryder Auto and others.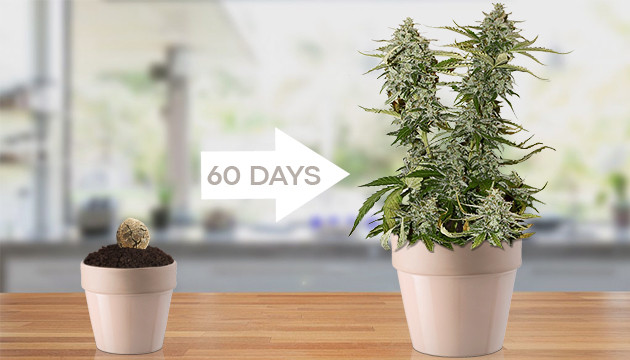 With the motto "Great bud, that's easy to grow; Fast!", it's not difficult to figure out what their catalogue of strains beholds. Almost all Auto Seeds strains have a total grow time of less than 60 days from seed to harvest, and deliver yields varying from 25 up to 300g per plant!
Auto Seeds – Majorly Successful
Auto Seeds' success stems from their passion to want to do more with an autoflowering seeds. Prior to some of the ground-breaking selection and breeding in the 2000s, autoflowering cannabis strains had a reputation for being low-yielding and unstable. Through some of the pioneering work carried out by the Auto Seeds, autoflowers can now match if not exceed their photoperiod counterparts in speed, potency and yield.
Containing Indica, Sativa and hybrid cannabis strains in high THC and high CBD concentrations, the Auto Seeds catalogue has something for everyone. With a mindset of continuous improvement, Auto Seeds are on their way to having an autoflower cannabis fit for each and every purpose, from relaxing in the evening to energizing you during the day.
What Are The Best Features Of Auto Seeds Autoflowers?
Excellent genetic lineages with stable seeds.
Dwarf size – due to their Lowryder genetic origins, many original Auto Seeds autoflowers have a very short stature.
Ready in as little as 55 days!
One light cycle, one grow room.
The switch from vegetative growth to flowering is automatic, so no need for a change in photoperiod (18/6 -> 12/12)
Our Top Auto Seeds Picks
Here are our top picks from Auto Seeds, as carefully selected by the Herbies team. Ranging from autoflowering variants of well-known classics such as Girl Scout Cookies and Gorilla Glue to lesser-known strains such as Berry Ryder Auto, all of these pack a punch! Let's find out more about these wonder autoflowers.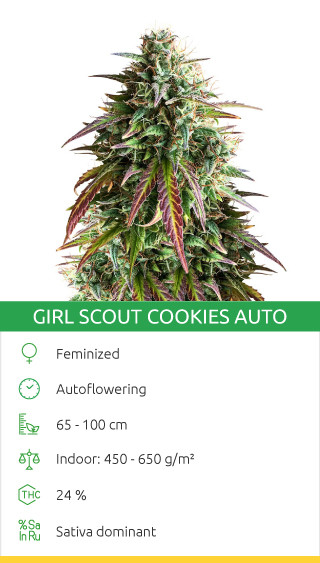 GSC Auto – GSC Just Got Better
GSC Auto is an autoflowering version of the popular GSC (Girl Scout Cookies). Going from seed to harvest in less than 75 days, GSC Auto is a fantastic indoor autoflower with yields of 450-650g/m2 of dense, sticky cannabis flowers oozing with resin. The strain's fresh, intense aromas pair very well with its sweet terpene profile to form a true masterpiece that all must try! If you're a fan of Sativa-dominant cannabis strains that balance relaxation with invigoration, GSC Auto is just right for you.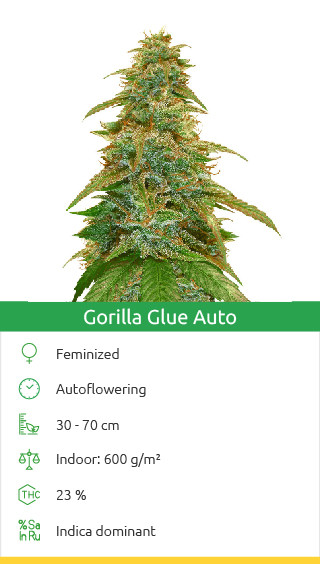 Gorilla Glue Auto – You Can't Go Wrong with Gorilla Glue
Gorilla Glue Auto takes the original GG #4 a step further, delivering the same great smell, taste and effects but in far less time! With more than 23% THC, Gorilla Glue Auto has a loaded terpene and cannabinoid profile that provides the strain with its strong flavor as well as potency! Suitable for growers of all skill levels, this strain performs best indoors but can handle most growing conditions. With a total grow time of 70 days and yields of as high as 600g/m2, it's no surprise that Gorilla Glue Auto is one of Auto Seeds' most popular cannabis varieties.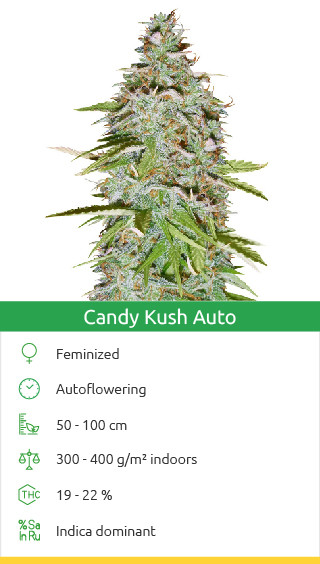 Candy Kush Auto – High CBD: Excellent Medicinal Strain
Candy Kush Auto is an incredibly powerful autoflower from Auto Seeds that's easy to grow and has a fantastic set of attributes. With as much as 22% THC, Candy Kush Auto really packs a punch, delivering long-lasting and relaxing effects. Containing a significant amount of CBD, Candy Kush Auto is popular among medical cannabis users for its various purported benefits such as pain and anxiety relief. Indoor yields for this fantastic hybrid are up to 400g/m2 after less than 65 days from seed to harvest, which can be pushed even further by using an advanced growing technique such as Sea of Green (SoG).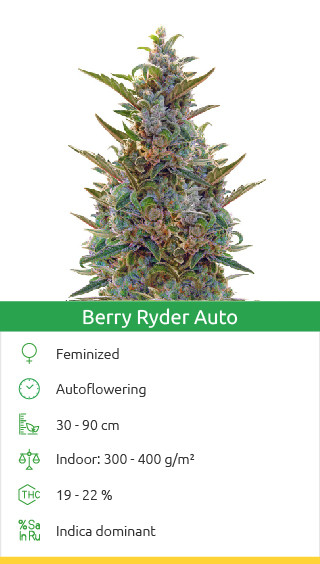 Berry Ryder Auto – Up to 22% THC!
Stemming from Lowryder genetics, Berry Ryder Auto is an autoflowering cannabis strain that's perfect for those with limited grow spaces due to its short height. When fully grown, Berry Ryder Auto reaches a maximum height of 60cm, making it ideal for small indoor, micro and outdoor stealth grows. Through a meticulously selective breeding process, Auto Seeds has created a marvelous cannabis strain that delivers between 300-400g/m2 of dense, sticky cannabis flowers with as much as 22% THC! If you're a curious grower looking for something new, give Berry Ryder Auto a shot.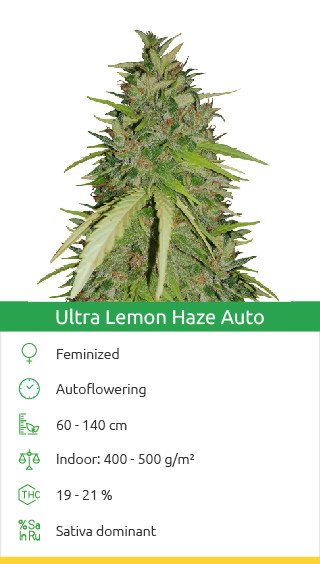 Ultra Lemon Haze Auto – A Zesty Flavor With Potent Effects
Ultra Lemon Haze Auto is – as the name suggests – one of the most unique Lemon Haze hybrids on the market. Resulting as a cross between Super Lemon Haze, Sour Diesel and Auto #1, Ultra Lemon Haze Auto is a powerful strain with a sharp flavor and potent effects. Growing upwards of 80cm, Ultra Lemon Haze Auto is a mid-sized plant with a very steady growth pattern and responds well to training. Indoor yields for this zesty hybrid are 400-500g/m2 after 65-70 days from start to finish – incredibly fast! Suitable for recreational and medical growers alike, Ultra Lemon Haze Auto is a wonderful strain that leaves you mentally stimulated and energized.
Did You Know?
Here are some fun facts you might not know about Auto Seeds and their catalogue of cannabis strains.
Auto Seeds got their hands on Lowryder Ruderalis back in 2008, kicking off a program of breeding and development for the company and leading to parents which would eventually give rise to popular hybrids such as Candy Kush Auto and Ultra Lemon Haze Auto.
Auto Seeds has over 18 different autoflowers in their catalogue.
Small plants
View small plants