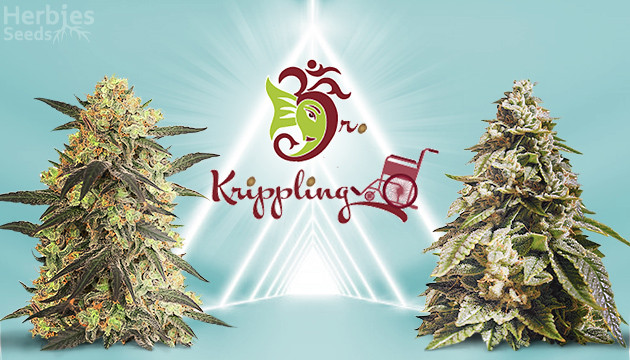 In our previous articles, we've featured many major-league seed companies and their most sought-after strains. This is our final piece of the series, at least for now – and what better way to wrap it up than with Dr. Krippling Seeds, who insists on having the final word as far as powerhouse genetics go?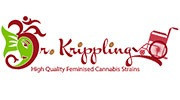 Dr. Krippling Seedbank
VIEW ALL
Dr. Krippling Seeds: Selection Done On A Large Scale
A UK-based company, Dr. Krippling Seeds uses a whole network of breeding/proofing sites throughout Europe. These professionals tirelessly comb through the most diverse marijuana genetics in search of a plant that's worth being included in this seed bank's elite collection. Rest assured that if you see a strain in Dr. Krippling's catalog, it possesses everything that's required of a commercial plant: vigor, yields, potency, and flavor. Providing all this is the company's main mission, and the many online reviews left by growers and smokers alike are proof that Dr. Krippling Seeds always keeps their promises.
Organically Grown For Extra Reliability
Every one of Dr. Krippling Seeds' breeders uses the cultivation methods they know best, so the strains developed by this company have been tested in all indoor setups imaginable and proved to be truly versatile plants. However, there's one thing that all these seeds have in common: none were produced with the use of artificial pesticides or other harmful chemicals. The company's policy is to be 100% organic, and for you as a customer, this means the seeds are more vigorous, have higher germination rates, and start their rapid development as soon as you pop them.
Dr. Krippling's Bestsellers: Not For The Faint Of Heart
The five of Dr. Krippling's most popular strains that we'd like to present you today are literally frightening in many respects: their speed of the growth, the number of buds they produce, the loud smell they produce, and last but not least, the effects that will 'kripple' you if you're not careful.
The Incredible Bulk (Dr. Krippling Seeds)
Photoperiod

Makes life easier and happier

20 - 24 %

600 - 1000 g/m² indoors
800 - 1500 g/plant outdoors
Go to strain
The Incredible Bulk: When Branches Snap And Scales Break
The name says it all: colas as big as your forearms and harvests that make commercial growers throw away their collection of mother plants and keep just one – The Incredible Bulk. Unlike many other cash-crop varieties, this one won't require any dialing in of environmental conditions, pH and TDS levels, or nutrient schemes. It grows by itself, and even if you're a first-time grower, you'll still get a harvest worthy of a pro. Not to mention, the powerfully relaxing Indica effects will hug your body and make your mind happy and sleepy.
Leisure Zoot Larry (Dr. Krippling Seeds)
Photoperiod

Sour euphoria

25 %

600 - 700 g/m² indoors
Go to strain
Leisure Zoot Larry: The Mellow Potency Of A True OG
The OG Kush genetics that Leisure Zoot Larry mostly carries is arguably the best way to start your acquaintance with cannabis – and certainly not because the effects are weak. With 25% THC, this strain of marijuana is among the most potent out there. At the same time, even if your body and mind melt away almost into oblivion, you still feel secure and in control, and the perfectly mellow 'don't worry, be happy' kind of feeling never subsides. Add to the mix the amazing Kushy flavor with lemon and cherry overtones, and you'll understand the popularity of this weed.
Kripple Roulette (Dr. Krippling Seeds)
Photoperiod

17 - 21 %

Completely silent mind

400 - 750 g/m² indoors
700 - 1000 g/plant outdoors
Go to strain
Kripple Roulette: A Devastating Smoke After Just 7 Weeks Of Flowering
This photoperiod variety – though she needs a flip to 12/12 to start flowering – can compete with some autos in her ability to finish fast. This strain can take as little as 42-49 days to bring its flowers to full maturity. The yields will be very generous, too, and the levels of THC are consistently in the 17-21% range. This means extremely strong effects that will literally numb your body and mind. As you can see, Kripple Roulette has all the qualities of a commercial producer: speed, yields, and potency.
Blue Kripple (Dr. Krippling Seeds)
Photoperiod

Slipping into a hot bubble bath

17 - 21 %

450 - 800 g/m² indoors
650 - 1300 g/plant outdoors
Go to strain
Blue Kripple: Build Up Your Tolerance Before Trying This One
Dr. Krippling's Blue Kripple has everything you'd expect from such famed genetics: an insane amount of resin and a thick coating of trichomes crammed with 21% THC. The yields are well above average, which means this super potent medicine will last you a long time. Besides its raw power, the effects of Blue Kripple are celebrated for their balance – an initial surge of euphoria that later makes way for full-body relaxation. In other words, a perfect Indica at its strongest.
Kripple Shock (Dr. Krippling Seeds)
Photoperiod

Calm as a millpond

19 - 23 %

450 - 850 g/m² indoors
650 - 1300 g/plant outdoors
Go to strain
Kripple Shock: A Mentally Stimulating Indica, Anyone?
Do you know what's shocking about this strain? The fact that it's 90% Indica and yet it still stimulates your mind and spirit, making you alert, social, and focused as normally only a Sativa would. At the same time, the physical relaxation is also there. In fact, it's so strong that you can even feel your body go numb. As you can imagine, all this makes Kripple Shock a perfect painkiller and an all-round medicine for a variety of conditions and symptoms.
Try The Current Treasures And Look Out For Future Gems
At the moment, the five strains described above are all the rage, but the situation may change at any moment because Dr. Krippling breeders work at a frenetic pace, popping marijuana seeds by the thousands and constantly looking out for the next big thing. So stay tuned for new arrivals – and don't forget to read about other seed banks we've featured to take a look at their most incredible genetics as well.
Herbies Head Shop expressly refuses to support the use, production, or supply of illegal substances. For more details read our Legal Disclaimer.