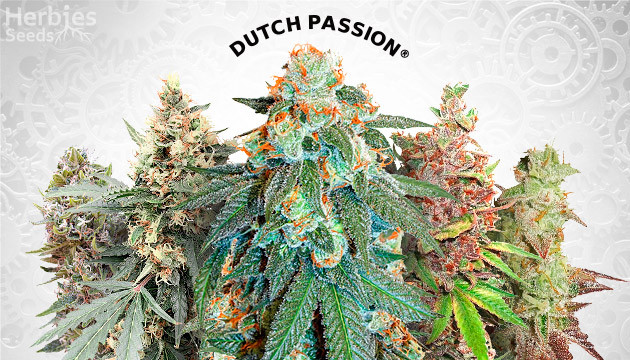 Here's another piece in our series of posts dedicated to the seed banks and strains that made them famous. These are perfect if you want to begin your acquaintance with cannabis cultivation and enjoy it from start to finish. Today, we're featuring one of the oldest and most well-known seed companies in the world: Dutch Passion.
Dutch Passion: Provider Of Elite Genetics Since 1987
Every Dutch Passion seed you buy is a culmination of more than 30 years of experience and expertise, because this company was established in Amsterdam in 1987 and has been active on the market ever since. In fact, the history of this seed bank actually goes back 15 years further to 1972, when future founder Henk van Dalen began his first experiments in growing weed and improving upon the only genetics available at the time – bag seeds from imported marijuana. As a biology and pharmacology student, van Dalen had the best qualifications to bring his enterprise from such humble beginnings to international acclaim.
At The Forefront Of Change To This Day
Such an old company as Dutch Passion wouldn't still be with us after so many decades if they didn't uphold the highest quality of their product and keep up with the times. In fact, they've spearheaded many changes that have shaped the cannabis market of today. Dutch Passion was THE inventor of the process of feminization, and now, when you grow a bunch of plants without worrying that some of them might turn out to be male, you know who to thank for it. This seed bank was also among the first to recognize autoflowering cannabis as the next big thing and make it the main focus of their R&D.
5 New Products That Outperform Former Best Sellers
Understandably, the most popular varieties in the Dutch Passion catalog are all autoflowering. The fact is that this company has bred autos for so long that they're as good quality-wise as the best strains among photoperiods. The ability to flower automatically has become just another useful feature of the all-round excellent genetics of each of the following strains.
Autoflowering Cannabis Seeds
View
Auto Critical Orange Punch: 3 Good Reasons To Try It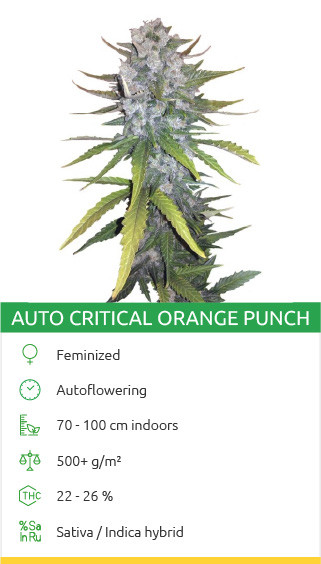 The three things that made this strain so popular are all present in its name: the super high yields inherited from its Critical genetics, the citrusy aroma and taste of Orange Bud, and – with over 20% THC – the ability to deliver a punch that no tolerance will guard you against. The latter part is thanks to the contribution of Granddaddy Purple. Thus, Auto Critical Orange Punch is a sure way to harvest plenty of sublime-smelling, THC-laden nugs in just 75 days from start to finish.
High Yielding Strains
Go to high yielders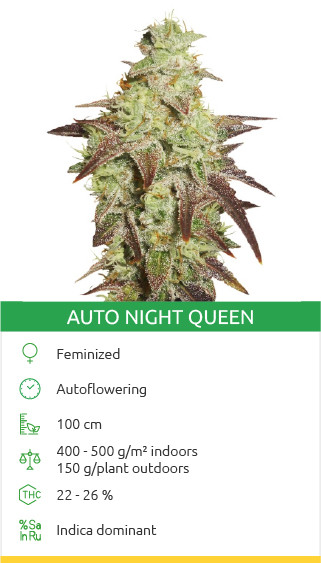 Auto Night Queen: A Voyage Into The Starry Sky
One of the most beautiful Indica plants in the world, Auto Night Queen will hypnotize you with her striking looks. Get ready to see dark leaves and buds studded with silvery trichomes, not unlike small diamonds on black velvet, or more appropriately, like a starry night sky. Anyone half-familiar with cannabis biology will tell you what this crystalline goodness heralds: a high of cosmic proportions. You'll find yourself elevated to a calm and meditative state where you feel one with the universe and know its deepest secrets.
Auto Glueberry OG: A 'Rise And Shine' Type Of Medicine
Draw the curtains, open the windows, let the fresh air and the sunshine in… that's exactly how Auto Glueberry OG will make you feel. This Sativa-dominant hybrid is ideal for any time of day when you need to lift your mood, clear your thoughts, and enhance your creativity and focus on the task at hand. And for those of you who use marijuana for medical purposes, this strain will fill your mind with optimism even if you suffer from serious chronic conditions like depression, anxiety, or stress.
Auto Orange Bud: The Energizing Freshness Of Orange Squeeze
This automatic skunk is a surefire way to harvest plenty of appetizing-looking buds that are vibrantly green and streaked with bright orange hairs. The taste and smell are dominated by blood oranges and skunky dankness, and the effects are just as spectacular: a strong Sativa stimulation with lots of creative euphoria. All this is an irresistible combination that has people buying Auto Orange Bud for their gardens over and over again.
Auto Blackberry Kush: Enjoy The Fragrance And Tranquility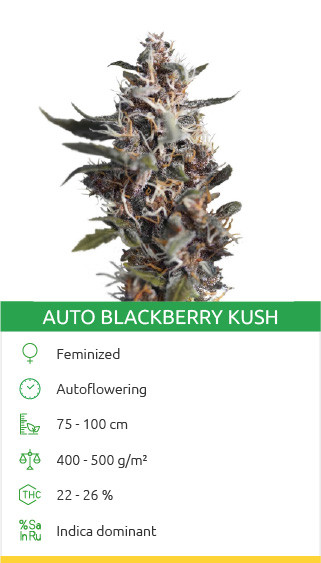 With the rich dark hues of its buds and its generous layer of trichomes, Auto Blackberry Kush is beautiful to look at and a source of constant joy if you have it in your garden. The sweet Kushy smell and taste with some berry-like influences are likewise delightful – and all this is just a prelude to a powerful yet relaxing and peaceful stone that all Indica lovers will appreciate.
Just A Taste Of What Dutch Passion Has To Offer
The five autoflowering strains that we've presented above are just a drop in the bucket compared to the full catalog from Dutch Passion. Even if you tried to grow only those genetics that were milestones in the history of the company, it would still take years. But you have to start somewhere, right? So, keep these five in mind, and don't forget to read the rest of our posts – we'll continue to acquaint you with more must-try strains from other trusted breeders.
Herbies Head Shop expressly refuses to support the use, production, or supply of illegal substances. For more details read our Legal Disclaimer.