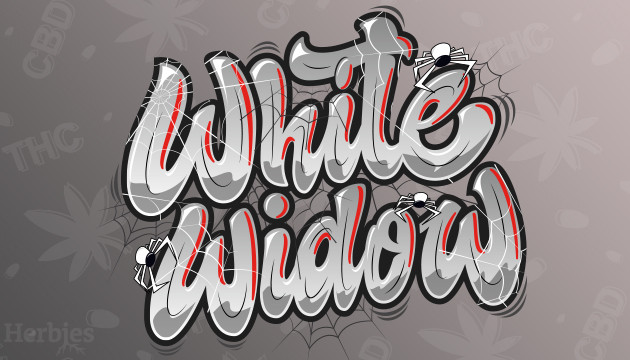 White Widow strain has been on the scene since the 1990s, and it's taken the world by storm. This strain earned its name from the sweet, white, and sparkly resinous crystals all over its buds. Known for its high THC, it consistently brings about uplifting and energizing effects and even sparks creativity. Let's dive in and discover why this strain is so iconic!
Origins and History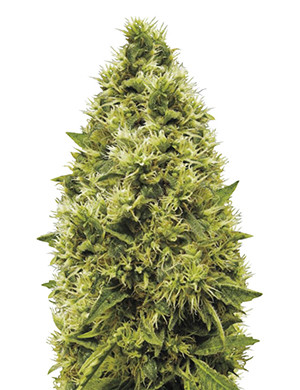 This Indica and Sativa hybrid strain was first bred in the Netherlands by Shantibaba while he worked at the Green House Seeds Company. Word has it that he was on vacation when he stumbled upon the mother plant, a Brazilian Sativa strain. Then, he managed to source an Indica-dominant South Indian hybrid from the scenic mountains of Kerala. Although some people doubt the rumor, many others believe it to be true.
White Widow buds don't get as colorful as those of other strains and always look lighter, even when they're ready to be harvested. They also develop tiny crystals that look like sugar on the buds, which is exactly how the strain got its name.
The strain received much praise from cannabis experts, even snagging the fancy 1995 Cannabis Cup. Professional extractors also hopped on board and started growing a bunch of it because of its off-the-charts resin production. This strain is so iconic that it was used to create other potent varieties like White Rhino and Blue Widow.
THC and CBD Levels
White Widow's THC level usually sits between 15% and 20%, making it a medium-strength strain. When Shantibaba bred White Widow, he wanted to get the best of both Indica and Sativa strains. Therefore, White Widow is a balanced strain that induces a chill vibe without making you glued to the couch. Most smokers find the cerebral effect just as groovy. These stats may not be as sky-high as strains with Sativa dominance, but they can definitely blow the minds of newbies, so be careful when estimating the dose that's right for you. Also, keep in mind that that CBD is usually low, typically making up less than 1%.
Effects of White Widow
With enough Sativa in its genetics, White Widow delivers a noticeable "head buzz" high. Although it isn't the most hard-hitting strain, it always induces a thought-provoking and invigorating sensation and heightened focus that users with the proper THC tolerance may experience. Some even use White Widow as a replacement for caffeine. The strain has also caught the eye of the artsy crowd for its creativity- and productivity-boosting effects.
Just remember that the strain's Sativa-induced White Widow strain effects aren't always a good thing for everyone. While some people feel more focused and creative when using it, taking too much of this strain can easily leave you feeling bad. Since White Widow is mostly Sativa and has a moderate THC level, it's best to start off with a small amount and take it slow.
There can be side effects as well. Besides the usual dry mouth and dry eyes, White Widow might make you feel a bit on edge. If you can't shake the paranoia you consistently get from this strain, it might be worth trying out something different.
Taste and Terpene Profile
White Widow's flavor is quite strong, reminiscent of a mix of earthy undertones, sandalwood, and herbs and spices, due to its main terpenes of myrcene, alpha-pinene, and beta-caryophyllene. Some people think they can also detect a fruity scent, while others feel the fruitiness comes through in the taste. Those who do notice the fruity smell compare it to citrus and tropical fruits.
When you smoke the strain, it starts off with a sweet citrus taste, but users quickly notice flavors of earth, pine wood, and flowers as well. Most view the combination of flavors as being just right and adding to a good smoking experience, although some say the smoke can be a bit harsh. You may want to use smoking accessories that can help with this issue.
Medical Uses
Many users see the additional medical benefits of White Widow. The strain can help with chronic joint and muscle pain related to fibromyalgia, as well as chronic fatigue syndrome. Besides easing pain, people dealing with anxiety, depression, or posttraumatic stress disorder claim that their symptoms lessen when they consume the strain.
White Widow Weed Strain Growing Tips
White Widow is pretty easy to handle both indoors and outdoors, even for beginners in cannabis growing. While it thrives in warm climates, the strain still does great in northern European locations.
Growing White Widow outdoors in high-altitude areas can be especially beneficial for this strain. The plants can survive in hotter temperatures, but be careful not to expose them to colder climates, as this can harm your crop.
Growers might get different phenotypes of White Widow. The ones that lean toward Sativa, making the plant slightly slimmer, are great for growing indoors. It's highly recommended to use SOG or SCROG methods with this strain, but make sure to shorten the vegetation time a bit more than usual if you choose this route. It will result in a strong and lively pre-flower phase.
While your White Widow plants are growing, you might need to transfer them to bigger pots. This should be done when they outgrow their current containers. By repotting them, you'll ensure healthier roots and stems.
Whether you go for soil or hydroponics, White Widow will thrive. Get ready for an exciting growing journey and a bountiful harvest!
Flowering and Harvesting Timeline
With indoor growing, the strain takes around 60 days to start flowering. If you prefer to grow outside, it finishes blooming in about 75 days. Typically, you can harvest it between late September and early October, and you'll get a bit more weed compared to indoor crops. To know when it's time to harvest: wait until at least 70% of the pistils turn amber – then you can finally enjoy the fruits of your hard work.
Yields
If you grow this strain indoors, it can give you a decent 450-500 grams per square meter with a 600W light. Outdoors, you can expect a harvest of around 550-600 grams per plant.
Popular Varieties at Herbies
If you want the best results, picking the right strain is vital. Check out these White Widow seeds we have on hand.
White Widow (Dutch Passion)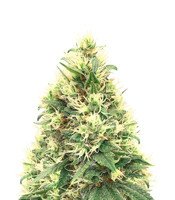 White Widow (Dutch Passion)
Photoperiod

Straight to heaven

22 - 26 %

400 - 500 g/m² indoors
View strain
The White Widow cannabis strain from Dutch Passion is famous for its huge yields of fat buds packed with resin – and it only takes eight weeks to grow! It's also a breeze to take care of, even when the weather is harsh. With its 24% THC and mix of pine and spice flavors, the strain provides a euphoric high, making it a legend that's still very much alive.
Original Auto White Widow (FastBuds)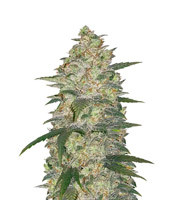 Original Auto White Widow (FastBuds)
Autoflowering

20 %

Mountain high relaxation

400 - 500 g/m² indoors
50 - 170 g/plant outdoors
View strain
The Original Auto White Widow marijuana strain can thrive indoors or out without any issues. It smells like flowers and hits your taste buds with a mix of sweetness and muskiness. With THC content reaching a whopping 20%, this strain is quite strong and gives you a chill, mellow high that's perfect for kicking back and talking with your buddies.
White Widow (Seedstockers)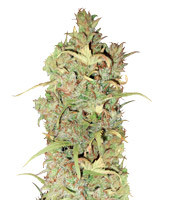 White Widow (Seedstockers)
Photoperiod

Hanging out with a legend

High

14-22 %
View strain
This cannabis strain from Seedstockers comes from a potent mother plant that produces buds with a lot of THC. Careful breeding has resulted in large, resin-packed flowers that can yield up to 500 grams per square meter in just 10 weeks of flowering when grown indoors.
Auto White Widow (Pyramid Seeds)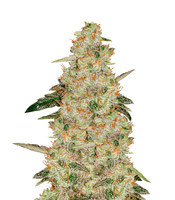 Auto White Widow (Pyramid Seeds)
Autoflowering

Creativity booster

15 %

from 450 g/m² indoors
45 - 200 g/plant outdoors
View strain
Pyramid Seeds mixed the famous strain with a Ruderalis plant to create a new version that practically grows on its own, and fast. This makes it perfect for beginners. It only takes the plant up to 70 days from seed to harvest, and the yields are also solid. This strain also features an unusual sweet smell with aromas of caramel and candy.
Final Thoughts
We hope that White Widow strain information was helpful to you! If you're looking for a potent way to relax and unwind after a long day or week, then be sure to give it a try – you might be pleasantly surprised at how much you enjoy it. Now that you're aware of its origins, the aroma and flavor it possesses, and the potential impact it could have on you, why not give White Widow a go?
Herbies Head Shop expressly refuses to support the use, production, or supply of illegal substances. For more details read our Legal Disclaimer.