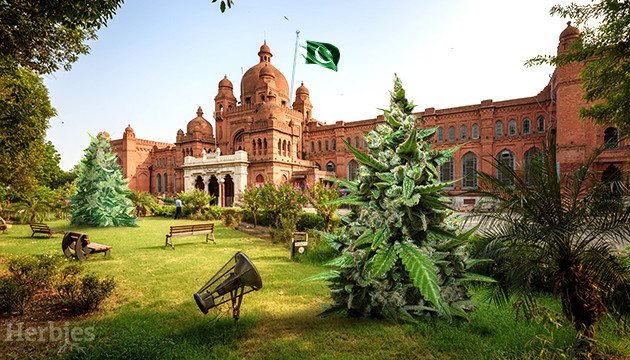 Growing weed in Pakistan can be tough in many ways, but if you're up for figuring out the climate specifics and environmental challenges, you'll have a good chance of getting some bang for your buck with the seeds you purchase. Hopefully, our article will give you the lowdown and steer you toward the top strains for growing in Pakistan.
Is the Climate in Pakistan Good for Growing Marijuana?
Cannabis plants thrive when it's around 25°C during the day and a little cooler, around 5–10°C, at night. This means that in Pakistan, temperatures even in fall can be a bit higher than ideal. However, growing outdoors is still manageable with the right strains and some precaution when the sunshine gets too intense.
As for humidity, marijuana flourishes when it's somewhere between 40% and 60%. However, in Pakistan, half the annual rainfall occurs in July and August, while the remainder of the year has significantly less rain and humidity. This makes the overall climate dry and arid, so you might want to think about installing a water misting system, or else schedule watering as needed. Don't forget that cannabis plants also need regular (but not too much) fertilizing.
When you plan the time for cultivation, consider the following:
The southwest monsoon with quite heavy rains, which takes place from June to September and affects almost all of Pakistan excluding West Balochistan, FATA, Chitral, and Gilgit–Baltistan.
Dust storms known as Andhi that occur during the summer months, with peaks in May and June that are quite violent.
Tropical storms that last from late April until June and from late September until November in the coastal localities of the country.
Heat waves that occur during May and June, especially in South Punjab, central Balochistan, and Sindh.
Top Cannabis Seeds to Grow in Pakistan
Taking the climate into account, it's critical to pick the right strain that can endure the dry season following the southwest monsoon, producing buds before winter sets in. Here's our collection of cannabis seeds that can handle the task.
Gelato Auto (Herbies Seeds)
Even though Gelato Auto has a good mix of Indica and Sativa in its genetics, it mostly leans toward Indica, which makes it well-suited to Pakistan's hot and dry weather during spring and fall. This strain from Herbies is one of the strongest autoflowering seeds available with a THC content of 24-26%. It's also great for cultivating discreetly outside or in small indoor setups because it only grows up to 100 cm (40 inches) tall.
Hindu Kush (Sensi Seeds)
Hindu Kush from Sensi Seeds is one of the more recognized strains in the cannabis community, especially in terms of pure Indica genetics. As a landrace strain native to the Hindu Kush mountain range, it evolved and adapted over many generations to the specific conditions of this region, resulting in a plant that is well-suited to the local climate, soil, and other environmental factors. Moreover, the Hindu Kush strain is renowned for its high resin production, making it a favorite for hashish extraction.
HulkBerry (RQS)
HulkBerry is a one-of-a-kind Sativa-dominant strain that got its name from its beefy buds and berry smell. With THC levels reaching 28%, it's quite a strong cannabis strain. It grows sturdy and fast, so even a newbie can manage to cultivate it indoors or outdoors with impressive yields. Just remember that it can get pretty tall, up to 140 cm (55 inches), so you might want to use some training methods like SOG or ScrOG.
Fruit Punch Auto (Heavyweight Seeds)
Fruit Punch Auto is a cross between Skunk, Haze, and a Ruderalis, making this awesome blend that's mostly Sativa but with a chill Indica vibe. This feminized autoflowering strain is perfect for growers who are just starting out and those who know their way around cultivating plants. The strain loves sunny and warm weather, but it can also handle being grown indoors. It doesn't get too tall, staying around 80-120 cm (31-47 inches), but it still gives you a good amount of buds.
Critical Kush (Barney's Farm)
This pure Indica strain was created by crossing OG Kush and Critical Mass. Thanks to its genetics, it's quite simple to grow and is highly resistant to temperature changes. Its flowering time of 55-60 days makes it perfect for growers who'd like to get those sweet buds as fast as possible. Another great thing about the strain is that it only reaches 100 cm (39.4 inches), which makes it perfect for stealth growing.
CBD Lemon Auto (Herbies Seeds)
A perfect hybrid, CBD Lemon Auto has a good balance of 60% Indica and 40% Sativa genetics and, at the same time, combines a medical-grade 17% CBD content with 17% THC. CBD helps to alleviate serious physical and mental symptoms, while THC adds the sensation of relaxation and happiness. In terms of growing, the strain is resistant to the elements, be it rain or heat and scorching sun. It usually takes 70-75 days from seed to harvest, which is also a sweet spot for many growers.
Original Afghan Kush Auto (FastBuds)
A classic Indica-dominant strain, Afghan Kush is very strong and reliable thanks to its stable genetics. It's also like a fortress against pests and mold, making it perfect even for newbie growers to cultivate. Another advantage is that it only takes 56 to 63 days to flower! You can expect up to 130 g (4 oz) per plant if you grow it outdoors.
Tropicanna Banana (Barney's Farm)
This awesome Tropicanna Banana strain may look charmingly fluffy, but it's actually super strong and can handle spider mites, mold, and Botrytis like a boss. It grows to a neat 110 cm (43 inches) and produces a whopping 2 kg of delicious buds. It only takes about 65-70 days to flower, so you can catch those couple of months perfect for growing it without much hassle. With its 22-25% THC content, it's no wonder this tropical strain is known for boosting your mood.
Growing Tips
In arid conditions, hot weather and scorching air can really dry out your weed, so it's crucial to ensure that your plants get enough water. Here are some tips on growing in a climate like Pakistan's:
Keep an eye on your plants during the day so you can see if they're drooping and give them enough water and nutrition in the morning, at night, and maybe even at other times too.
If your plants can be moved, put them in a shady spot when the temperatures reach a scorching 40ºC (100ºF).
If you can't transport your pants, cover them with a tarpaulin or similar to shield them from the hot weather, which usually hits around noon or in the afternoon.
Check your plants for any signs of annoying pests that can damage them, such as spider mites. When it's too hot and their natural enemies are wiped out, these pests can totally take over.
Consider setting up an outdoor water misting system, with which you can artificially increase the humidity.
If you're growing indoors, it'll be easier for you to control the environment. However, you might need to spend more money to do so. Check out our complete guide on growing weed indoors for beginners to get some insight into the topic. Don't worry, we're here to help you out and give you some tips on growing cannabis the right way.
Is Cannabis Legal in Pakistan?
According to the Control of Narcotics Substance Act of 1997, it's against the law to make, produce, get, prepare, own, sell, offer for sale, buy, or distribute cannabis in Pakistan. However, you can grow it for medical, scientific, or industrial purposes if you obtain a permit from the provincial or federal government. Now that cannabidiol (CBD) is legal, the country is looking to export non-psychoactive hemp and related products to international markets.
Despite the restrictions, cannabis is commonly used in Pakistan, where many people either smoke it as charas (hashish) or drink it as bhang. In general, the authorities focus more on cracking down on hard drugs rather than personal cannabis use. This is especially true in some tribal areas of Pakistan, where you can sometimes find cannabis being sold in public markets.
However, cannabis seeds are legal and can be sold or bought without any restrictions.
Delivery to Pakistan
As we mentioned, in Pakistan, you don't have to worry about getting in trouble for buying or owning cannabis seeds. Even so, it's probably a good idea to keep your little hobby a secret and have your seeds delivered discreetly. Luckily, at Herbies, we have a stealth delivery option for you. We'll take your seeds out of their bright packaging, and if you run into any issues, we're always online to help you out.
Final Thoughts
While recreational marijuana cultivation and use isn't yet legal in Pakistan, it's still rather widespread, and some people do grow the plant for personal consumption. The climate may be challenging, but it's often a matter of choosing the right strain and growing methods. If you're new to growing, you can pick one of the strains we mentioned or choose easy-to-grow autoflower seeds from our collection. And for those on a budget, we've also gathered a selection of cheap cannabis seeds that won't cost you a fortune!
Herbies Head Shop expressly refuses to support the use, production, or supply of illegal substances. For more details read our Legal Disclaimer.