Cannabis Seeds in Calgary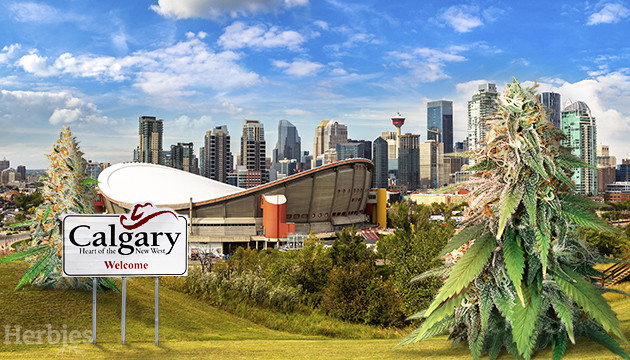 Calgary is known for being one of the top most liveable cities in the world, and access to our favorite plant there has probably played a role in that! If you're looking to join the green revolution and grow your own pot seeds in Calgary, you're in the right place. We'll cover everything you need to know about buying and growing the finest marijuana seeds in the Heart of the New West.
Is it Legal to Buy Cannabis Seeds in Calgary?
In Calgary, buying cannabis seeds is as legal as chowing down on poutine as long as you're at least 18 years old. However, you can only legally purchase marijuana seeds in Calgary from licensed in-person stores or websites.
Can You Grow Cannabis in Calgary?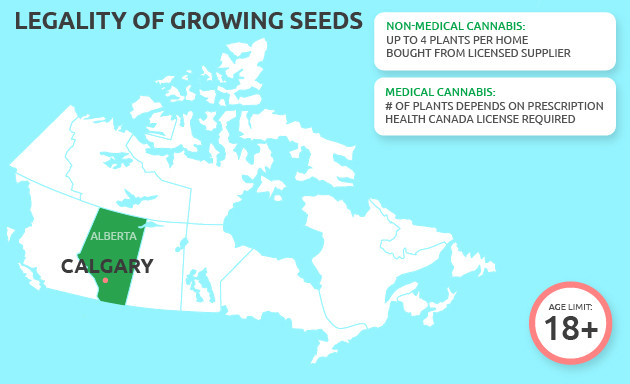 Luckily for all you Calgary stoners out there, Stampede City has taken a soft stance on pot. Albertans aged 18 or older are allowed to grow up to four cannabis plants per home (not per person) for personal use from licensed seeds. The caveat is that it shouldn't be against your rental agreement or condo bylaws, so it would be best to check with your landlord or building manager about any restrictions before starting up a grow space.
Medical marijuana patients can grow more plants, but they need to have a valid medical prescription and a permit from Health Canada. There is no single limit on the number of plants you can grow for medical use – this depends on your daily authorized grams and type of garden. For example, in the unlikely case that you're prescribed 95 g per day, you can grow up to 463 plants.
What to Consider When Buying Weed Seeds in Calgary
Looking for the perfect cannabis seeds for sale in Calgary? Consider factors like your garden type, growing experience, climate, and genetics. Indoor growers can grow all year round, but if you're planning to set up an outdoor garden, you might want to go with the strains that are best suited to the conditions in your area.
Climate in Calgary
Calgary's climate, with its short summers, can be a bit tricky for growing cannabis. Most outdoor growers start their plants indoors and place them outside in the last week of May. The light cycle doesn't change to the 12/12 required for photoperiod plants to flower until mid to late September. From that moment, depending on the exact strain, the plants need another 8-14 weeks to finish the cycle, but the first spell of cold will come sooner.
This means that you'll have to induce flowering earlier. If you're growing your plants in a pot, bring them indoors for 12 hours of darkness, then take them out for 12 hours of light for several days until flowering begins. For plants in a garden, use flowering additives, starting around the second week of August to complete the cycle by mid-October.
Where to Buy Marijuana Seeds in Calgary
Under current laws, you can only buy cannabis seeds in Calgary from licensed stores. As of April 2023, there are 208 approved cannabis providers in Calgary – the second-highest number in Canada after Toronto.
However, many of these stores don't sell seeds at all, and if they do, they often have only a dozen strains available. For the widest seed selection, your best option to buy marijuana seeds online in Calgary would be from seed banks that ship internationally, such as Herbies. We've got you covered with over 1,800 strains, a germination guarantee, expert support agents, and freebies with every order. Plus, we offer stealth shipping to keep your precious cargo safe.
Best Cannabis Strains to Grow in Calgary
Given the climate in Calgary, the best strains to grow outdoors there are Indicas and hybrids. These are sturdier and more adapted to Calgary's outdoor growing conditions than tropical Sativa varieties, which won't be ready for harvest before the first frosts come. Here are our top picks for your Calgary garden:
Purple Lemonade Auto (Fast Buds)
Purple Lemonade Auto is a 70% Indica strain with potent effects powered by 22% THC. The high starts in the head as a burst of energy before giving way to full-body relaxation. This lemonade-flavored wonder tastes like zesty citrus and kicks out aromas of lemon once you light up the buds.
In indoor setups, this strain brings 400-500 g/m², and outdoor-grown plants yield up to 250 grams each. Purple Lemonade Auto takes just 63-70 days from seed to harvest and does it all automatically, so you don't need to trigger it into flowering.
Za-Za OG (Herbies Seeds)
Za-Za OG is a mostly Indica hybrid with THC content testing at a whopping 26%. This strain provides a relaxing body high with a rush of euphoria and is popular among medical patients for its stress-relieving and pain-killing properties. Terpene-wise, Za-Za OG has everything that people love about Kush: pungent aromas of diesel and citrus with a smooth earthy taste.
This Indica takes 50-60 days to flower and, with proper care, yields up to 800 g/m² indoors and 1800 g/plant outdoors. A forgiving and rewarding cultivar, Za-Za OG is an ideal choice for your Calgary garden.
Eleven Roses (Delicious Seeds)
Eleven Roses is a pure Indica – a rare thing these days when hybrids are all over the market. This strain contains around 25% THC and delivers deeply relaxing effects that are perfect for treating insomnia, stress, and anxiety. When smoked, these buds taste sweet and earthy, with slight notes of metal and fruit.
After just 55-60 days of flowering, Eleven Roses will reward you with up to 600 g/m² indoors and 2000 g/plant outdoors. This hardy plant seems to grow without much extra help, and its mold and cold resistance make it a top choice for growing in Calgary's climate.
Afghan Kush (World of Seeds)
Another 100% Indica, Afghan Kush hails from the mountains of Northern Afghanistan and offers narcotic effects with high medicinal value. This classic strain gives off aromas of a fruity bouquet with hints of noble wood and earth.
Afghan Kush takes 55-60 days to flower, producing up to 500 g/m² indoors and 800 g/plant outdoors in the right hands. This is a very compact and hardy plant that's well-suited for Calgary's outdoors.
Godzilla Glue #4 (Herbies Seeds)
Godzilla Glue #4 is a balanced 50% Sativa/50% Indica hybrid with THC content clocking in at 29%. This potent strain will wrap you in a powerful grip of lingering sedation with a euphoric kick. The smoke tastes like chocolate with notes of lemon.
Godzilla Glue #4 takes 55-65 days to flower, yielding up to 800 g/m² indoors and 1200 g/plant in outdoor gardens. Its adaptability and mold resistance make it an excellent choice for those on the lookout for high-quality marijuana seeds for sale in Calgary.