Cannabis Seeds in Vancouver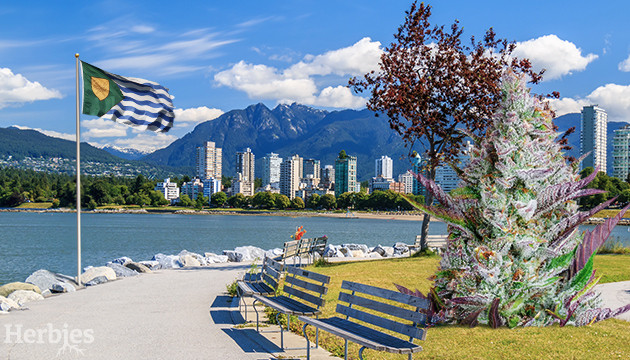 Vancouver isn't only known for its scenic views but also its relaxed cannabis laws. In fact, Vancity has been at the forefront of cannabis culture and the legalization of marijuana in Canada. Read on to learn about the cannabis laws in Vancouver, what strains are the best to grow in this area, and where to find cannabis seeds for sale in Vancouver.
Is It Legal to Buy Cannabis Seeds in Vancouver?
Since cannabis was legalized at the federal level in Canada in October 2018, adults aged 19 or older can legally purchase their weed seeds in Vancouver and the rest of British Columbia. It's therefore perfectly legal to possess cannabis seeds in Vancouver, and the number of seeds you can buy is not limited.
Can You Grow Cannabis in Vancouver?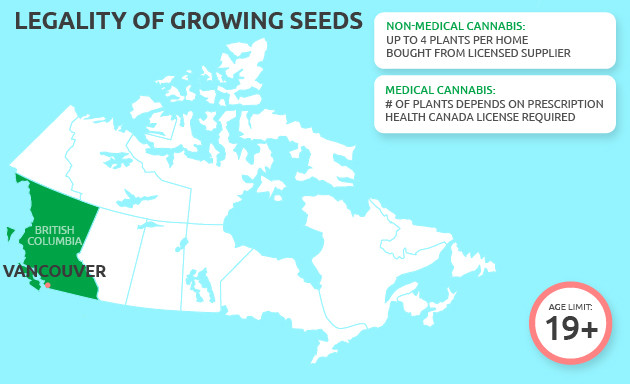 Growing medical and recreational cannabis in British Columbia is allowed for those aged 19 and older. You're allowed to grow as long as it's for personal use and your crops are not visible from a public place (like a street or a park). However, if your neighbor can see the plants from their deck or a window, you're not breaking the law.
Non-medical cannabis growers are allowed to grow up to four plants per household (not per person). This means there can't be more than four plants in any one home, no matter how many adults live there. To grow marijuana for your own medical purposes, you'll need a standard cultivation license and/or a nursery license from Health Canada. If you choose to grow on a small scale (under 200 square meters), you can apply for a micro-cultivation license instead. The number of plants you're allowed to grow depends on your prescription. Use this calculator to find out how much you can grow.
Going beyond the four-plant limit could get you into legal trouble, although the penalties depend on the number of plants you're caught growing. Cultivation of 5-6 plants is not considered a criminal offense, and growers could get away with a $200 ticket. On the other hand, growers who severely exceed this limit could face a $5,000 fine and 6 months-14 years of jail time.
What to Consider When Buying Weed Seeds in Vancouver
Even though marijuana is formally legal in the whole country, laws still can differ from province to province, so it's important to stay up to date to avoid any penalties. Aside from the law, it's also good to understand the climate in your area and what strains will bring the best results in it.
Climate in Vancouver
Vancouver has a moderate oceanic climate that can be favorable for cannabis cultivation. This area experiences relatively mild temperatures throughout the year, with summer temperatures ranging from 20-25°C while winters average around 0°C.
The best time to sprout your seeds is in late spring or early summer, when your seedlings can benefit from the warmer and sunnier weather. Since Vancouver gets a lot of rain, the humidity levels can get quite high. This increases the chances of mold and root rot. To avoid these issues, you might want to opt for strains that are resistant to mold. The amount of sunlight is also moderate, which means your grow might need extra light or strains that can handle lower light levels.
When growing in this area, it's best to stick with Indica-dominant strains that take less time to finish the flowering phase. Growers can also go with various hybrids that are highly adaptable to Vancouver's climate. Pure Sativas aren't the best choice for this climate, but there are a few Sativa-dominant hybrids that can produce great results as well.
Where to Buy Marijuana Seeds in Vancouver
There are plenty of local licensed cannabis stores where you can purchase pot seeds in Vancouver, but they often don't boast a wide selection.
Aside from local providers, the best place to find marijuana seeds for sale in Vancouver is online. There are plenty of reputable online providers with extensive catalogs that ship top-notch cannabis seeds worldwide.
One of them is Herbies, a verified online seed bank that offers over 1,500 cannabis strains with a germination guarantee and a stealth option for those seeking extra safety. If you can't decide which strain to buy, don't worry – our customer support team is online 24/7 to give you a hand.
The Best Cannabis Strains to Grow in Vancouver
To help you choose the right strain, we've listed the best strains that will thrive in Vancouver's climate. We made sure that all these strains are quick-flowering varieties with high mold and pest resistance, so you can grow your plants without fear of losing your precious buds.
Banana Purple Punch Auto (Fast Buds)
Banana Purple Punch Auto is a beautiful purple variety with an alarming THC content reaching up to 26%. This Indica-dominant strain produces a strong but calming and relaxing high that will leave all your worries at bay after just a few delicious puffs.
Its terpene profile gives off a delicious combination of tropical aromas and flavors that will make you feel like you're on summer vacation. When it comes to growing, this variety can yield between 60-120 g per plant after just 56 days. Indoors, expect to harvest up to 600 g/m2.
Sugar Black Rose Early Version (Delicious Seeds)
This multiple award-winning variety from Delicious Seeds will take you on a wild ride with its potent medical effects. The Indica-dominant strain delivers a potent punch of a very relaxing high fueled by 25% THC.
Sugar Black Rose Early Version sports sweet and fruity terpenes with slight notes of skunk that leave a spicy aftertaste on the palate. Growing-wise, this hybrid will amaze you with its super-short flowering period of just 45 days. You can harvest up to 900 g per plant outdoors, while indoor yields average 450 g/m2.
Purple Juice Auto (Herbies Seeds)
Purple Juice Auto is one of the most complex purple varieties on the market, created by the expert team of Herbies Seeds breeders. Even though this hybrid is 70% Indica, it delivers typical Sativa effects that elevate your mood and recharge your social batteries.
Its complex terpenes produce a rich sweet and spicy blend with a smooth citrusy finish. If you're planning to grow Purple Juice Auto outdoors, you could end up with 250 g per plant in just 7 weeks. Indoor yields range from 400-550 g/m2.
Wedding Glue Auto (Fast Buds)
Wedding Glue Auto is a 60% Indica/40% Sativa hybrid that easily reaches 20% THC and delivers a mind-sharpening high pleasantly balanced with body-relaxing effects.
The terpene profile produces sweet and delicious aromas and flavors of vanilla with a touch of earth and slight peppery notes. Wedding Glue Auto performs well both outdoors and indoors, where it produces between 60-160 g per plant and up to 550 g/m2 respectively. Growers can expect their buds within 70 days from sprouting the seeds.
Jack Herer (Green House Seeds)
Jack Herer is a balanced hybrid with a slight Indica dominance and above-average THC content testing at 21%. One of the reasons Jack Herer is so popular is its mood-boosting high that will make you giggle like a child, making it an ideal strain to smoke among friends.
The terpene profile gives off a distinct earthy smell complemented by spicy herbal flavors. After just 8 weeks of flowering outdoors, it yields 1200 g/plant, while indoor-grown crops bring in 800 g/m2.
It doesn't matter if you're a veteran or new to growing – choosing the right seeds plays a big role in achieving a successful harvest. If you're looking to buy marijuana seeds online in Vancouver, Herbies is the place to go. With over 1,500 varieties in store, we make sure that every grower finds something to their liking.