Cannabis Seeds in Delaware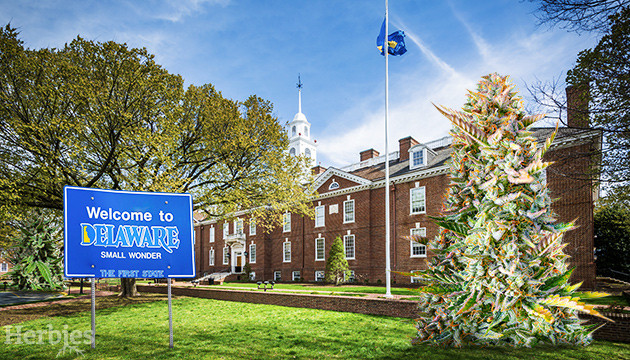 The First State is one of the states that's slowly heading in the right direction. Medical marijuana and CBD are legalized, but recreational cannabis remains illegal – although hopefully not for long. If you want to learn everything about marijuana seeds in Delaware, keep reading.
Is it Legal to Buy Cannabis Seeds in Delaware?
Pot seeds in Delaware are not prohibited by law, so you can legally buy them from various seed banks. Federal law doesn't classify weed seeds as a drug, and anyone above the age of 21 is allowed to possess cannabis seeds. However, the cultivation of weed seeds is another story, and you can read more about this right below.
Can you Grow Cannabis in Delaware?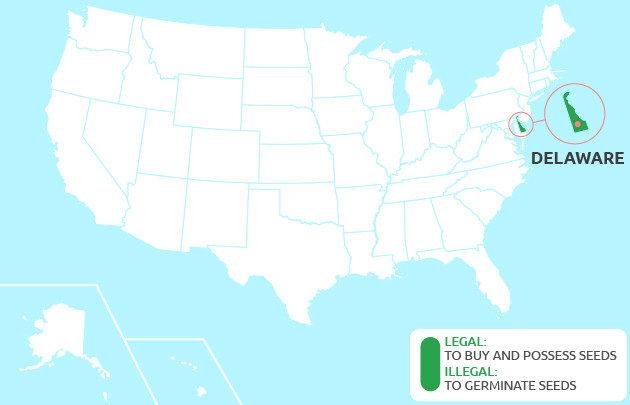 Cultivation of cannabis seeds in Delaware is still considered illegal and could lead to serious penalties. Only state-licensed medical dispensaries are allowed to grow cannabis for medical purposes. Possession of small amounts of cannabis is decriminalized, but growing for recreational or medical purposes could lead to hefty penalties or even jail time.
What to Consider When Buying Weed Seeds in Delaware
After you've done your research about laws in the state, the next step is to find a place with marijuana seeds for sale in Delaware. You can easily and safely order them online from various online providers that ship to Delaware. When buying cannabis seeds, you must first understand the climate in your area and find suitable strains for it. To save you some time, we've already made a list of top-quality strains for the climate in the First State.
Climate in Delaware
Delaware is located in an area with a continental climate that brings cold winters and hot, humid summers. Heavy rains can be expected throughout the year together with high humidity all over the state. When choosing a strain, mold-resistant and fast-growing strains are a must. Colder temperatures arrive in early October, so you also need fast photoperiod strains that will finish flowering by September. Another great option is autoflowering strains that are planted in May or June and can be harvested by September or earlier.
Where to Buy Marijuana Seeds in Delaware
You probably won't find any local seed banks, but don't worry – there's an even easier way to buy cannabis seeds in Delaware. Various online seed banks provide high-quality service and thousands of cannabis seeds for sale in Delaware. An example of such service can be found at Herbies. We are an experienced team of experts that has been conducting and promoting cannabis research for over a decade. At our shop, you can find thousands of high-quality cannabis seeds available for purchase. If you have any questions, our expert customer agents will provide you with all answers you need at any time. Plus, with each order, we prepare a little gift for you – free seeds.
Best Cannabis Strains to Grow in Delaware
Below you can find a list of top-tier fast photoperiod and autoflowering cannabis strains suitable for Delaware's climate.
Candy Kush Express (Fast Flowering) (RQS)
Candy Kush Express (Fast Flowering) is a well-balanced hybrid strain that's perfect for any time of day. This strain is a cross between Sweet Special and OG Kush, and it contains up to 20% THC. Flowers are packed with sweet citrus flavors with an undertone of pine and earth. Candy Kush Express (Fast Flowering) can be easily grown both indoors and outdoors, and during harvest, growers can get up to 500g (17oz) per plant. Indoor growers can expect their buds to finish in just 7 weeks, while outdoor harvest is in early September.
Orange Sherbet Auto (Fast Buds)
Orange Sherbet Auto is a Sativa-dominant hybrid that offers a totally new experience. Extremely resinous buds are infused with 24% THC and have amazingly sweet and citrusy flavors. This strain has highly euphoric effects that will make you more energetic and social. Orange Sherbet Auto has a flowering time of 60-70 days, and the plant can produce up to 650g/m2 (2.13oz/ft2) if grown indoors and 300g (10.6oz) per plant if grown outdoors. After harvest, you will be left with leaves soaked in resin that can be used for producing hash.
Auto Skywalker Haze (Dutch Passion)
Auto Skywalker Haze is one of the best autoflowering strains available on the market. A Sativa-dominant hybrid that contains up to 26% THC, she'll blow your mind with her heavy buds that are packed with fruity flavors with the scent of earth. This strain's effects are highly euphoric and energetic, yet at the same time relaxing. The flowering time is a little longer for an autoflowering strain and can take up to 14 weeks. However, it can be easily grown indoors and outdoors, with the potential for large yields that can reach up to 550g/m2 (1.8oz/ft2).
Gorilla Sherbet F1 Fast Version (Sweet Seeds)
Gorilla Sherbet F1 Fast Version is a hybrid with 70% Indica genes. A crossbreed of Sunset Sherbet and Gorilla Girl XL Auto, its buds contain between 18% and 23% THC with highly potent effects. This is a great option for relaxing and boosting your creative side. The flowers offer an incredibly sweet and fruity flavor with citrus and woody aromas, and Gorilla Sherbet F1 Fast Version has an incredible flowering time of just 7 weeks. Indoor yields can bring you 550g/m2 (1.8oz/ft2), while outdoor growers can expect up to 600g (21.2oz) of sweet buds per plant.
Jack Herer Auto (Green House Seeds)
Jack Herer Auto is a hybrid strain made by crossbreeding Haze, Northern Lights, and Skunk genetics. The resulting 20% THC flowers are full of strong, citrusy flavors in combination with musk and hints of mint and spice. This strain provides an intense high that will leave you relaxed and calm almost instantly. Jack Herer Auto has a pretty fast flowering time of 10 weeks and can produce up to 700g/m2 (2.29oz/ft2) if grown indoors. Meanwhile, outdoor yields will bring up to 100g (3.5oz) per plant.
Gelato Auto (Herbies Seeds)
Gelato Auto is among the strongest autoflowering strains available. This almost perfectly balanced hybrid has 26% THC-infused buds that will boost your mood and creativity after just a couple of puffs. Gelato Auto has sweet and creamy flavors mixed with citrus and subtle earthiness. This strain is a great option for amateur growers and is very easy to grow. Indoor yields can bring up to 600g/m2 (1.96 oz/ft2) by the end of the ninth week from seed, while outdoor growers can expect 200g (7oz) of resinous flowers per plant.
Caramelo Early Version (Delicious Seeds)
Caramelo Early Version is a cannabis strain developed by double-crossing Lavender. This Sativa-dominant strain has buds infused with 24.2% THC that offer euphoric and relaxing effects. Its flowers are full of incredible fruity flavors with hints of lavender and musk. Caramelo Early Version has a super-fast flowering time of 45 days if grown indoors, and she can produce up to 450g/m2 (1.47oz/ft2). Outdoor yields are expected in early September and produce up to 500g (17.6oz) per plant.