Cannabis Seeds in West Virginia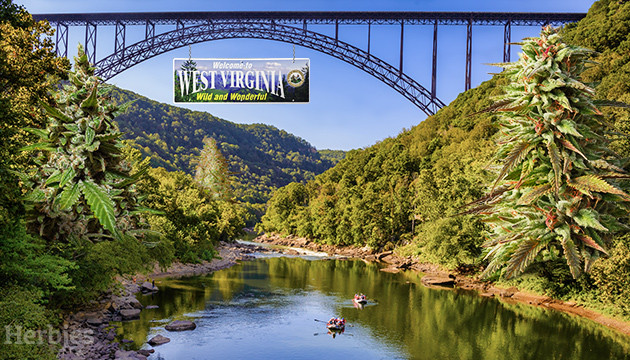 West Virginia has legalized medical marijuana and CBD, but cultivation and possession of recreational cannabis are still strictly forbidden by law. If you want to learn more about this topic, we've covered everything you need to know before buying and cultivating your cannabis seeds in West Virginia.
Is it Legal to Buy Cannabis Seeds in West Virginia?
Federal law doesn't classify cannabis seeds as harmful drugs, so they are completely legal to possess. Marijuana seeds in West Virginia are seen as adult collectible souvenirs, and anyone above the age of 21 can buy them. Just keep in mind that they stay legal as long as they don't germinate.
Can You Grow Cannabis in West Virginia?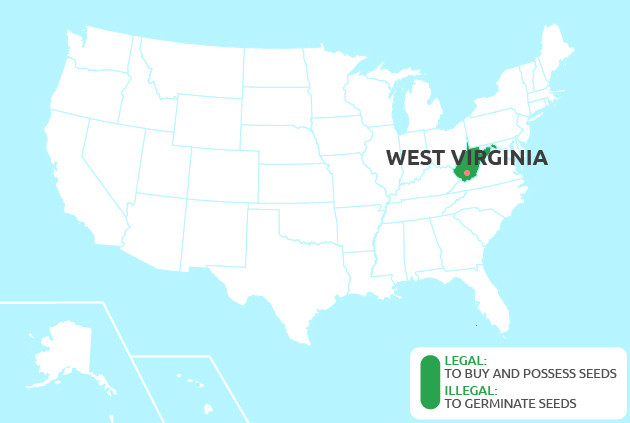 You might be able to possess cannabis seeds legally, but growing is illegal for both medical and recreational purposes and could lead to some serious penalties. While CBD and medical marijuana seeds are legal, they can be grown only by licensed dispensaries. Possession and cultivation of cannabis could lead to hefty fines or even jail time if caught, so be careful!
What to Consider When Buying Weed Seeds in West Virginia
The legality of cannabis and cannabis seeds is the first thing to consider before buying. Despite not being allowed to cultivate, that doesn't concern many growers. If you're ready to grow some pot seeds in West Virginia, the next step is to find a provider to order your seeds from. Keep in mind that you shouldn't buy just any cannabis strains, as not all of them are suitable for the climate in this area. Therefore, you should first understand the type of climate in West Virginia and which strains to grow. Below, you can find all the necessary information for an easy and successful grow op.
Climate in West Virginia
The Mountain State is located in the southeast part of the USA. This area has a humid continental climate, where the summers are hot and steamy and the winters are cool and mild. Temperatures for growing are suitable only from early June until August, so it's very important to pick an autoflowering strain to avoid losing your yields to the cold. In addition, the high humidity in this area requires mold-resistant strains to prevent bud rot and other diseases that could harm your plants.
Where to Buy Cannabis Seeds in West Virginia
Since cannabis cultivation is still illegal, you won't be able to buy cannabis seeds in West Virginia at a local seed bank. However, there's an even easier way. Online, you can find cannabis seeds for sale in West Virginia, where plenty of seed banks offer high-quality cannabis seeds and services. If you're looking for the best service available, Herbies is the place for you. Herbies has been successfully shipping to West Virginia for years, providing seeds of the highest quality for their customers. Expert customer support is online for you 24/7 to help with all of your questions. Plus, with each order placed, you can expect some free seeds as a gift.
Best Cannabis Strains to Grow in West Virginia
This continental climate requires disease-resistant strains that will withstand the high humidity in this area. Below, we've listed the best cannabis strains suitable for outdoor growing in West Virginia. Plant them early in early June to harvest in late July or August.
Skywalker OG Auto (Barney's Farm)
Skywalker OG Auto is a hybrid cannabis strain with 75% Indica genes. It was developed by crossbreeding Skywalker OG and BF Super Auto #1. This highly potent strain has THC levels of 23%, producing long-lasting and relaxing effects. Skywalker OG Auto has sweetly tropical and citrusy aromas with hints of pine and earth. This strain is newbie-friendly and can easily be grown indoors and outdoors. Plants can produce between 450-500g/m2 (1.2-2oz/ft2) if grown indoors and up to 650g (23oz) per plant outdoors.
Trippy Gorilla Auto (Big Head Seeds)
Trippy Gorilla Auto is a Sativa-dominant hybrid made by crossing Trippy Gorilla and Ruderalis. The THC content of this strain can reach up to 28%, making it highly potent. The effects are dominated by the strain's Sativa genes, providing a euphoric and clear-headed high. The buds are packed with the smooth flavors of citrus and pine. Trippy Gorilla Auto has a flowering time of 56 days if grown indoors, while outdoor harvest is done in October. Growers can expect yields of 600g/m2 (1.97oz/ft2) per plant.
Gelato Auto (Herbies Seeds)
Gelato Auto is among the strongest strains available on the market. An almost perfectly balanced hybrid with 26% THC, it offers uplifting effects and a creativity boost. The buds are full of sweet and creamy flavors with undertones of citrus and earthiness. Gelato Auto is easy to maintain and a great option for beginner growers. Plants can produce 600g/m2 (1.97oz/ft2) indoors and 200g (7oz) per plant outdoors by the end of the ninth week. After the harvest, you'll be left with leaves soaked in resin that can be used for producing hash.
Wedding Cheesecake Auto (Fast Buds)
Wedding Cheesecake Auto is a Sativa-dominant strain suitable for any time of day. This hybrid has a THC content of 24% and sports highly potent effects. You will feel motivated and focused after just a couple of sweet tokes. The flowers are full of the delicious flavors of sweet cheesecake combined with fresh fruit. Wedding Cheesecake Auto can produce highly resinous buds with a flowering time of just 63 days. Moreover, it's suitable for both indoor and outdoor growth, producing 600g/m2 (2oz/ft2) of sticky buds. You can also benefit from the trim by using leaves full of resin for producing bubble hash.
Jack Herer Auto (Green House Seeds)
Jack Herer Auto is the result of refining the qualities of the original Jack Herer strain. This strain is a crossbreed of Haze, Northern Lights, and Skunk genetics and features a THC content of 20%. The strain also provides strong effects that will relax your mind and body almost instantly. Its buds have citrusy flavors with hints of musk and mint. This autoflowering hybrid is fairly easy to maintain and can be grown almost anywhere. The plant can produce up to 400g/m2 (1.31oz/ft2) if grown indoors, while outdoor yields are between 70g (2.46oz) and 120g (4.2oz) per plant.
Girl Scout Cookies Auto (Garden of Green Seeds)
Girl Scout Cookies Auto is an almost perfectly balanced hybrid strain that has won multiple awards. Its resinous buds are infused with 22% THC, providing euphoric and uplifting effects and making this a great strain for social occasions. The buds are packed with spicy and citrusy flavors with undertones of earth and mint. Girl Scout Cookies Auto is a strain capable of producing high yields in a short amount of time – by harvest time, growers can expect up to 650g/m2 (2.13oz/ft2) of heavy buds within a period of just 63 days.