Cannabis Seeds in Wisconsin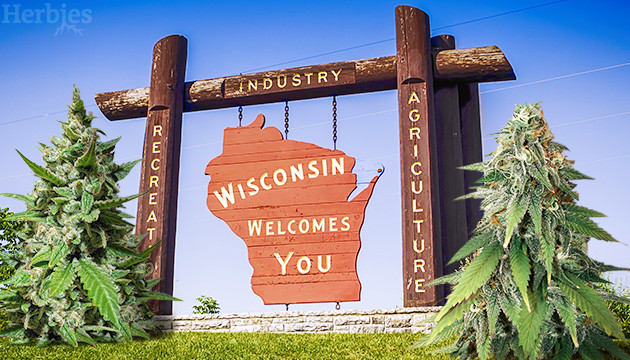 If you're looking for the perfect cannabis seeds to grow in Wisconsin, USA, you've come to the right place! Here at Herbies, we've selected unique strains from our seed bank, hand-picked for their ability to thrive in the Wisconsin climate and produce bountiful crops with ease.
Is It Legal to Buy Cannabis Seeds in Wisconsin?
Even with the growing acceptance of cannabis culture, the cultivation of cannabis in Wisconsin is currently illegal. However, you can still legally buy cannabis seeds as they fall under the category of novelty items and souvenirs. The future for those looking to grow their own recreational cannabis looks bright, so keep your eyes peeled and fingers crossed!
Can You Grow Cannabis in Wisconsin?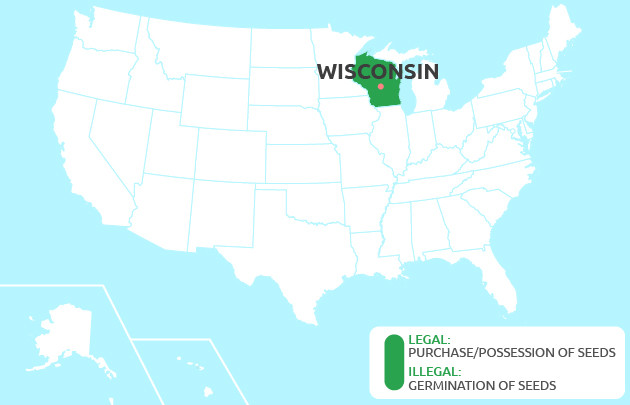 Growers in Wisconsin need to know that cultivating cannabis is currently illegal. Although it may be a grey area if you possess cannabis seeds, germinating them is strictly forbidden, and penalties apply. However, many people still choose to grow their own cannabis for personal use. As long as you're not growing on a commercial scale, the chance of getting caught and facing any legal consequences is quite low.
What to Consider When Buying Weed Seeds in Wisconsin
Whether you're looking for feminized or autoflowering cannabis seeds, growers should consider a few things before purchasing seeds to be grown in Wisconsin. The main factor that will need to be considered – climate – is strictly for outdoor growing of cannabis, as most strains can be grown indoors with ease.
The Climate in Wisconsin
Wisconsin can provide a big challenge when trying to grow cannabis outdoors. As the eighth coldest state in the US, it's essential not to underestimate the challenge that the WI climate can pose. The main concern when growing weed seeds in Wisconsin is the cold weather, which can stunt plant growth, prevent flowering, and even kill plants before you get the chance to harvest them.
The only viable option for outdoor growing in Wisconsin is autoflowering seeds, and the best time to plant them outdoors is in late May or early June. This will give the autoflowering plants enough time to flower and mature before the first frost hits in September/October.
Herbies is your one-stop shop for all the geographically-appropriate autoflowering varieties you could ever want. When growing in places like WI, your crops need to be ready to harvest before temperatures drop too low (below 12C/54F). Thankfully, we have a wide range of strains that will work in even some of today's most intense climates and can be harvested within 3 months.
Where to Buy Marijuana Seeds in Wisconsin
Herbies is here to help you get your hands on some of the best marijuana seeds for sale in Wisconsin. We have a wide variety available with discreet stealth shipping methods that will land them right on your doorstep.
We're confident that you'll be happy with your purchase! With every order, we also always offer some free seeds and a germination guarantee so that you can make every purchase with confidence.
Our seed bank offers over 2,000 different strains to choose from, so you're sure to find the perfect one for your needs. Most of them are suitable for indoor growing. However, when growing outdoors in a state like Wisconsin, it's essential to pick a variety that can withstand the cold weather and still produce great yields – we'll cover them next.
Best Cannabis Strains to Grow in Wisconsin
Here at Herbies, we have a wide variety of high-quality cannabis seeds for you to choose from. If you're growing indoors, you can use our handy filter search and pick any strain you like. For outdoor growers in Wisconsin, we've hand-selected some of the best autoflowering varieties that will make outdoor cannabis growing a breeze even in the harsh cold weather of the state.
Jack Herer Auto (Green House Seeds)
The onset of this 20% THC Jack Herer Auto occurs almost immediately, producing an intense cerebral high that's balanced out by a physical calming effect. This hybrid strain has an appealing citrus scent mingled with an electrifying peppery musk with hints of mint and spice. This is a great crop to get started with if you're a first-time grower in Wisconsin, with a speedy growth period of only 7 weeks!
Gelato Auto (Herbies Seeds)
This is a fantastic feminized autoflower that delivers an uplifting and energized sensation with a touch of creative flair thanks to an abundance of terpenes and even more THC – 26%, to be precise. With a pleasant creamy lime flavor followed by earthy notes, Gelato Auto provides a delicious smoke that's perfect for sharing with friends. With an incredibly fast flowering time of 7 weeks, this strain is ideal for getting speedy crops in before the colder periods in Wisconsin.
CBD Auto Blackberry Kush (Dutch Passion)
As you can probably guess by the name, CBD Auto Blackberry Kush is a 15% CBD autoflowering strain. It provides a fantastic body stone with a mellow 10% THC psychoactive effect, making it perfect for enjoying your day without feeling too hazy. If you're after a strain that can primarily be used as medical marijuana, this may be the perfect choice. The flavor is a delicious mix of sweet berries and musky fruits, providing a pleasant and moreish smoke. With a short flowering time of around 8 weeks, this is a great choice for growers in Wisconsin.
Wedding Cheesecake Auto (FastBuds)
Wedding Cheesecake Auto is a delightful autoflower that produces an incredibly pleasant and balanced high with a serious THC level of 24%. It has a sweet, fruity, and earthy flavor with hints of citrus, making it a real treat for the tastebuds. If you're looking to buy marijuana seeds online in Wisconsin, you'll find that the flowering time of this plant makes it ideal for the state at just 7 weeks. Despite the short flowering time, the plant still manages to deliver an impressive harvest when looked after well.
Girl Scout Cookies Auto (Garden of Green Seeds)
This feminized and quick-growing strain contains a potent 22% THC content and is perfect for those who enjoy a euphoric and long-lasting high. It has an earthy and sweet flavor and a taste that makes this strain one of the most popular pot seeds for growing in Wisconsin. Girl Scout Cookies Auto has a flowering time of under 8 weeks, making it a great choice for all outdoor growers there.
Fruit Punch Auto (Heavyweight Seeds)
The 21% THC and 1.1% CBD Fruit Punch Auto is as euphoric as it is flavorsome, providing a fantastic smoke that's a perfect experience for the senses. It has a sweet and fruity flavor with hints of citrus and mango, packing a pleasant and complex bouquet. This feminized strain has a flowering time of only 9 weeks, meaning you can get quick and bountiful harvests in Wisconsin's climate.
Gorilla Glue Auto (Barney's Farm)
Gorilla Glue Auto is a powerful autoflowering strain that packs the classic 25%+ THC potency of its parent plants. Its high delivers an intense psychoactive journey with creamy coffee notes and a delicately spicy finish. Breeders love this variety's automatic nature and well-balanced flavors for daytime or nighttime use – but with more than enough THC to relieve stress and chronic pain for as long as you need!