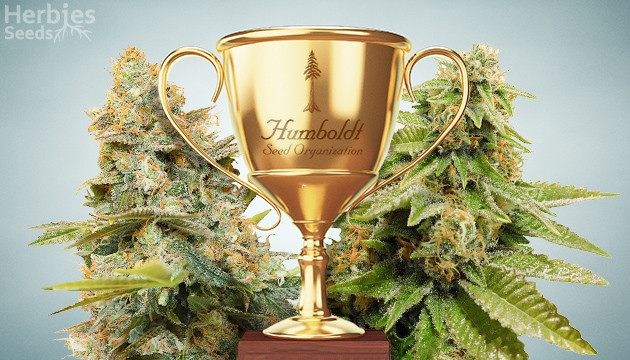 In our previous article, we presented you with Seed Stockers and 5 of their affordable yet high-quality strains that represent the best of their collection. Today, we want to do the same for Humboldt Seeds Organization. This seed company is absolutely worthy of your attention, and the 5 varieties we've chosen to describe are real champions in many respects.
Humboldt Seeds: Your Chance To Grow America's Best Cannabis
Humboldt Seeds Organization, or HSO for short, is a company that operates from Spain but represents the community of growers who have been breeding cannabis in Humboldt County, California, for more than 40 years. When medical marijuana was legalized here in 1996, these people were the first to meet the highest quality standards of the nascent legal market, stocking the shelves of local dispensaries with the dankest flowers imaginable. It was then only a matter of time until California's strains would take over the world of cannabis previously dominated by European genetics.
Huge In An Outdoor Garden, Nice And Compact In A Growbox
Sheltered from law enforcement by mountainous terrain and able to enjoy the best possible climate for pot growing, Humboldt breeders had several decades to perfect their strains, breeding them for huge size and proportionately massive yields that measure in the pounds – imperative qualities for commercial cultivation. So if your climate resembles that of California, you can also grow a ten-footer from every seed you buy. However, most of us grow indoors, and HSO genetics are perfectly adapted to be grown in tight spaces while still delivering record amounts of super-potent and fragrant buds.
List Of Best Tasting Strains
Top 8 best tasting weeds
Humboldt Seeds' Top-Grossing Strains For Sale
Although this seed bank offers quite a few autoflowers of the best quality, their main bestsellers are photoperiod-dependent strains. The reason for this is that people mostly turn to HSO because they want to grow plants of monstrous proportions, with multiple branches that literally bend and snap under the weight of the buds. Moreover, only photoperiod varieties consistently have THC levels in the upper 20s. And now, without further ado, here they are:
Amherst Sour Diesel (Humboldt Seeds)
Photoperiod

27 %

Initial euphoric happiness

400 - 600 g/m² indoors2000 - 3000 g/plant outdoors
Go to strain
Amherst Sour Diesel: Surfing The Waves Of Euphoria
Besides the record-breaking yields and incredible THC levels (the signature traits of many HSO strains, and especially these top five), users fall head over heels for Amherst Sour Diesel because of the incredible euphoric high ensured by its 80% Sativa genetics. Feel like a Californian surfer riding incessant waves of sun-drenched elation and happiness. The flavor is as amazing as the high – ripe fruit, exotic woods and gasoline.
Gorilla Breath (Humboldt Seeds)
Photoperiod

27 %

As high as a kite

450 - 600 g/m² indoors2500 - 3500 g/plant outdoors
Go to strain
Gorilla Breath: A Sticky-Icky Treat
When we say 'gorilla', we mean 'glue': the buds that clog your grinder, the resin that sticks to your fingers, the smell that's impossible to get rid of. Another challenge is to unglue yourself from the couch once you've partaken of a bowl of Gorilla Breath. With 27% THC, this is one of the most devastating Indica-dominant varieties out there. And don't be put off by this strain's name: the pungent smell of fuel, pine and chocolate is absolutely delicious.
The New (Humboldt Seeds)
Photoperiod

High that is ecstatic in its origin

28 %

400 - 600 g/m² indoors2500 - 3500 g/plant outdoors
Go to strain
The New: Numbers More Eloquent Than Words
It's all about the magic of numbers with this strain. The 28% THC that The New produces is impossible to resist – even if it means that every smoking session will end with you whiting out. However, for patients who heavily medicate themselves and have developed quite a tolerance over the years, this Indica-dominant hybrid will be a lifesaver. If you're a seasoned recreational smoker and barely register a buzz from most middle-of-the-road varieties, this weed that produces a super potent, mind-enhancing and nostalgic high will probably remind you of your first bowl ever.
Three Blue Kings (Humboldt Seeds)
Photoperiod

Waves of relaxation

24 %

450 - 600 g/m² indoors3000 - 4000 g/plant outdoors
Go to strain
Three Blue Kings: A Nap On Top Of The World
It's hard to say what this strain's gravitational pull is that draws so many customers and makes Three Blue Kings one of Humboldt Seeds' top 5 bestsellers – it's simply so good in so many ways. Maybe it's the illustrious lineage that happily marries the three royal figures of the cannabis realm – Sour Diesel, Headband, and OG Kush – and adds Blue Dream for good measure? Or maybe it's the strain's effects that are so complex yet perfectly balanced? Either way, expect a totally relaxed, sleepy and happy high, like a lucid dream in which you're the sovereign of your own kingdom and reign supreme.
Blue Dream (Humboldt Seeds)
Photoperiod

19 %

Clear-headed and relaxed explorer

400 - 600 g/m² indoors2000 - 3000 g/plant outdoors
Go to strain
Blue Dream: Your High Octane Fuel For The Day
What makes a strain of weed an ultimate bestseller? It must be strong enough to satisfy all the daily smokers out there, yet still leave them functional enough so that they can actually keep smoking every day and still have a life. And the yields must be so high that there's never a shortage of bud. This is exactly what makes Blue Dream the number one top-grossing strain in the United States. This strong daytime medicine provides euphoric, clear-headed stimulation that's perfect for the go-getters and creative types.
Don't Forget About Autoflowering, Regular, Fast, And High-CBD Seeds
Now that you know what feminized strains by Humboldt Seeds are the most popular among growers, we also encourage you to look through this company's whole catalog, because they have so much more to offer: automatic varieties for those who want to harvest buds as quickly as possible, regular seeds for breeding purposes, 'fast' varieties for outdoor cultivation in colder climates, and CBD-rich strains for medical patients. HSO has them all, and all are of the highest quality.
Stay tuned for our upcoming posts, where we'll be talking about other seed banks and their most popular weed varieties.