Cannabis Seeds in Indiana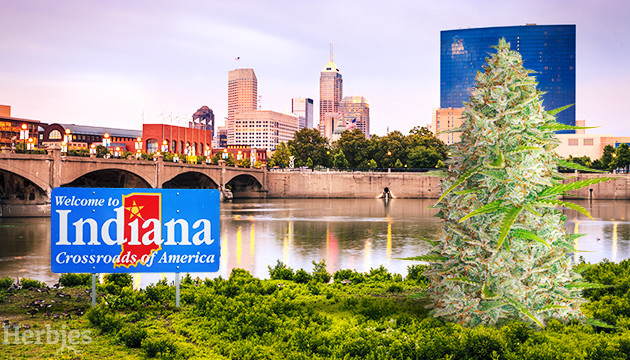 Because the Hoosier State is already known for corn, residents may wish to grow something else. Unfortunately, finding cannabis seeds in Indiana can be a challenge for most.
Those that live there know that the state doesn't view marijuana favorably. That said, an onslaught of upcoming bills may help to change attitudes. IN might finally legalize cannabis growing, so you could learn that you'll be able to buy cannabis seeds in Indiana soon. In that case, you'll always have this article, where we break down growing cannabis in Indiana and suggest some great strains for cultivating in this state.
Is it Legal to Buy Marijuana Seeds in Indiana?
As any Hoosier will tell you, Indiana is among the last states without any legalization. However, some notable exceptions could work in your favor with efforts on the way. Similar to areas like Florida, you cannot currently cultivate cannabis legally. However, you can legally purchase and possess seeds if they don't grow into plants.
As many people believe that legalization is on the horizon, it makes sense to start stocking seeds now. These hearty kernels will last for several years under proper storage conditions. Of course, those feeling brave could go ahead and plant seeds at their own discretion. However, IN has among the strictest laws in the nation, so proceed with caution.
Can You Grow Cannabis in Indiana?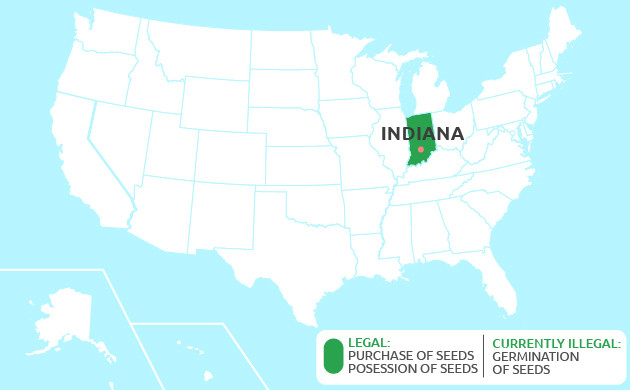 Of course, before you buy marijuana seeds in Indiana, you must know if it's a viable idea. After all, what's the point in investing in seeds if you can't use them?
Farmers received the okay to grow industrial hemp several years ago. These plants offer little to no THC and only low levels of CBD. While cultivating marijuana is currently illegal, surrounding states have repealed local prohibition. It's simply a matter of time before the Hoosier state joins the majority of the nation.
Before you order weed seeds in Indiana, you should know what equipment you need and what techniques you need to master – there's a whole blog at Herbies with articles from experts to help with that!
What to Consider When Buying Marijuana Seeds in Indiana
Cannabis plants, despite their legal status, seem to grow well in Indiana. In fact, some areas see it growing naturally among other weed types. Agriculturally, hemp grows quite well in this region, making growing marijuana also promising. Surprisingly, a significant amount gets destroyed each year for containing too much THC.
That's great news for anyone who buys weed seeds in Indiana. While still illegal, you can anticipate a decent harvest growing either outside or indoors. Finally, research when you should plant and harvest outdoors before purchasing. Your window to harvest is often closed after September, when chilly autumn weather takes over.
Climate in Indiana
Indiana's subtropical climate is an ideal environment to cultivate marijuana seeds. It sees several seasons, frequent rainfall, and reasonably mild winter seasons. However, these aren't the only considerations to make before growing cannabis. The region is known for floods, droughts, and sudden cold temperatures.
Your safe bet is likely to grow cannabis seeds in Indiana indoors. From legality concerns to unexpected weather, you have too many variables outdoors. However, with enough preparation, a grower can handle any environment, indoors or out.
Indiana's Seasons
Indiana's unique location makes for unusual season lengths to grow around. Summer is the longest season, and it tends to stay hot and muggy. Winters don't last long, but they do get frigid, making outdoor operations during this season impossible. You'll need to plant in early spring, when the lowest temperatures don't go below 50F (10C), to harvest by September.
It's also warmer inland, away from lake Michigan, than it is near the state's borders. This is why many Hoosiers stick to indoor harvesting to avoid dealing with the weather.
Marijuana Seeds for Sale in Indiana
Finding marijuana seeds for sale in Indiana isn't as easy as it seems. You won't have access to local seed banks either, making the search challenging. Luckily, you have thousands of seed choices online to select from.
Where to Buy Cannabis Seeds in Indiana?
There's a reason why you won't find many marijuana seeds for sale in Indiana. The local laws prohibit anyone from growing, selling, or possessing cannabis. Although you can stockpile seeds here, you can't do much with them yet. However, with the renewed push toward legalization, you may not need to wait much longer.
That's why you deserve an established yet affordable solution for when you buy marijuana seeds in Indiana. That way, you'll receive quality products at affordable prices on each order. Although you can't walk into a store, we at Herbies keep it simple for you. Browse from among 2,000 strains, use filters to narrow down your choices, read strain descriptions and reviews from growers, and take a look at our blog to make an informed decision. Then, we'll ship the seeds straight to your door with our extra-safe stealth delivery.
Best Cannabis Strains to Grow in Indiana
Whether you're a risk-taker or waiting for legalization, you need reliable marijuana seeds that will perform great in Indiana. While hemp grows well there, which cannabis strains will work best for you?
Our cannabis experts have narrowed the choice down to seven popular and hearty strains. Each one offers straightforward growing and high THC levels for even beginner cultivators. Although many other types can grow well in Indiana, these are our regional favorites. So, buy cannabis seeds for Indiana from our selection of plants, including:
Shishkaberry
Orange Sherbet
Grandmommy Purple
Fruit Punch Auto
Eleven Roses
Auto Daiquiri Lime
Sweet Skunk F1 Fast Version
Whichever one suits you best, we guarantee affordable prices and quality products. Read the descriptions and see why Hoosiers prefer our inventory for their weed seeds in Indiana.
Shishkaberry
Shishkaberry isn't only delicious but also great for beginner growers. Indoor harvesters can produce 600g/m² (2oz/ft2), while outdoors, yields are up to 2,000g (70.5oz) per plant. This 100% Indica strain doesn't grow tall and can mature quickly. You can see massive 26% THC buds in as few as 49 days of flowering.
Shiskaberry offers a delicious earthy and fruity flavor with a total all-body high. Just be sure to grab a snack and a drink to satisfy the munchies, and use this strain in the nighttime to be blissfully lazy.
Orange Sherbet Auto
The best way to reenergize is with a serving of Orange Sherbet Auto. This 70% Sativa kicks negativity to the curb with large 24% THC buds. Orange Sherbet can be enjoyed at any time of day or night, whenever you need a kick of energy, motivation, and good mood.
Its sweet, fruity, and citrus flavors don't hurt either. Although it does get lanky, Orange Sherbet Auto is still quite discreet and suitable for both indoor and outdoor environments, yielding 650g/m² (2.1oz/ft2) indoors and up to 300g (10.6oz) per plant outdoors.
Grandmommy Purple
Grandmommy Purple has already found tons of fans despite its relative newcomer status – and it's easy to see why. Grandmommy Purple is like visiting your grandma for the weekend. She'll kiss you goodnight with her 80% Indica content, fruity "purple" flavor, and massive 33% THC content. You may get chatty and giggly, but you won't get more talkative than fully relaxed and happy.
With equally satisfying yields both indoors (500g/m2 or 1.6oz/ft2) and outdoors (500g/17.6oz per plant), it's a grower's choice.
Fruit Punch Auto
Fruit Punch Auto is there for unwinding from work or getting the party started. As an 80:20 Sativa, it offers an uplifting mood boost and tasty fruity flavors.
It also has some Ruderalis thrown into the genetic mix, providing autoflowering properties plus 1.1% CBD. Its height tops out at two feet, and it grows to complete maturity in about 80 days. You can anticipate 800g/m² (2.6oz/ft2) when grown indoors and 150g (5.3oz) per plant outside. Fruit Punch Auto offers a powerful euphoric effect, and it's an easy grow for beginners.
Eleven Roses
Eleven Roses delivers hours of rest even on your worst days. This 100% Indica strain will leave you feeling one flower shy of a bouquet. Her dark leaves and vibrant green buds add to her mystique. Its unique earthy taste and aroma clue you into her potent 24.8% THC levels.
Eleven Roses also produces high yields – 600g/m² (2oz/ft2) indoors and 2,000g (70.5oz) per plant outside. When you need a deep-seated sedative, this is the perfect strain.
Auto Daiquiri Lime
Auto Daiquiri Lime by Sweet Seeds puts the "happy" in happy hour. This sweet, citrusy, and gas-like flavor will keep you giggly and talkative. Your social boost comes compliments of a Sativa-forward strain with up to 26% THC.
While you can harvest after 75 days, she may take up to 95 for best results. Auto Daiquiri Lime produces at least 500g/m2 (1.6oz/ft2) wherever you grow it. While it may require some advanced techniques, even beginners can see great results.
Sweet Skunk F1 Fast Version
Sweet Skunk F1 Fast Version offers a well-balanced hybrid with a unique flavor. This dessert-like, skunky batch reaches up to 23% THC and 1% CBD. Its 65% Indica genetics produce a relaxing whole-body high with fast-growing buds.
Expect 550g/m² (1.8oz/ft2) indoors and up to 600g (21.1oz) per plant outside after only 49 days. Sweet Skunk F1 Fast Version also stays at three feet or shorter, allowing for growers of any skill level to cultivate this intriguing strain.