Cannabis Seeds in Iowa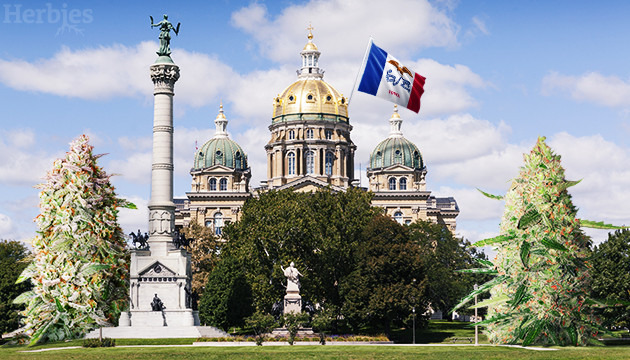 Iowa is a state located in the Midwest of the USA that's known to have some strict laws when it comes to cannabis, even going as far as to outlaw the plant altogether. However, things have begun to change in recent years, and Iowa has become more relaxed when it comes to cannabis. So let's see what the current situation is, where to get cannabis seeds in the state, and what strains suit the area the best.
Is it Legal to Buy Cannabis Seeds in Iowa?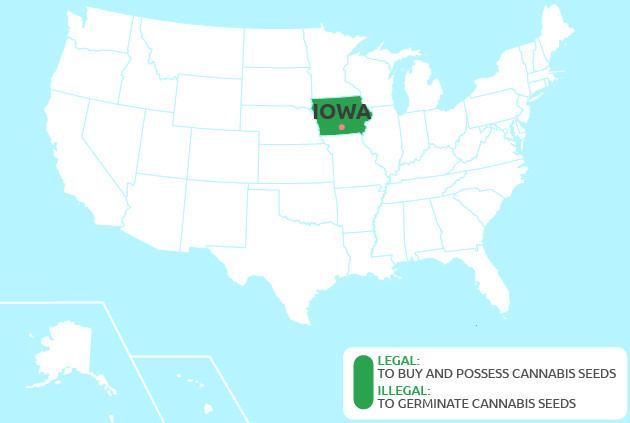 It is currently legal to buy cannabis seeds in Iowa if the seeds themselves remain dormant. This means that until they are planted or grown, it's still entirely legal to possess cannabis seeds in Iowa. However, you're not likely to find anywhere with cannabis seeds for sale in Iowa from a regular store – most growers rely on online stores to get the seeds delivered via post.
Can You Grow Cannabis in Iowa?
Although it's possible to grow hemp with a license, it is illegal to cultivate recreational or CBD marijuana seeds in Iowa. The difference between hemp and cannabis is in their primary use, because hemp is mainly used industrially, and not for human consumption. Growing the plant with the active THC or CBD component will result in penalties if found.
Several bills are currently being proposed to change the legal status of cannabis cultivation in Iowa, so this may change in the future. However, it's not possible to legally grow cannabis in Iowa for now.
What to Consider When Buying Weed Seeds in Iowa
If you're considering buying cannabis seeds in Iowa, keep a few things in mind. First, ensure that the seller is reputable and that the seeds are high quality. There are a lot of scams out there, so it's essential that you do your research before ordering anything.
The Climate in Iowa
The climate in Iowa with its long hot summers is great for growing cannabis. When cultivating your seeds outdoors, it's always crucial to time harvesting your plants before temperatures drop too low (12C 54F or below) – according to this rule, outdoor growing in Iowa is possible from March to November. Therefore, if you're looking to order pot seeds in Iowa, you can choose from among a wide variety of strains, including autoflowers of any kind and both Indica and Sativa-dominant photoperiod strains that will finish before it gets too cold.
Where to Buy Marijuana Seeds in Iowa 
The best place to buy marijuana seeds online in Iowa is from a reputable online seed bank. This ensures that you'll get high-quality seeds shipped discreetly and securely. Here at Herbies, we have offered marijuana seeds for sale in Iowa for many years, and we have built up a positive reputation among our customers. Our store offers stealth shipping and a germination guarantee to give you peace of mind when purchasing your seeds. Although we currently offer around 2,000 strains, we've hand-selected some of the best of them that will take the guesswork out of choosing a perfect strain for growing in Iowa!
Best Cannabis Strains to Grow in Iowa
Now we arrive at the fun part, which is deciding on the right seeds for what you want! We've selected some of the best marijuana seeds for sale in Iowa that make growing as easy as possible.
Laughing Buddha (Barney's Farm)
To start our list off, we're putting our best foot forward and showing off a strain for Iowa that's the perfect all-rounder. Packing 22% THC content, Laughing Buddha seeds by Barney's Farm grow bud that lives up to its name. The euphoric and energizing high is also accompanied by 1.6% CBD, meaning you get the benefits of medical marijuana with each use. This plant's robust nature gives it an edge against Iowa's ever-changing climate.
Za-Za OG (Herbies Seeds)
Za-Za OG is an Indica-dominant strain that packs a punch in the potency department. With 26% THC and 0.6% CBD levels, these seeds will have you feeling euphoric and energetic all at once. These cannabis seeds are perfect for outdoor growing, as they can resist heat, humidity, and pests. Another great benefit of this strain is that the flowering time is a short 8-9 weeks to produce an outdoor harvest that will blow your mind even more than the high!
Sour Diesel (Blimburn Seeds)
If you like that nose-curling aromatic scent, this is the strain for you. Sour Diesel seeds produce a plant that will give off such a strong smell, it's no surprise that people often refer to it as "the gas." This Sativa-dominant seed produces large yields with 25% THC and 0.3% CBD levels and strong resistance to Iowa's hot summers and humid climate. The Sour Diesel strain is perfect for those who want a heavy-hitting high, as it has been known to produce intense psychedelic effects. If you're looking for a Sour Diesel plant that will have the entire block smelling, Blimburn Seeds has got you covered!
Purple Haze Auto (Original Sensible Seeds)
This is a strain that needs no introduction, as it's one of the most popular cannabis strains in the world. Purple Haze Auto by Original Sensible Seeds is an easy-to-grow plant that produces large yields of high-quality bud. The THC levels of this autoflowering strain are a potent 17%, making it a strong contender. Feel energized and euphoric with the uplifting high delivered by this classic strain. Another great benefit is that it's resistant to both the heat and humidity in IA, making it the perfect strain for growing outdoors.
Forbidden Runtz Auto (FastBuds)
Forbidden Runtz Auto is one of the most deliciously potent strains on our list. This strain has a high level of THC at 26% and CBD content close to 1%. This means it will give you a relaxing high that will leave you feeling invigorated and uplifted, followed by a deep relaxation. On top of its sky-high potency, this plant is ideal for outdoor growing in Iowa. It can withstand hot temperatures and humidity with no issues at all. If you want to grow an easy-to-maintain plant, FastBuds' Forbidden Runtz Auto is the strain for you!
Critical Kali Mist (Delicious Seeds)
Next, we have the Critical Kali Mist strain by Delicious Seeds. This Sativa-dominant hybrid is an intense, fast-flowering strain that brings in as much as 1000 grams (35oz) of yield per plant after just a 10-week flowering period. With THC levels of 22%, this strain will give you a satisfying blast of euphoria. The plant's robust nature gives it an edge against Iowa's sometimes unpredictable climate, so if you want a powerful and robust strain that will keep you feeling great all day long, Critical Kali Mist seeds are the perfect choice.
Auto Ultimate (Dutch Passion)
Finally, we have the Auto Ultimate feminized seeds by Dutch Passion. This plant produces high yields with dense buds that grow with ease in Iowa's climate. Even better? THC levels are at a whopping 22-26%, meaning this will give you an intense feel-good high described as a "magical mind journey." If you want to grow an easy-to-maintain plant with dispensary-grade bud, Dutch Passion has got you covered with Auto Ultimate feminized seeds.