Cannabis Seeds in Louisiana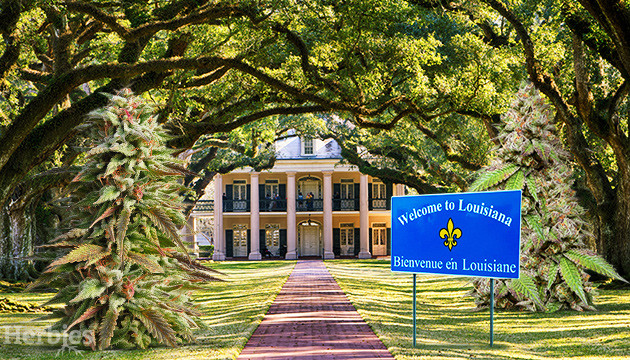 Louisiana, USA is a beautiful state and a popular place for those who love the outdoors. The hot summers make the state ideal for growing recreational cannabis, as there is less need to worry about the damage done by colder months. Overall, there are plenty of opportunities to grow pot seeds in Louisiana with excellent results if you select suitable strains.
Is it Legal to Buy Cannabis Seeds in Louisiana?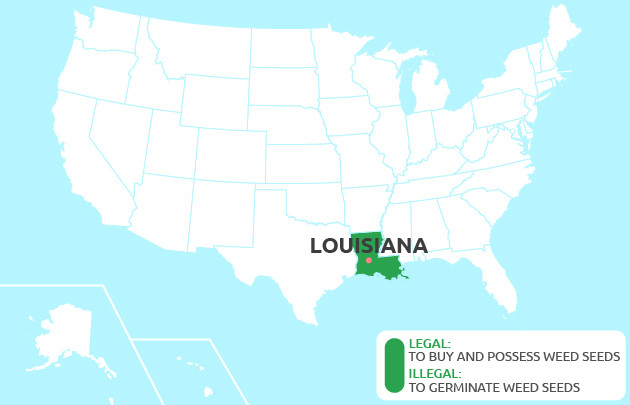 There are no penalties if you buy marijuana seeds online in Louisiana and no laws against owning the seeds themselves, so you won't be charged if you possess cannabis seeds. Even so, if you order online, there's a chance that federal customs may intercept the package, so it's vital to choose a seed bank that offers discreet shipping options. Due to the illegality of actually growing the seeds, it's unlikely that you will find an offline store with cannabis seeds for sale in Louisiana.
Can You Grow Cannabis in Louisiana?
It is currently illegal to grow marijuana seeds in Louisiana, so discretion is advised when growing privately or on public land to not attract police attention. However, the state has recently considered changes to the laws regarding personal growth, and it is hoped that this will be passed soon.
What to Consider When Buying Weed Seeds in Louisiana
Because cannabis seeds are legal to buy and possess in Louisiana, you can start stocking them up until growing becomes legal too. When choosing to buy, it's essential to consider which strains will grow best in the state's climate. With hot summers and short winters, most strains will do okay here, but some may thrive more than others, providing you with more value for money.
The Climate in Louisiana
Although there is little damage done by the colder months to crops in Louisiana, there is a notorious level of precipitation throughout the year. This can create favorable environments for pest insects and molds that will affect your crop and risk ruining it. Make sure to pick a strain that will be ready to harvest before temperatures get to 12C / 54F or below to prevent damage to the crop – in Louisiana, that would be late October. To mitigate this problem and the risk of damage from precipitation and humidity, we've selected some resistant strains that will finish by mid-October or earlier, so be sure to read on!
Where to Buy Marijuana Seeds in Louisiana
The best place to buy marijuana seeds in Louisiana is from a reputable online seed bank like Herbies. We love our customers and offer 24/7 support and a germination guarantee, with free seeds added to every order. Along with all the benefits we provide, we back up our service with an assortment of around 2,000 unique seeds. However, if you're looking for marijuana seeds for sale in Louisiana, we've already selected some of the best-suited varieties for you!
Best Cannabis Strains to Grow in Louisiana
Prepare to be blown away by the varieties we've selected. Not only are their THC contents impressive, but the visual displays and yields of these strains will create the 'cherry on top' for Louisiana growers.
G13 Haze (Barney's Farm)
One of the most highly awarded cannabis strains, G13 Haze is a cross between the legendary G13 and Hawaiian Sativa. With 22% THC levels and CBD levels of 1.2%, this strain will produce yields of up to 500g (17.6oz) per plant with sweet flavors and fruity aromas. The relaxing high produced by this strain starts off seemingly subtle but grows at a rate that will knock you out of your boots before you know it! This plant stands up to the southern climate, making it an excellent choice for Louisiana.
DDoS #33 (Herbies Seeds)
DDoS #33 is an Indica-dominant U.S. genetic masterpiece featuring an unbelievable cluster of terpenes merged to create something truly magnificent. Its memorable lineage creates incredible spicy lemon flavors and spectacular sensory effects that end with a calm and relaxing high. With THC levels of up to 27%, this strain produces massive yields of 800g/m² (2.6oz/ft2) indoors or 2000g (70.5oz) per plant outdoors! The warm, sunny summers in the state of LA are the perfect environment for this powerhouse of a plant.
Trippy Gorilla Autoflowering (Big Head Seeds)
Looking for a hybrid that will clear your head without sacrificing potency? Then Trippy Gorilla Auto is for you. This beauty of a plant boasts some classic Sativa effects, including, of course, a mental high that will have you pondering the meaning of life. With THC content that can clock in as high as 28%, even the most experienced users won't be immune to this lady's charms. Plus, her notes of pine and citrus make her a delicious and aromatic choice for any day. The fast-growing nature of this plant makes it the perfect pick for growers in Louisiana, as timing becomes even more manageable.
Original Big Bud Auto (FastBuds)
Talk about a name that says it all! Original Big Bud Auto is an excellent strain for growers looking to get rid of leafy, airy, or worst of all, tiny popcorn buds. With potent THC levels that can go as high as 23% and CBD levels of up to 1%, this strain produces a buzzing head-high, allowing you to calm your mind. This lovely lady will produce massive yields and glorious buds with minimal effort. Great for beginners, this strain is happy to grow in Louisiana's humid summers and will give you buds ready to harvest long before temperatures start dipping too low.
Black Cherry Punch (Pyramid Seeds)
Black Cherry Punch combines the genetics of legendary strains to make an Indica-dominant gem that packs a powerful fruity punch. With 25% THC and CBD levels of 1%, this strain will produce massive yields, with purple buds covered in large trichomes with sweet-earthy aromas. The effects begin as euphoric but develop into a relaxed full-body high, excellent for pain relief or treating inflammation. This plant stands tall and loves the warm summers in Louisiana – perfect for outdoor cultivation!
Bruce Banner #3 (Original Sensible Seeds)
A fantastic Ghost OG hybrid, Bruce Banner #3 has gained immense popularity in dispensaries across North America due to her euphoric effects and incredible aromas. Infused with 28% THC, the sweet, earthy, and diesel-like flavors of this feminized cannabis strain make her a fantastic choice for recreational users looking for a genuinely Hulk-sized effect. Bruce Banner #3 is a great choice for growing in Louisiana thanks to her resilience to pests and mold, allowing you to enjoy high yields of up to 1000g (35.3oz) per outdoor plant without any worries!
Fruit Punch Auto (Heavyweight Seeds)
A Sativa-dominant hybrid, Fruit Punch Auto is an excellent choice for gatherings and parties. You'll feel energized and talkative thanks to this plant's 21% THC level and CBD level of 1.1% – expect to have some fascinating conversations with some of the added benefits of medical marijuana. Fruit Punch Auto's happy buzz is perfectly balanced, with relaxing elements from its Skunk and Haze genetics. Its flavors are complex; you'll notice a fruity, sweet taste with pungent overtones of skunky goodness. Thanks to its resilience to pests and mold, this strain is yet another fabulous choice for growing in Louisiana's humid summers. Yields can be pretty high, so expect to harvest plenty of buds!