Cannabis Seeds in Maine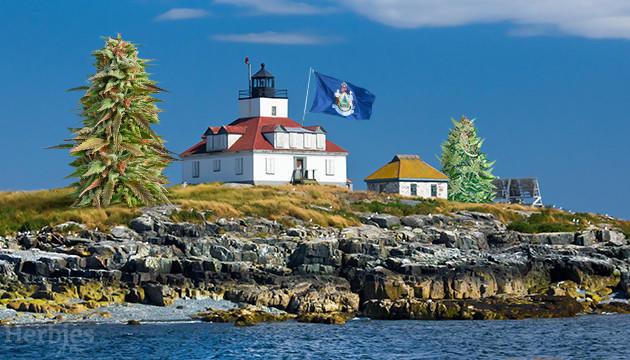 For decades, the state of Maine has been producing pretty great buds, albeit illegally. However, now that the plant is decriminalized here, nothing can stop you from purchasing cannabis seeds in Maine and growing yourself some premium stuff. Of course, some restrictions on the part of the climate apply, so you need to be smart about choosing the right strain. This post is here to help with that.
Is it Legal to Buy Cannabis Seeds in Maine?
The general public may not be aware, but you can legally buy cannabis seeds in Maine as well as elsewhere in the USA. The 2018 Farm Bill took care of that by allowing the cultivation of the hemp plant throughout the nation. Cannabis seeds are the same as hemp seeds, as they don't contain any controlled substances, and who's to say what kind of plant will grow from them – innocuous hemp or mind-boggling marijuana?
So, weed seeds in Maine are legal, and growing the plant is legal as well, but be sure you don't overstep the boundaries and always keep the climate conditions in mind.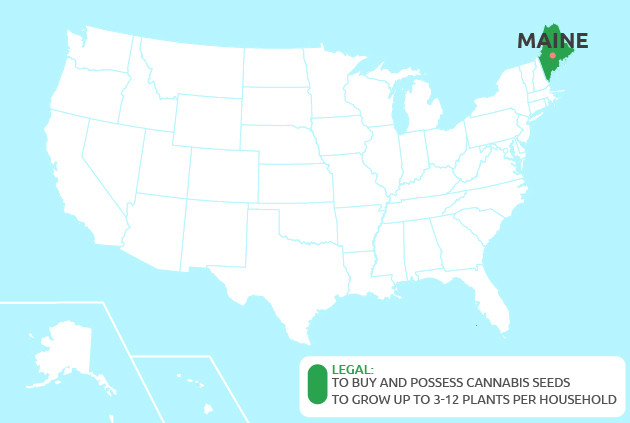 Can You Grow Cannabis in Maine?
Maine is one of the states where both medical marijuana and recreational cannabis are legal. If you're 21 or older, you can have up to 3 mature plants in your garden. Besides that, you can have up to 12 immature plants and any number of seedlings. In practical terms, this means you can set up a full-scale personal cannabis grow op with mother plants and clones and germinate as many pot seeds as you need for your experiments.
For medical patients with qualifying conditions, the laws are even more liberal, as the number of mature plants in your garden at any time can be as high as six. Note also that if you're underage, a 21+-year-old caregiver can cultivate weed on your behalf.
What to Consider When Buying Weed Seeds in Maine
The law expressly states that cannabis plants in your garden shouldn't be visible to the public, so opt for strains of a discreet size. However, the main consideration when you're looking for marijuana seeds for sale in Maine is climate.
Climate in Maine
While the growing season in Maine is long enough to have a successful cannabis grow, some parts of it are risky, as there may be sudden cold spells that can seriously hurt or even kill your plants or ruin the quality of the buds with mold. With some experience under your belt, you can experiment with strains whose flowering time extends well into the tree-peeping season, but generally, we'd recommend only cultivating autoflowers in Maine.
This category of cannabis can finish in 10 weeks from seed, so you can easily fit your grow into the period from early June to late August and never worry about the weather. Start your pot seeds in Maine as soon as summer arrives or germinate them indoors about two weeks before it's warm enough to transplant your young plants outside.
Where to Buy Marijuana Seeds in Maine
It's notoriously difficult to find brick-and-mortar stores that offer cannabis seeds for sale in Maine, or anywhere else in the country for that matter. However, nothing's easier than purchasing them online and having the parcel delivered to your ME address.
Herbies Seeds is hands-down one of the best seed shops to buy recreational and medical marijuana seeds online in Maine. We offer you an intuitive and satisfying shopping experience honed over two decades in the business. Besides such familiar perks of e-commerce as credit card payments, parcel tracking, and a money-back guarantee, our customers enjoy a wide selection of around 2,000 different genetics from 130 seed banks, free marijuana seeds in every order, a germination guarantee, and stealth shipping.
Best Cannabis Strains to Grow in Maine
Growing marijuana seeds in Maine is an ultimately rewarding experience as long as you stick to autoflowers as a sure-fire way of planting your beans at the beginning of summer and harvesting fully mature buds by the end of it. Leave experiments with photoperiod varieties for later when you've gained some expertise.
Gorilla Glue Auto
Gorilla Glue Auto is proof that you can take an autoflower and grow buds of top-shelf quality. With 25% THC oozing from super sticky and stinky flowers, this plant is beginner-friendly in the garden but drops novices like flies when they proceed to smoke it. We strongly advise you against making more than one small toke the first time, before you know what this beast is capable of. And it's such a waste because the smoke is so damn delicious, with notes as diverse as coffee and diesel, chocolate and spice, and cream and earth.
Trippy Gorilla Autoflowering
It's nothing short of miraculous, but Trippy Gorilla Autoflowering is even stronger stuff than the one just above, as its THC level only starts at 25% and sometimes creeps all the way up to 28%. The trippy part in its name isn't a hollow promise either – the jaw-dropping potency of these buds manifests in a distorted perception and outlandish ideas that'll make the mundane world around you a totally unfamiliar place. This autoflower is remarkably fast and takes as little as 8 weeks to produce generous harvests of extremely resinous buds.
Lemon Auto CBD
As a respite from the terrific potency of the two strains above, Lemon Auto CBD is a revelation for recreational smokers and medical patients alike. This auto has as much CBD as THC (up to 17% of each), and the two perfectly balance each other out to create a high that's as strong as it is mellow. You can smoke it throughout the day to get a floating sensation that melts away all worries and relieves any mental and physical distress. You don't need to be a wellness freak to fall in love with these lemon-scented buds, as this is the kind of medicine that you'd take even if it were bad for you.
Wedding Cheesecake Auto
Wedding Cheesecake Auto has the flavors of cheesecake, cookies, fruit, and earth, all wrapped up in one crazy recipe and frosted with 24% THC for good measure. The effects will remind you of a wedding night, when you start all worked up, laughing and talking too much, and end up spaced out and hardly able to move a muscle. You only need about 9-10 weeks to grow this amazing plant that produces up to 10 ounces of chunky, sugary buds without any hassle.
Jack Herer Auto
In case you're still sad about our advice to pass on photoperiod genetics, cheer up – almost any photoperiod strain out there that you wanted to grow is available in the exact same autoflower version. Jack Herer Auto is your chance to experience the legendary original. Its upbeat, clear-headed, energizing Sativa influence is one of a kind, and after the very first puff, you'll realize why this spicy and woody herb has won so many international awards. With a compact size and short flowering time, this plant is also surprisingly productive and will bring you enough bud to last until next summer.
Bruce Banner Auto
Bruce Banner Auto is another big and high-yielding automatic strain with a larger-than-life character and powers worthy of a superhero. It packs 25% THC and enough sweet, diesel-like, and fruity terpenes to make you want to grow and smoke no other strain going forward. With its 65% Sativa genetics, it's definitely a wake-and-bake type of weed, but remember that you're not a Hulk yourself and should practice moderation. Otherwise, instead of a cerebral boost, you'll get a total physical meltdown and spend the better part of your workday in a blissful coma.
Girl Scout Cookies Auto
Another way for you to grow dispensary-grade stuff in your own garden, Girl Scout Cookies Auto takes after her photoperiod parent, as she offers the same kind of high that's characterized by happiness and is suitable for any time of day. Another thing that makes the original GSC a dispensary favorite is the unique smell of sweet cookies with a minty touch. You won't be able to get enough of this fantastic flavor, but sadly, you can't smoke this treat all day long – the 22% THC will cut you short pretty soon. However, you won't have trouble growing this auto in your Maine garden, as she takes no more than 8-9 weeks from seed yet still delivers bumper harvests.