Cannabis Seeds in Minnesota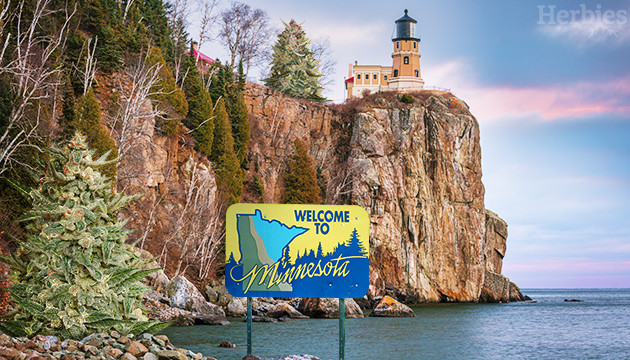 Cannabis seeds in Minnesota have become a hot commodity, even for inexperienced growers. However, patients in the Land of 10,000 Lakes often feel confused over their local laws. The state only has two approved growers, making the situation complicated. Many are left wondering if they can grow at home or if they're stuck.
Instead, many consumers have taken to buying weed seeds in Minnesota online. That way, they have access to their medicine whenever they need it most. While there are risks involved, many consumers feel it's well worth it. Learn which weed seeds in Minnesota will grow your favorite new plants.
Is it Legal to Buy Marijuana Seeds in Minnesota?
Anyone will tell you that the cannabis laws in the Gopher State remain confusing. Can you buy cannabis seeds in Minnesota, or are you out of luck?
First, the good news: throughout the United States, you can purchase marijuana seeds – in Minnesota, as in other states, you can hold on to them so long as they don't germinate. However, that does beg the question, why buy marijuana seeds in Minnesota to not cultivate them? Some consumers feel it's necessary to have access to their much-needed medicine, preferably home-grown. Others collect strains they like while they're available or on discount to keep them for better times – when stored properly, cannabis seeds can stay viable for years!
Can You Grow Cannabis in Minnesota?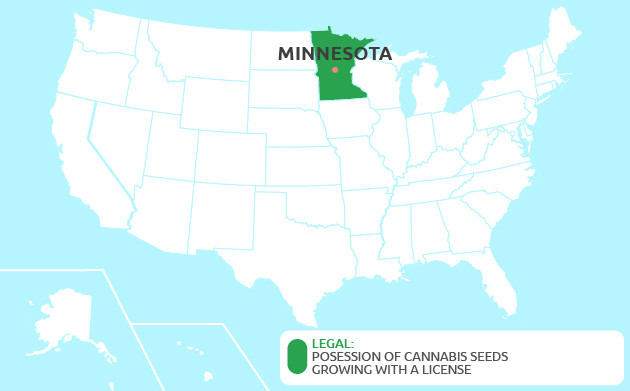 Minnesota laws on cannabis seeds are pretty straightforward: no one grows without a license. However, the state is slow to approve additional growers, making the process challenging.
Even with approved medical conditions, patients cannot grow at home legally. Currently, MN will allow you to purchase cannabis via their two approved commercial growers. Everyone else does so at their own discretion, knowing that it's still illegal. At the very least, laws decriminalized weed back in the '70s for some leeway.
That said, the conditions that approve a patient for use seem dire. The state allows for consumers with very specific conditions to rely on cannabis, such as:
Cancer
Glaucoma
HIV/AIDS
Lou Gehrig's Disease (ALS)
Seizure Disorders
Multiple Sclerosis (MS)
Chron's Disease
Terminal Illnesses
Those who fall under these categories know how challenging access to medicine can feel. It's why so many patients decide to buy cannabis seeds in Minnesota and grow anyway.
What to Consider When Buying Marijuana Seeds in Minnesota
There are some considerations before you search for marijuana seeds for sale in Minnesota. In addition to local laws, there's also the weather to keep in mind.
Climate in Minnesota
The climate isn't exactly ideal for growing cannabis seeds in Minnesota. By September, cold weather begins rolling in, and it stays frigid for weeks. It's probably best to select autoflowering strains and quick photoperiod plants for timely harvesting.
Outdoor cultivators need to make wise decisions about which strains they purchase. Those who want to grow Sativas in Minnesota will likely need to plant autoflowering seeds to harvest before the first frosts. However, many Indicas, photoperiod or not, will finish in time – keep reading for the list of strains ideal for the Minnesota climate.
Marijuana Seeds for Sale in Minnesota
You likely can't buy marijuana seeds in Minnesota from a brick-and-mortar retailer. Instead, purchasing them online offers plenty of variety and affordable pricing.
Where to Buy Cannabis Seeds in Minnesota
Herbies Seeds continues providing the best cannabis seeds throughout the world. We stealthily ship orders internationally, even to an area like yours. Our selection contains over 2,000 strains from top seed banks across the globe. Find them all today, no matter what genetics you need or which strains you prefer.
Best Cannabis Strains to Grow in Minnesota
Thanks to Minnesota's unique climate and location, some strains prove heartier than others. Which cannabis strains should you grow in Minnesota to avoid disappointing harvests? It will take strains known for their resilience, quick turnaround, and ease of growing. Otherwise, you will see your new plants wilt before long.
We've chosen seven strains with great potencies and stunning flavors as your best bets for growing cannabis in Minnesota. Here they are:
Strawberry Banana Auto (FastBuds)
Strawberry Banana Auto (FastBuds)
Autoflowering

Euphoric effect leading to relaxation

27 %

450 - 600 g/m² indoors
50 - 250 g/plant outdoors
Go to strain
Strawberry Banana Auto's taste will remind you of summer all year long. As a balanced 55% Indica/45% Sativa, this sweet and fruity blend boosts any mood. Strawberry Banana Auto packs a potent fruity punch at 27% THC – use it to unwind at night or enjoy a lazy afternoon.
This plant gets reasonably tall at 150cm (59"), so respect its height. In just 70 days from seed to harvest, it yields up to 600g/m² (2.13oz/ft2) indoors and 250g/plant (8.82oz) outdoors.
Black Cherry Punch (Pyramid Seeds)
Black Cherry Punch (Pyramid Seeds)
Photoperiod

Berry-tasting relaxed evening

25 %

350+ g/m² indoors
750 - 1000 g/plant outdoors
Go to strain
Black Cherry Punch is as fun to grow as it is to smoke. Its distinctive deep purple leaves are mesmerizing and clue you into its incredible potency. This earthy and fruity strain hits at 25% THC and 1% CBD. You can anticipate long-lasting giggles from this 90% Indica hybrid bursting with flavor.
Black Cherry Punch finishes flowering in about 9 weeks – perfect for Minnesota cultivators. Yields are over 350g/m² (1.15oz/ft2) indoors and 1000g/plant (35.3oz/plant) outdoors.
Sugar Black Rose Early Version (Delicious Seeds)
Sugar Black Rose Early Version (Delicious Seeds)
Photoperiod

A flower of calmness

25 %

450 g/m² indoors
900 g/plant outdoors
Go to strain
Sugar Black Rose Early Version looks like a Christmas miracle with its distinctive shape and color. The bright orange tinsel-like hairs and frosty resin coating only add to its festiveness. As an 80% Indica-dominant hybrid, it's perfect for a long winter's nap with 25% THC and calming, happy, and sedative effects. It also helps treat nausea, pain, and stress, making it ideal for either recreational or medicinal use.
Sugar Black Rose tastes and smells fruity and skunky while growing short and stocky. Yield up to 450g/m² (1.48oz/ft2) indoors and 900g/plant (31.7oz/plant) outdoors in just 45 days of flowering.
Gelato Auto (Herbies Seeds)
Gelato Auto (Herbies Seeds)
Autoflowering

26 %

Outpouring of creativity

400 - 600 g/m² indoors
Go to strain
Gelato Auto is made by us, Herbies Seeds, and we couldn't feel prouder. Enjoy a surge of creativity and uplifted mood with 26% THC thanks to this balanced hybrid. These emerald-green conical buds taste sweet, creamy, and earthy, with a pungent aroma while growing. They top out at 110cm (43") and finish in 65 days of easy growing.
Gelato Auto yields 200g/plant (7oz/plant) outdoors or 600g/m2 (1.97oz/ft2) indoors. Beginners can see great results, and experienced cultivators even more so when implementing some LST and light defoliation.
Sweet Skunk F1 Fast Version (Sweet Seeds)
Sweet Skunk F1 Fast Version (Sweet Seeds)
Photoperiod

Sweet body relaxation

18 - 23 %

400 - 550 g/m² indoors
350 - 600 g/plant outdoors
Go to strain
Sweet Skunk F1 Fast Version is a unique 65% Indica/35% Sativa hybrid. Its silver buds pack up to 23% THC and 1% CBD for long-lasting, blissful relaxation. Sweet, spicy, and skunky, this strain is resistant to pests and environmental stress. It flowers in under 50 days and tops out at 1m (39").
Sweet Skunk yields up to 550g/m² (1.8oz/ft2) indoors and 600g (21.1oz) per plant outdoors. These plants are thirsty, so make sure you're generous and never skip watering.
Auto Orange Bud (Dutch Passion)
Auto Orange Bud (Dutch Passion)
Autoflowering

Activation of creativity

26 %

400 - 500 g/m²
Go to strain
Auto Orange Bud gets its name from its distinctively vibrant orange hairs. This Sativa tastes like diesel and tart fruit, foreshadowing its potent 26% THC. You may want to reserve these flowers for daytime use, given their highly energetic Sativa genetics.
Auto Orange Bud has attracted fans worldwide for its dense buds and low growing difficulty. Even beginners can see this strain flower in 11 weeks or sooner. It yields 500g/m² (1.64oz/ft2) and grows well both indoors and out without much effort.
Lemon Auto CBD (Herbies Seeds)
CBD Lemon Auto (Herbies Seeds)
Autoflowering

Floating in Space

17 %

500 - 600 g/m² indoors
Go to strain
Another Herbies Seeds original, Lemon Auto CBD, is a versatile strain for both medicinal and recreational consumers. Enjoy 17% THC and 17% CBD all day with a 60/40 Indica/Sativa split to banish pain, depression, and writer's block with an uplifting and relaxing experience. Plus, its citrusy and spicy flavor is a hit among consumers.
Lemon Auto CBD doesn't get too tall, reaching only 100cm (39"), making it popular for those who want to grow stealthily. Simply plant, wait 70-75 days, and harvest up to 600g/m2 (1.97oz/ft2) of these bright and frosty buds.
FAQ:
When is the Best Time to Plant Marijuana Seeds in Minnesota?
Those braving an outdoor grow in Minnesota must start in early spring, once the temperatures stay above 12C (54F). While it's still chilly, plants will toughen up as the temperatures gradually warm. You can also start them off indoors until it becomes warm enough to transplant them. This method is great for all cannabis: an early start helps photoperiod plants get massive before the start of flowering and allows for two harvests in one season for some autoflowering strains.
Are Cannabis Seeds Legal to Possess in Minnesota?
Like many states that are slow to legalize, you can possess cannabis seeds in MN. That said, they only remain legal if they don't germinate, creating a dilemma. However, as seeds alone do not produce psychoactive effects, you may legally purchase them as novelties.