Cannabis Seeds in Nebraska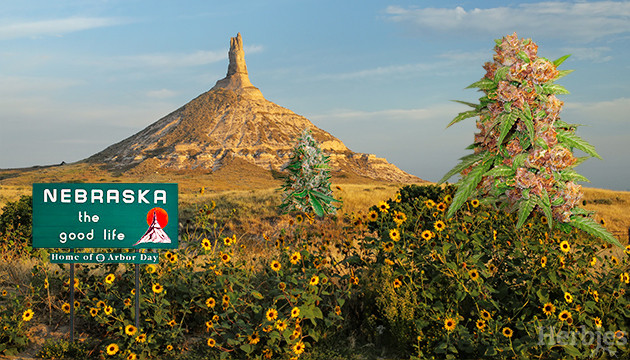 Nebraska is one of the more conservative US states when it comes to weed, and progress toward a more sensible policy is slow and riddled with potholes. Even medical marijuana is still illegal here, but the situation may change soon, so if you're a patient in need of a new kind of medicine, maybe it's time to stock up on cannabis seeds in Nebraska.
Is it Legal to Buy Cannabis Seeds in Nebraska?
This is where the good news for you weed lovers starts (and stops) – there's no law that forbids you to buy cannabis seeds in Nebraska or possess cannabis seeds once you've bought them.
Before 2018, the cultivation of any kind of cannabis plant was illegal in the USA even though the nation was the world's single biggest importer of hemp for industrial purposes. The 2018 Farm Bill allowed American farmers to cultivate this crop and, by extension, made cannabis seeds legal throughout the country, including Nebraska. What you can and can't do with them is another matter altogether.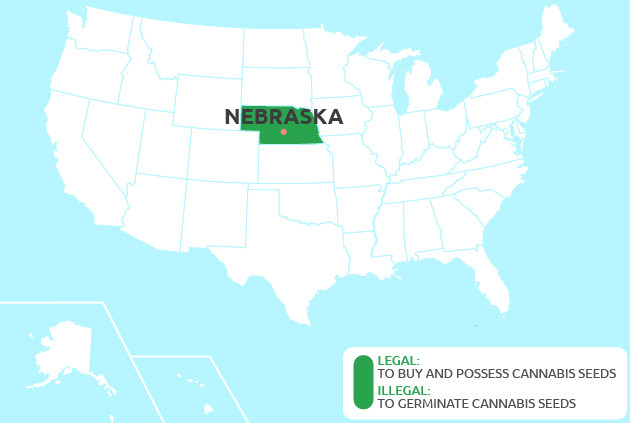 Can You Grow Cannabis in Nebraska?
Growing cannabis seeds in Nebraska or even just germinating them is against the law. If you're wondering wonder what penalties you'll face if caught with a few plants, law enforcement will confiscate and weigh them and charge you with possession.
Nebraska is one of the 31 states that decided to do away with jail time for simple possession of small amounts (under 1 ounce). For larger amounts, the authorities have less pleasant tricks, such as mandatory minimum sentences, up their sleeve. So think twice before looking for cannabis seeds for sale in Nebraska if you intend to cultivate this wonderful but stigmatized crop.
What to Consider When Buying Weed Seeds in Nebraska
When you search for marijuana seeds for sale in Nebraska, bear in mind that the local climate imposes some restrictions. Of course, the indoor grower isn't limited in their choice of seeds (although it might be not a good idea to try to grow something in the summer months). As for outdoor gardens, be very smart about where, when, and what you plant.
Climate in Nebraska
The main challenges of cultivating marijuana seeds in Nebraska are high winds and humidity in the middle of summer. It might be difficult for a first-time gardener to imagine how brittle the branches of a cannabis plant can be, especially when they're long and burdened with heavy mature buds. So, always think about adequate support for them, don't let them grow too tall, and make sure the flowering stage isn't in the windiest part of the season. Alternatively, maybe growing in a greenhouse is your best bet.
As for high humidity, this is okay for vegging plants, but once they start budding, it will most likely lead to mold and bud rot. For these two reasons, if you choose an autoflower, be sure to plant it later in the season – late June or even early July – so that it finishes in September, when the weather in Nebraska is just about perfect for flowering cannabis.
Meanwhile, if you prefer photoperiod (short-day) varieties, stick to those that also finish in September or early October at the latest. They'll get plenty of sunshine when it matters the most and can be harvested before the cold weather sets in.
Where to Buy Marijuana Seeds in Nebraska
Don't waste your time trying to find marijuana seeds for sale in Nebraska in a brick-and-mortar shop. But who needs them in the age of the Internet, right? There are enough seed shops online for you to find and purchase any genetics you fancy, and ours – Herbies – is among the best.
We can boast almost 20 years of experience and close to a million filled orders, and our assortment of strains is mind-boggling – 2,000+ varieties of any genetic makeup, potency, effect type, and flavor. We offer free seeds with every purchase and even more free seeds for larger orders. Moreover, our 120+ partners offer their own promotions and discounts all the time.
We take credit cards and accept wire transfers and Bitcoin, routinely ship to NE zip codes, use stealth shipping, and offer a germination guarantee. Talk to our 24/7 customer support and they'll answer your questions, help you choose the perfect strain for your needs, and offer assistance if you're growing your first crop and hit a dead-end due to lack of experience.
In short, nothing is easier or more satisfying than buying marijuana seeds online in Nebraska using Herbies Seeds.
Best Cannabis Strains to Grow in Nebraska
We've considered the peculiarities and challenges of your climate when compiling this list of pot seeds for Nebraska. Any of the strains below will be a perfect choice for either outdoor or indoor gardens.
Gelato Auto
Autoflowers are definitely the safest choice of weed seeds in Nebraska, but Gelato Auto offers so much more than simple convenience. This modern-day recreational cannabis has an intimidating 26% THC and is one of the strongest autos out there. However, the potency isn't of the kind that makes you speechless and unable to move. Instead, this Sativa-dominant weed jacks you up with its euphoric and electrifying energy that's perfect for social gatherings of any size – from intimate circles of friends to corporate events where you have to talk to a lot of strangers.
You can grow this delectable dessert strain in just 63 days from seed and get bountiful harvests of up to 7 ounces per plant outdoors.
Candy Kush Express
Candy Kush Express is a great representative of the fast-flowering 'express' line that is photoperiod-dependent but finishes way earlier than traditional short-day plants. Despite its speed, it produces a very potent smoke (15-20% THC is a serious level) that provides a perfect balance between cerebral and bodily effects, just as a good medicinal strain should. Smokers with high tolerance use it throughout the day to stay profoundly medicated but functional at the same time. They also love its candy-sweet aroma with citrus and gassy notes.
Look forward to generous harvests of up to 17.5 ounces per plant outdoors – and best of all, this strain won't keep you waiting longer than early September.
Auto Colorado Cookies
Auto Colorado Cookies is an amazing strain for both flavor and potency. She's a cross of choice cuttings of Blueberry and Girl Scout Cookies, which says a lot about the smoke's aroma. Combining a berry-like freshness with the sweetness of cookie dough, the smoke is a real treat for your tastebuds, while its 22-26% THC means a head-to-toe relaxation of your every muscle and brain wrinkle. There's nothing like the end-of-the-day bliss provided by these buds.
11 weeks from seed to harvest is fast enough for almost any climate, and in Nebraska gardens, this auto will perform beautifully, yielding 400-500g/m2 (1.3-1.6oz/ft²).
Tropicanna Poison F1 Fast Version
How about a red variety for a change? Tropicanna Poison F1 Fast Version isn't just pretty to look at – she also has the most exotic terpene profile you can imagine: earthy, fruity, and floral, with intense candy-like sweetness and notes of mango and peach. Her 24% THC and strong Indica nature promise a potent buzz in your whole body and a happy dream-like haze in the head.
Chosen for her speed, this plant will finish in all her glory sometime in September, gifting you with 14-23 ounces per plant of fat, dense, resinous, and easy-to-trim buds.
Jack Herer Auto
Getting better and better with every iteration, this automatic version of the famous genetics is what smokers have come to think of as the ultimate Sativa smoke. As soon as you exhale your first puff, you'll feel an instant rush of restless energy and euphoria urging you to have wild fun or do something wickedly creative. This head high is also moderated and balanced out by a mellow relaxation in the body, adding to the sensual pleasure of the experience.
Jack Herer Auto takes only 63 days from seed to harvest and easily yields 2.5-3.5 ounces per plant in outdoor gardens, with even better results indoors.
Godzilla Cookies Auto
Godzilla Cookies Auto is the most popular autoflower from Herbies' own seed bank. This beast produces up to 27% THC and instantly lays waste to the tolerance level you've proudly cultivated for years. Take one toke and you'll feel a jolt of energy and immense power that will last you hours. The terpene profile is an equally potent mix of lemons, cookies, and diesel – as delicious as it is funky. It's truly a larger-than-life experience.
As for growing, she's a remarkably tame monster, accommodating of any setup, cultivation method, or experience level and ready to bless even a first-time grower with hefty yields of large, rock-hard colas.
Sugar Black Rose Early Version
Sugar Black Rose Early Version will be the most strikingly beautiful gem in your garden. Her deep green flowers and trim leaves contrast with the silver of large trichomes that augur terrifying potency. With 25% THC, it's a deeply relaxing and body-numbing Indica, ideal for those who like a deeply narcotic bedtime bliss or have some serious pain to take care of. Plus, no gourmet can pass on the sweet fruity flavor of this dessert strain.
Probably the most high-yielding strain on our list, this plant will produce up to 2 pounds by early September.