Cannabis Seeds in North Carolina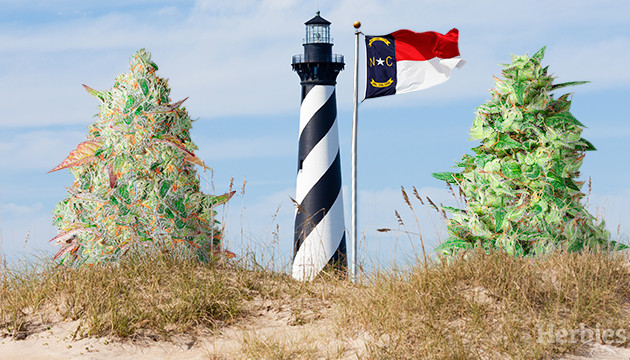 North Carolina is a state that has a lot to offer, but when it comes to cannabis, laws are not very progressive. Medical and recreational cannabis is still strictly illegal in the state; therefore, growers need to understand what's at stake. Except for harsh laws, there are a few more things to keep in mind, which you can read about in detail below.
Is it Legal to Buy Cannabis Seeds in North Carolina?
Buying marijuana seeds in North Carolina is completely legal and not considered a crime. They don't classify as a drug as long as they don't germinate, and anyone above the age of 21 can possess them.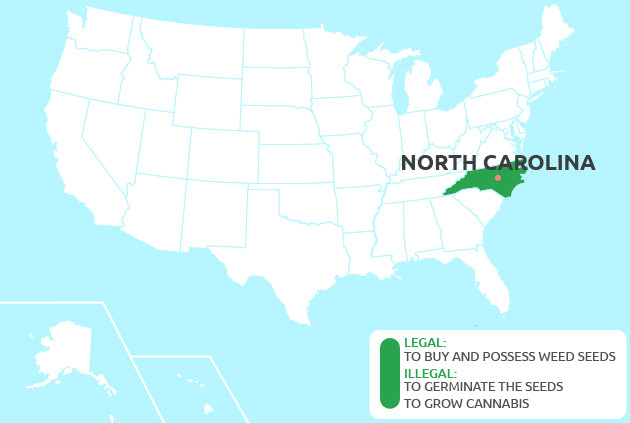 What to Consider When Buying Weed Seeds in North Carolina
With the stringent laws in the state, growers should take every precaution when planning their garden. Once you're ready to get some seeds, find yourself a reputable supplier to purchase from. Keep in mind that not all cannabis strains are suitable for every climate, and picking the right strain plays a big role when it comes to growing. Stick with us to find out more about the climate in North Carolina and which strains to grow for maximized yields. 
Can You Grow Cannabis in North Carolina?
North Carolina is not a very cannabis-friendly state and has pretty harsh laws. Both recreational and medical marijuana is strictly illegal. Growers should be careful, as they could face serious penalties if caught, including prison time.
Climate in North Carolina
North Carolina is located in an area with a humid subtropical and subtropical highland climate, where winters are freezing while summers are hot and long. However, temperatures that are suitable for growing last only from May to September for most of the state. Autoflowering and fast-Indica strains that will finish flowering by early September are crucial for this climate to avoid losing harvests to cold temperatures. When choosing a strain, it must be resistant to mold and other diseases that high humidity can bring.
To maximize yields from photoperiod strains, growers might want to start their seeds indoors in early spring, then transplant them outside when the temperatures allow.
Where to Buy Marijuana Seeds in North Carolina
It's safe to say that you won't find any cannabis seeds for sale in North Carolina locally, so the only option is to buy from an online seed bank. You can easily get seeds delivered to your doorstep by ordering from an online provider. Check out our catalog at Herbies, where you can find thousands of the best quality cannabis seeds with 100% guaranteed germination. Our expert customer support is there 24/7 to answer all of your questions. For each purchase, customers can expect some free seeds as a gift. And don't forget that when placing an order, you can choose the stealth delivery option for extra safety.
Best Cannabis Strains to Grow in North Carolina
To save you some time, we've listed the best strains below from our catalog that will thrive in the Tar Heel State.
Trippy Gorilla Autoflowering (Big Head Seeds)
Trippy Gorilla Autoflowering is a Sativa-dominant hybrid strain that has been developed by mixing Gorilla Glue #4 and Big Head #1 with the Ruderalis phenotype. This strain can contain up to 28% THC, providing Sativa-dominant energizing and uplifting effects. The resinous buds have a piney and citrusy terpene profile. Flowering time finishes in 56 days, after which growers can expect heavy yields of up to 600g/m2 (2 oz/ft2).
Caramelo Early Version (Delicious Seeds)
Caramelo Early Version is a photoperiod hybrid with 70% Sativa genes; a result of double-crossing the Lavender strain. Its thick flowers are infused with 24.2% THC content, offering potent euphoric effects. Caramelo Early Version has a sweet and fruity flavor with a floral aroma and musky undertones. This strain has impressive yields with an even more impressive flowering time. Indoors, the plant can produce 450g/m2 (1.4oz/ft2) in just 45 days of flowering, while outdoors, yields go up to 500g (17.6oz) per plant by early September!
Grandmommy Purple (Herbies Seeds)
Grandmommy Purple is one of the most potent cannabis strains that you'll find at Herbies. This strain is a result of crossbreeding Big Bud and Purple Urkle, and it contains an insane amount of 33% THC. This photoperiod hybrid offers strong calming and relaxing effects that are perfect for nighttime use. Its resinous flowers contain a pungent aroma of wild berries and sweet, fruity flavors. Grandmommy Purple's flowering period lasts around 65 days, producing average yields of 500g/m2 (1.6oz/ft2) if grown indoors and 550g (19.4oz) outdoors by early September.
Jack 47 F1 Fast Version (Sweet Seeds)
Jack 47 F1 Fast Version is a photoperiod cannabis strain that was made by crossing Jack 47 and Jack 47 Auto. Just like her parents, this strain has highly resinous flowers with THC levels that can reach 24%. Her Sativa-dominant side offers uplifting cerebral effects. The sticky buds have a fresh fruity aroma and flavor with citrusy undertones. Jack 47 F1 Fast Version has a super-fast flowering period, finishing within 45 days. Indoor harvests can range between 450 and 600g/m2 (1.4-1.9oz/ft2), while outdoors, plants can yield up to a massive 1000g (35.2oz) by mid-September.
Smoothie Auto (FastBuds)
Smoothie Auto is an Indica-dominant hybrid strain and a result of crossbreeding Somango and Blueberry genetics. This strain has flowers with a rich THC content that can reach up to 24%. Smoothie Auto has effects of relaxation and heady euphoria that make this strain a great option for any time of the day. Its flavorful flowers have a delicious and refreshing taste of mango and blueberry. Growers can expect a fully developed plant within 9 weeks, yielding up to 550g/m2 (1.8ft/oz2) indoors and 250g (8.8oz) per plant outdoors.
Bruce Banner #3 Fast (Original Sensible Seeds)
Bruce Banner #3 Fast is a balanced photoperiod hybrid strain developed by crossing the original Bruce Banner and Black Domina. This is a highly potent strain with a THC content of 25% that provides energetic and euphoric effects. Its dark and resinous buds have an amazing fruity aroma with hints of Kush. Bruce Banner #3 Fast has a lightning-fast flowering time of 55 days, after which growers can expect excellent yields: up to 750g/m2 (2.4oz/ft2) indoors or up to a massive 900g (31.7oz) per plant outdoors.
Skywalker OG Auto (Barney's Farm)
Skywalker OG Auto is an incredible hybrid strain made by crossbreeding the well-known Skywalker OG with BF Super Auto #1. This autoflower can achieve THC levels of 23%, producing potent and long-lasting Indica effects that are perfect for nighttime relaxation. Skywalker OG Auto is packed with tropical and citrusy aromas and refreshing flavors of earth and pine. The flowering time lasts around 75 days, and with optimal conditions, plants can produce 450-500g/m2 (1.5-1.8oz/ft2) if grown indoors and up to 650g (22.9oz) per plant outdoors.