Cannabis Seeds in Ohio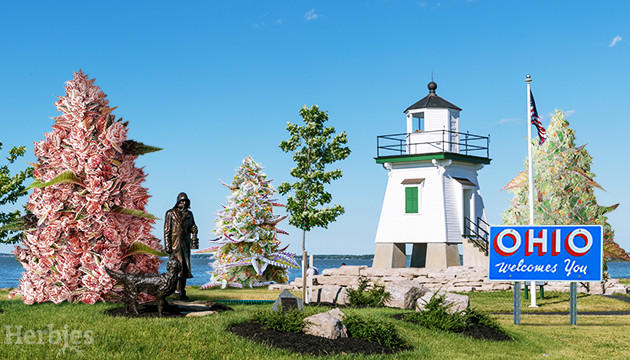 The Buckeye State is slowly coming around to legalization efforts. As a result, more people are searching for cannabis seeds in Ohio.
Unfortunately, cultivation can still be a hassle, and consumers can't legally grow just yet. However, cannabis is already decriminalized, with legislation on the way. Moreover, there is a medical marijuana program in the state currently expanding. With a little more patience, you may be able to buy cannabis seeds in Ohio and grow from them legally.
When you can, check out what we at Herbies have in stock. You won't find a more reliable place to purchase cannabis seeds online.
Is it Legal to Buy Marijuana Seeds in Ohio?
Where many people get their information confused is collection versus cultivation. It is actually legal to purchase marijuana seeds for sale in Ohio. What's tricky about this is that the seeds are legal, but not the plants. You're technically breaking the law should those seeds germinate, vegetate, or flower.
Luckily, most of the penalties for doing so remain a misdemeanor, incurring a fine. However, cultivating 200 grams or more does become a felony offense. As a result, many local growers prefer to stick to indoor operations only.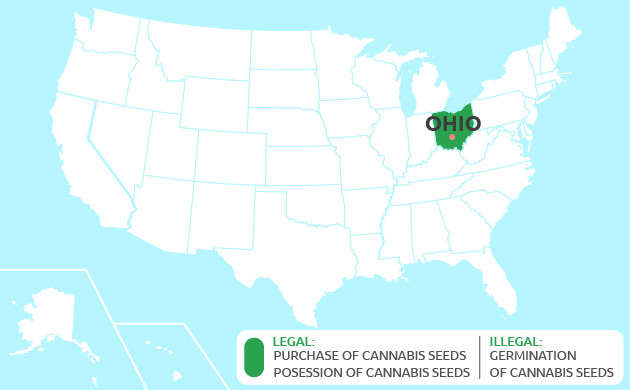 Can You Grow Cannabis in Ohio?
Although it is legal to purchase and collect weed seeds in Ohio, it is currently illegal to grow them. However, many people do, and you might want too, but you don't want to get caught. Depending on how much you produce, you could face several punishments. 100 grams or fewer is the lightest offense, incurring a $150 fine. That increases to $250 if you grow near minors, such as close to schools. 100 to 200 grams boosts the penalty to a fourth-degree misdemeanor, meaning you could see 30 days in jail and $250 fines, doubled if near children.
While it's a significant risk, that doesn't deter everyone from growing. Stick around and discover the best selection of recreational and medical marijuana seeds to grow in Ohio.
What to Consider When Buying Marijuana Seeds in Ohio
Like everywhere in the United States, possession of marijuana seeds in Ohio is legal. It's what happens to them after you buy them that counts.
You also must consider the climate and weather in the Buckeye State. That can significantly reduce your options in which strains prove viable. Because of temperatures and legality concerns, indoor cultivation is probably your best choice. Not only will your plants stay out of view, but you also retain more control.
However, if you have a discreet piece of land, the climate allows you to buy marijuana seeds in Ohio for outdoor growing as well.
Climate in Ohio
In OH, you see drastically different summer and winter seasons. Temperatures can hit triple digits in the summer and drop below zero in winter. Ohio's unique location also sees competing airstreams. As a result, you see higher humidity during the year's warmer months. If you do plan on growing outside, temperatures start dropping in October, so you may want to find mold resistant fast-growing photoperiod strains or autoflowers to compensate for this. We did the search for you – scroll down to the end of the article to find our top 7 picks for growing weed in Ohio.
Marijuana Seeds for Sale in Ohio
Another problem people run into is learning where to buy marijuana seeds in Ohio. There aren't many licensed banks in the area, and they can't sell publicly. Currently, they are the ones keeping the state's medicinal program going. You probably wouldn't want to buy from them anyway, as their inventory will be slim and aimed at medicinal users only.
Where to Buy Cannabis Seeds in Ohio
You likely can't buy marijuana seeds in Ohio in person. This is why our online store remains a popular place for at-home cultivators – we've been successfully shipping to growers in Ohio for years! Сhoose Herbies Seeds for quality strains, as here you can find literally thousands of unique plants from experienced producers. We also offer discreet packaging, free seeds with every order, and fast shipping times all across the globe. And that's why at-home cultivators turn to us to buy cannabis seeds in Ohio.
Best Cannabis Strains to Grow in Ohio
Now that you know more about the laws and climate, it's time to grow. The next question is: which strains will work out the best? Thankfully, we've already done the hard work of researching your perfect seeds. No matter your goals, these plants are sure to exceed your expectations, indoors or outdoors.
Apple Betty (Herbies Seeds)
Apple Betty is a recent Indica-dominant strain by us at Herbies Seeds – feel relaxed and uplifted, and enjoy the psychedelic high and sweet, apple-like and earthy flavors. Not only does Apple Betty pack a whopping 33% THC, but it also yields huge amounts of cannabis!
Apple Betty grows up to 120cm (47") inside and 180cm (70.1") outdoors. This hybrid finishes flowering in just 55-65 days yielding up to 800g/m² (2.62oz/ft2) indoors and 2600g/plant (91.7oz/plant) outdoors.
Black Cherry Punch (Pyramid Seeds)
Black Cherry Punch develops unique purple buds and leaves, offering high cannabinoid levels of 25% THC and 1% CBD. As a 90% Indica/10% Sativa hybrid, Black Cherry Punch leads to a giggly sense of relaxation and euphoria. It makes for an excellent nightcap or a chill evening munching and watching movies.
These flowers bursting with fruity flavor are ready in about 60 days of flowering. You'll see over 350g/m2 (1.15oz/ft2) indoors and 1000g/plant (35oz/plant) outdoors.
Tropicanna Poison F1 Fast Version (Sweet Seeds)
Tropicana Poison F1 Fast Version lures you in with her unique pink coloration. As a 60% Indica hybrid, it packs a relaxing punch at 24% THC. You'll recognize a sweet and fruity flavor from these sticky buds. However, like many potent strains, it does have a skunky aroma while growing.
When looking for marijuana seeds in Ohio, you need a quick strain – Tropicana Poison F1 Fast Version finishes faster than other photoperiods, in about 7 weeks of flowering. Expect to harvest up to 600g/m² (1.97oz/ft2) indoors and 650g/plant (23oz/plant) outside.
Gorilla Zkittlez (Barney's Farm)
Gorilla Zkittlez gets its name from its frosty, sticky appearance and fruity candy flavor. At 60% Indica genetics and containing 24% THC, it's a hit with at-home growers. Gorilla Zkittlez has great genetics that create a strong yet enjoyable, almost psychedelic experience.
It finishes flowering in 55-65 days and tops out around 140cm (55") tall. These plants produce 700g/m² (2.3oz/ft2) indoors and 2500g/plant (88oz/plant) outdoors. Finishing by early October, these are marijuana seeds for sale in Ohio that won't let you down.
Lemon AK Auto (FastBuds)
Lemon AK Auto is bursting with citrus flavor and potent 24% THC buds. Its 75% Sativa blend gives you renewed energy and focus during breaks throughout the day. Gun down stress, anxiety, and nausea with this popular citrus-flavored strain.
Even new cultivators find this strain simple to grow, effortlessly producing huge yields. Harvest up to 650g/m² (2.13oz/ft2) indoors and 250g/plant (8.8oz/plant) outside. Lemon AK Auto finishes in 70 days or sooner and reaches 130cm (51") in height – perfect for stealthy growers.
Grandmommy Purple (Herbies Seeds)
Grandmommy Purple is an original strain that we at Herbies Seeds are proud to serve. This strain has a distinct grape taste and knocks down even experienced consumers – kiss insomnia, anxiety, and chronic pain goodnight with 33% THC and 80% Indica genetics.
This strain grows fast in 65 days or sooner without getting too tall. It reaches up to 40-140cm (15.7-55"), making it manageable for all. With Grandmommy Purple you can anticipate up to 500g/m² (1.64oz/ft2) indoors and 550g/plant (19.4oz/plant) outdoors.
Girl Scout Cookies Auto (Auto Seeds)
Girl Scout Cookies Auto improves upon one of the most popular strains available. This Sativa-dominant plant offers 24% THC and 1% CBD and earthy, spicy flavors. Turn any mood around with its sweet taste and welcoming aroma. The effects take hold instantly, providing fast relief every session.
Girl Scout Cookies Auto grows seed to harvest in about 75 days, reaching 100cm (39") in height. Yield up to 600g/m2 (1.97oz/ft2) from this surprisingly compact plant!