Cannabis Seeds in Pennsylvania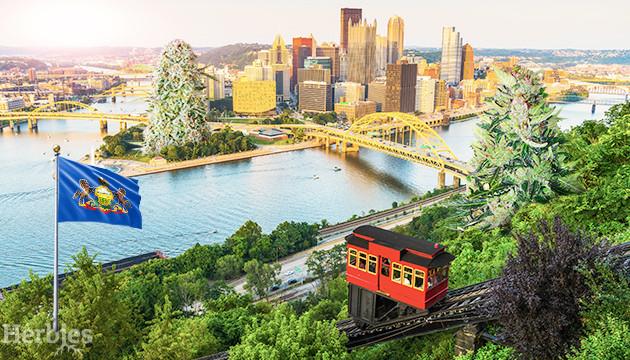 Recently, the popularity of cannabis seeds has been increasing due to movements toward legalization. Naturally, cannabis enthusiasts in Pennsylvania are getting curious about growing in the state. Today, we're going to break down everything you need to know before starting to grow in this state, from legal questions to the climate for outdoor growing and the best strains suited for it.
Is it Legal to Buy Cannabis Seeds in Pennsylvania?
The purchasing of cannabis seeds is absolutely legal in Pennsylvania. As long as the seeds remain dormant, you will not incur a penalty if you possess cannabis seeds. However, it's still a good idea to order from a seed bank that offers discreet shipping methods so that you don't draw any unwanted attention.
Can You Grow Cannabis in Pennsylvania?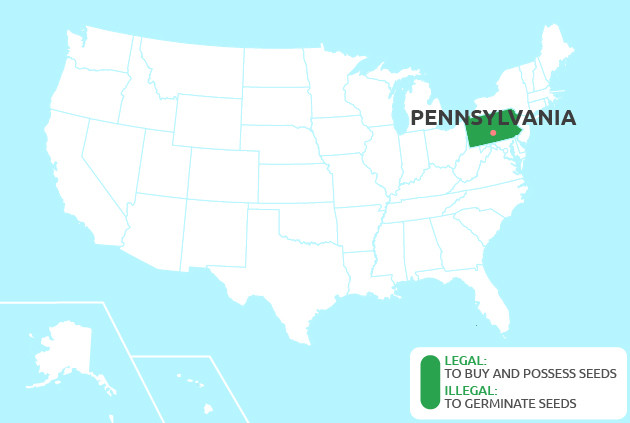 Under current legislation, it's illegal to cultivate pot seeds in Pennsylvania for recreational use. This includes any derivatives of the cannabis plant, including trim or buds you've harvested previously. If you're caught growing cannabis in Pennsylvania, you could face some penalties that may include jail time. These are important things to consider before you buy marijuana seeds online in Pennsylvania with the intent to grow.
The good news is that PA State Senators are currently pushing a bill that could make growing cannabis legal for medical patients – so keep your eyes peeled for local news.
What to Consider When Buying Weed Seeds in Pennsylvania
Although there are various factors to consider before buying seeds from a seed bank, the most important of all is your location. Not every cannabis seed will grow in Pennsylvania due to the state's harsh climatic conditions.
The Climate in Pennsylvania
When growing in the state of PA, the primary concern is the cold temperatures that tend to last for the majority of the year. Cannabis in general has a tendency to do better in slightly warmer climates, so growing is possible only during the short PA summer. When it gets too cold (12°C / 54°F), the plants lose their ability to grow and maintain life-supporting functions. In Pennsylvania, the weather hits this temperature by late September, so you need to choose autoflowering or quick photoperiod strains that will let you harvest by early September.
Where to Buy Marijuana Seeds in Pennsylvania
Herbies has offered cannabis seeds for sale in Pennsylvania for years. We offer one of the largest selections of strains, with over 2,000 to choose from, and we are constantly adding new and exciting strains to our collection.
We also offer a guarantee on all our seeds, which means you can get started on growing with confidence. Our seed experts are available 24/7 to answer any questions you may have. We offer discreet shipping and always go above and beyond to ensure your order arrives quickly and safely.
Best Cannabis Strains to Grow in Pennsylvania
There are a variety of cannabis strains to choose from when it comes to growing in Pennsylvania. Still, our experts have put together a list of some of the best strains for this climate – pick any of these and stay confident in harvesting lots and on time.
Auto Orange Bud (Dutch Passion)
This high-quality autoflowering strain is perfect for outdoor growing in short summers like Pennsylvania's, going from seed to harvest in just 77 days. Auto Orange Bud has strong Skunk genetics that shine through with its intense citrus notes, while the ease of use makes it great for beginner growers. With a THC content of 26%, you can expect a classic Sativa-like high that promotes creativity and is perfect for daytime use.
Sweet Skunk F1 Fast Version (Sweet Seeds)
As the name suggests, this is a fast-flowering hybrid perfect for growers in a hurry. Sweet Skunk F1 Fast Version has a sweet and skunky aroma with hints of spice, and the high produces an intense physical relaxation. The thick fluffy buds on this plant produce up to 23% THC with small levels of CBD, making it an excellent choice for pain and stress relief.
With a flowering time of just 49 days, you can expect indoor yields of up to 550g/m² (1.80oz/ft²) and outdoor yields of up to 600g/plant (21oz/plant). The short flowering time makes it ideal for the climate in Pennsylvania and takes a lot of stress off beginners.
Bruce Banner Auto (FastBuds)
Bruce Banner Auto is a potent, THC-heavy strain. This autoflowering strain has enormous and sticky buds, making it one of the most notorious auto strains. As a well-balanced hybrid, Bruce Banner Auto provides a stimulating high that relieves day-to-day pressures with barely a few tokes.
You'll first notice a sweet berry aroma when smoking, followed by diesel after-tones. This sturdy, classic strain has sticky and potent buds with a THC concentration of 25% and 1% CBD. Its robustness, speedy harvest, and high yields make it an excellent choice for the cold Pennsylvania climate.
Fruit Punch Auto (Heavyweight Seeds)
Look no farther than Fruit Punch Auto if you're searching for an easy-to-grow, potent marijuana strain that can be cultivated outdoors in Pennsylvania. This strain's energizing high makes it an ideal daytime smoke for socializing or boosting creativity. This variety is a sweet-tasting, fragrant bud with a buzzing relaxation produced by the 21% THC level and 1.1% CBD. The high produced induces a euphoric sensation that relaxes your body and invigorates your mind, providing you with waves of pleasure.
This strain can grow from seed to harvest in 70-80 days and is perfect for Pennsylvania's cold climate, producing tremendous yields of 150g/plant (5.29oz/plant).
Sugar Black Rose Early Version (Delicious Seeds)
Sugar Black Rose Early Version is a multiple-cup-winning feminized cannabis strain from Delicious Seeds with loads of personality. With a taste and flavor profile that takes users on a journey from sweet and fruity to spicy undertones of skunk. This strain produces a 25% THC content and immerses you in a state of calmness that seems to infinitely grow.
Whether you're a beginner or an experienced grower, this strain is perfect for Pennsylvania's climate. It can be cultivated indoors or outdoors to produce robust yields of up to 450g/m² (1.47oz/ft²) indoors. When growing outdoors, this strain can produce an even more impressive 900g/plant (31oz/plant) and can be grown in as little as 45 days from seed to harvest. With this short growth period and high outdoor yield, this is one of the best marijuana seeds for sale in Pennsylvania.
CBD Lemon Auto (Herbies Seeds)
Look no further than CBD Lemon Auto if you're searching for high levels of CBD and THC. This fantastic autoflowering strain has an enormous 17% CBD concentration and 17% THC. The fantastic cannabis strain has powerful anxiety- and pain-relieving effects thanks to the advantages of THC and medical marijuana. The pleasant lemon and citrus taste rounds out the senses as you receive a restful yet innovative high. This plant is ready to harvest in just 70-75 days, ideal for Pennsylvania's shorter summers.
Candy Kush Express (Fast Flowering) (RQS)
Last but not least on our list is Candy Kush Express, an Indica-dominant hybrid with a high THC content of 15% to 20%. This strain has a sweet and sour taste with lemony undertones, delivering a full-body high that buzzes you into relaxation. It also offers medicinal qualities with a 1% CBD concentration that assists in alleviating symptoms of stress, depression, muscle tension, headaches, and migraines.
This hybrid is great for growers of all experience levels. With a short flowering time of just 49 days and yields of up to 450-500g/plant (15.9-17.6oz/plant), Candy Kush Express is perfect for Pennsylvania's climate.