Cannabis Seeds in Vermont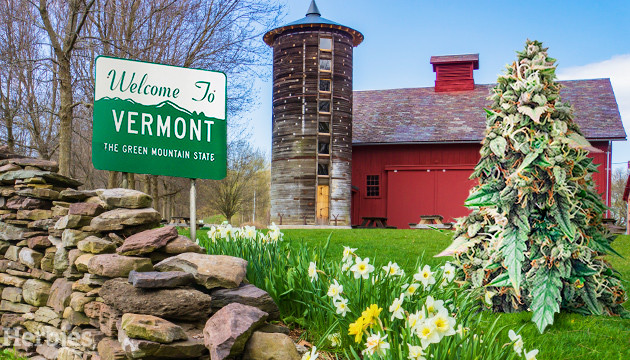 Cannabis laws in Vermont are pretty relaxed, making it quite easy for growers to cultivate their weed. The state allows you to grow legal medical marijuana and recreational cannabis, but there is a limit. If you want to learn more about its cannabis laws and which strains grow best in its climate, stick with us!
Is It Legal to Buy Cannabis Seeds in Vermont?
Cannabis laws in Vermont allow you to legally buy and possess cannabis seeds. As long as you're 21 or older, you can legally purchase them from local and online seed banks.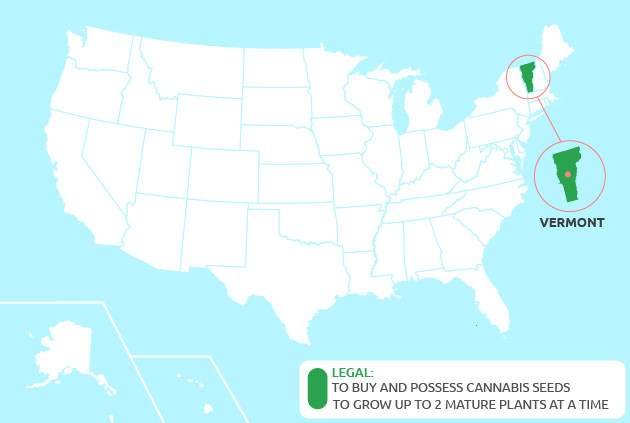 Can You Grow Cannabis in Vermont?
Cannabis in Vermont is legal for both recreational and medical purposes. Adults aged 21 and over can legally cultivate up to 6 plants, 2 of which can be mature plants. However, the plants must be grown in your own home and kept away from the public. Adults can possess up to 1 ounce of marijuana and store up to 4 ounces in their homes.
What to Consider When Buying Weed Seeds in Vermont
Now that you know about the legality of cannabis in Vermont, it's time to learn about the climate and the best strains for it. It's very important to understand these things before purchasing seeds so you can manage your crops with ease. Read on to learn more about the state's climate and which strains grow best in Vermont.
Climate in Vermont
Vermont has a wet continental climate that comes with cool winters and warm summers. Temperatures suitable for cannabis cultivation last only from June to August, so growers might want to stick with fast autoflowering seeds. The wet conditions in this area require strains that are resistant to mold and other diseases that high humidity can bring.
Where to Buy Marijuana Seeds in Vermont
Buying cannabis seeds has never been easier, and you can do it now from the comfort of your home. Check out our online catalog at Herbies, where you will find thousands of cannabis seeds for sale in Vermont that come with 100% guaranteed germination. We offer top-quality cannabis seeds for the most affordable prices. Our customer service is there for you 24/7 and will help you out with all of your questions. And best of all, for each purchase, we prepare free seeds and other awesome gifts for our customers.
Best Cannabis Strains to Grow in Vermont
We bet you've been waiting for it! Below, we've carefully selected the best strains to grow in Vermont. All of them will produce maximized yields in the Green Mountain State.
Jack Herer Auto (Green House Seeds)
Jack Herer Auto is the result of crossbreeding its famous namesake Jack Herera with a Ruderalis strain. With THC levels reaching up to 20%, its relaxing and calming effects are often used to reduce anxiety and treat chronic pain.
The terpene profile produces a strong flavor and scent of peppery musk along with hints of spicy mint. This autoflowering version of Jack Herer is ready for harvest after just 63 days from germination. Indoors, it can produce up to 700 g/m2, while outdoor-grown plants are capable of yielding 100 g of buds.
Auto Skywalker Haze (Dutch Passion)
Auto Skywalker Haze is a Sativa-dominant strain with mind-blowing terpenes and potent effects that's absolutely delightful at any time of the day. Auto Skywalker Haze is a crossbreed between the original Skywalker Haze and Auto Amsterdam Amnesia. Its buds are infused with 26% THC, delivering balanced effects that will boost your energy and at the same time leave you fully relaxed.
The flowers come with an amazing citrusy and fruity flavor and scent, complete with slight notes of earth. The flowering period usually takes around 12 weeks, but a little patience will definitely be rewarded. If grown in optimal conditions, this variety can yield up to 550 g/m2 (1.8 oz/ft2).
Gelato Auto (Herbies Seeds)
Gelato Auto is arguably one of the most potent strains available on the market, producing hard-hitting effects that will leave you happy in no time. This variety was developed by crossing the original Gelato and GSC genetics with an unknown Ruderalis strain. It can contain between 24-26% THC and offers an uplifting and euphoric high that will unlock your inner artist.
The amazing terpenes produce a combination of a sour and creamy flavor and aroma with hints of citrus and dank earthiness. Gelato Auto has a flowering period of just 65 days, after which it can produce up to 600 g/m2 (1.9 oz/ft2) indoors and 200 g (7 oz) per plant outdoors.
Bruce Banner Auto (FastBuds)
Bruce Banner Auto is a well-balanced hybrid that will surprise any grower with its heavy yields of potent and terpene-rich flowers. The plants contain THC levels of up to 25%, producing a fast-acting euphoric high that will leave you stress-free.
The incredible terpene profile forms a pungent scent and flavor of gassy diesel and fruity berries with a strong citrusy aftertaste. Bruce Banner Auto is ready for harvest after 11 weeks, yielding between 450-600 g/m2 (1.4-1.9 oz/ft2). When grown outdoors, plants can produce anywhere between 50-200 g (1.7-7 oz) of sticky buds.
Fruit Punch Auto (Heavyweight Seeds)
Fruit Punch Auto is a hybrid with 70% Sativa genetics, and it provides a potent uplifting high that's an ideal option for any party. This hybrid, which boasts 21% THC, was created by crossing Skunk and Haze genetics with a Ruderalis strain.
After just a couple of puffs, you'll feel true Sativa energizing effects that will make you more social. The taste and aroma are both sweet and fruity, with hints of citrus and exotic mango. Growers can expect their buds within 80 days from germination, harvesting up to 800 g/m2 (2.6 oz/ft2) indoors and a massive 1500 g (52.9) per plant outdoors.
CBD Lemon Auto (Herbies Seeds)
CBD Lemon Auto is a perfect option for those who want to have fun and medicate at the same time. This cannabis strain contains equal THC and CBD levels of up to 17%. The result of crossing Lemon Kush with CBD genetics, it offers a strong head and body high that will leave you on cloud nine. The terpene profile delivers a fruity aroma and taste of lemon with spicy and earthy notes. The flowering period of CBD Lemon Auto usually lasts around 75 days, and if grown properly, it can produce between 500-600 g/m2 (1.6-1.9 oz/ft2).
Original Big Bud Auto (Fast Buds)
Original Big Bud Auto is an Indica-dominant hybrid that produces massive and sticky buds with almost no leaves to trim – a must-have for any beginner grower! This strain is a crossbreed between Big Bud and FB Fem Auto #13 genetics, resulting in a potent variety with 23% THC content.
The fruity terpenes produce a sweet and floral flavor and aroma alongside hints of skunk and pine. Thanks to its premium genetics, this variety produces great yields within 9 weeks from germination. During harvest, indoor growers can get up to 500 g/m2 (1.6 oz/ft2), while outdoors, yields average 150 g (5.2 oz) per plant.