Four New Exciting Strains From Humboldt Seeds
27 May 2020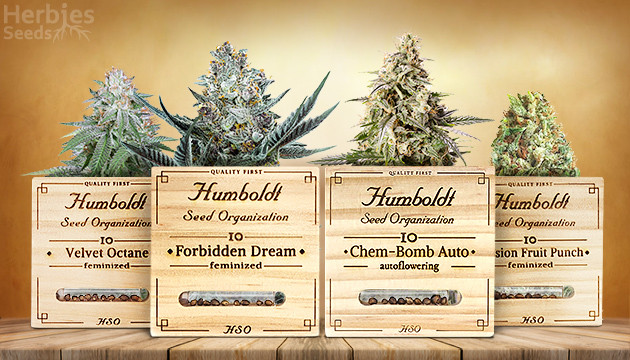 Each new cannabis strain that comes from Humboldt Seeds Organization, an American all-star breeder, is sure to make a loud bang among cannabis growers worldwide. Well, get ready to get completely bombarded, because recently, they've released not one but four new potential bestsellers!
Introducing Velvet Octane, Chem Bomb Auto, Forbidden Dream, and Passion Fruit Punch. Straight from the fertile lands of Humboldt County, these four fresh arrivals are now available to purchase from Herbies. These four marvelous strains prove that this breeder is versatile like no one else in the game. Take a closer look at these brand-new strains, and you'll see that each of them has no comparison.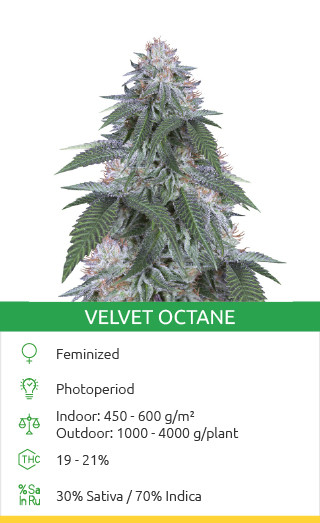 Velvet Octane
Fasten your seatbelts, because the Indica-dominant Velvet Octane is a strain that will take you for a long ride! Hours and hours of an almost psychedelic high are provided by the 21% THC under its hood. This makes for an experience that's better left for the nighttime or a weekend with nothing planned. Be careful to keep these buds discreet, too – they reek of pungent gasoline and spice, which is delicious, but gives the plant's presence away really quickly.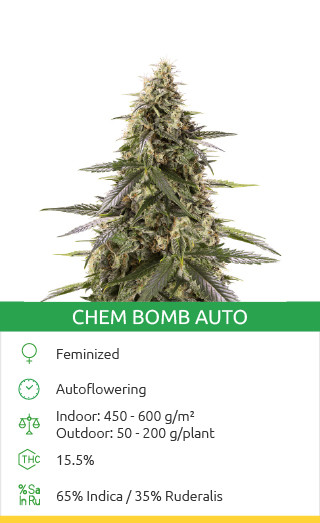 Chem Bomb Auto
The newest autoflower addition to the Humboldt Seeds family, Chem Bomb Auto is a 65% Indica hybrid described as having incredible sedative qualities spiced up with waves of a cerebral high. Expect full-body relaxation with a clear head, making it ideal for long insightful conversations with friends. Flavor-wise, Chem Bomb Auto is a crazy mix of equally strong notes of fuel and lemon battling for your attention.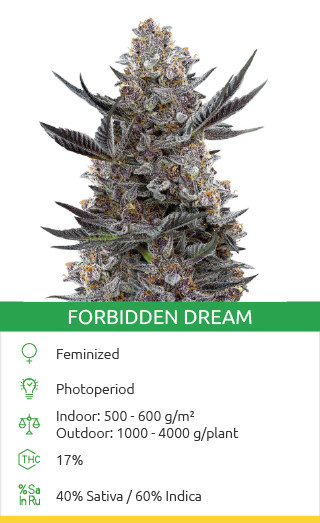 Forbidden Dream
This next strain moves the focus away from the pungent varieties with chemical notes to the fruitier ones that will make anyone's taste buds scream with delight. Forbidden Dream by Humboldt Seeds is a very well-balanced hybrid with a 60% of Indica/40% Sativa profile. This cannabis strain is reminiscent of a sweet and sour fruit that you'll be able to control your experience with by tuning the dosage – the higher it is, the more of a body high you get, while lower doses will keep you alert and full of energy.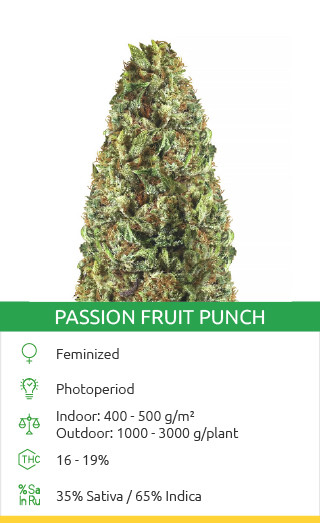 Passion Fruit Punch
Growers who value flavor and aroma characteristics above everything should definitely keep an eye on Passion Fruit Punch. As expected given its name, Passion Fruit Punch shines the most with its notes of tropical fruit, but that's not all – this sweetness is beautifully complemented by a splash of ground black pepper. The mix of terpenes also helps accentuate the highly cerebral effect of the strain, so what you're looking at here isn't just a great-tasting strain, but a complete package.
We know these hot additions to Herbies are going to be the talk of the cannabis world for some time, and for good reason – they're definitely worth your time and a little bit of TLC. Get them now, and don't forget to check the full Herbies collection of Humboldt Seeds strains for further inspiration!
New Cannabis Seeds
Open collection