Humboldt Seeds: The Last Ever Batch
7 April 2021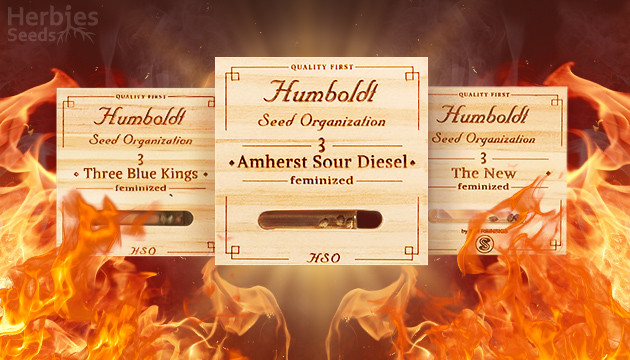 All good things come to an end, and, unfortunately, the once-legendary Humboldt Seeds will no longer be treating us to new awesome strains. Because of this, their seeds are now more valuable than ever, and can easily count as rare collectibles. Luckily for you, Herbies was able to seize one last batch of weed seeds from Humboldt county's most renowned breeder.
The last ever batch of classic Humboldt seeds is a limited offer – 242 packs that will be gone sooner than you know it. We managed to get our hands on the best varieties, including (but not limited to) Amherst Sour Diesel, Blue Dream, Blue Fire, Gorilla Breath, OGKZ, Sapphire Scout, Sugar Breath, The New, and of course, Three Blue Kings.
Let's refresh our memories of some of the fan-favorites among Humboldt Seeds' strains that you can still currently buy at Herbies:
Three Blue Kings
This 24% THC strain offers a dreamy, balanced body buzz and calm, clear head high that's softly relaxing and perfect for evening use, when you're ready to kick back and take things slow. Great for sleep, Three Blue Kings is an Indica-dominant hybrid to enjoy when you're done for the day and ready to unwind.
The New
The New is a strain that cannot be compared to an average strain. First, it offers brutal potency with its 28% THC. Second, the plant can grow to a height of 4m (13'1"), producing monstrous yields with a sweet cinnamon aroma and a mind-blowing high that leaves no trace of tolerance.
Amherst Sour Diesel (ONLY ONE PACK LEFT)
Now this is the real collectible – there's just one pack of Amherst Sour Diesel left!
Infused with exotic flavors of wood and tropical fruits, this 27% THC strain provides a long-lasting high with ongoing waves of euphoria and bliss. The energizing 80% Sativa Amherst Sour Diesel is ideal for a wake-and-bake session alongside a balanced breakfast or a long night out with friends.
First come, first served – make sure to get that last pack of Amherst Sour Diesel from Humboldt Seeds before anyone else.
The message is clear: 242 packs from Humboldt Seeds Organization are left in stock, and this number will be going down quickly! Whether you're a fan of Humboldt Seeds already or want to learn why this seedbank has reached such global success for its strains, this is your last (literally) chance to get your hands on these precious Humboldt county natives. For the full list of Humboldt Seeds items left in stock, go to our Humboldt Seeds Collection.
Herbies Head Shop expressly refuses to support the use, production, or supply of illegal substances. For more details read our Legal Disclaimer.