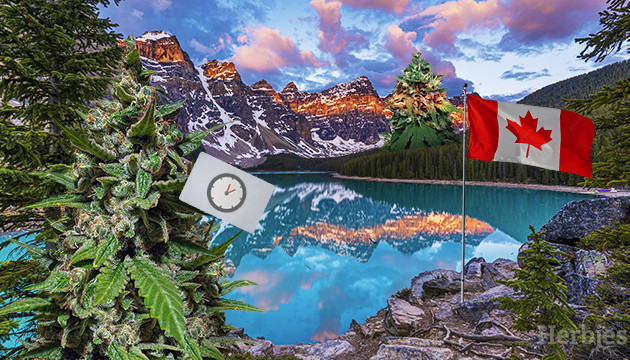 Buds grown in Canada are considered among the best in the world for a reason. The uniquely lenient attitude to weed and its legality since 2018 have enabled local growers to learn to cultivate even exotic and high-maintenance varieties to perfection. However, if you're not sure whether your thumb is that green (or if you're just starting your cannabis-growing career), we present you with a list of dependable and easy-to-grow autoflower seeds that Canada's climate is ideal for.
Autoflowering seeds and Canada have been joined at the hip from the start. Their history goes back all the way to the 1970s when Canadian growers were cultivating Mexican Rudy, which was the predecessor of Lowryder – the first commercially-available autoflower. The country's climate isn't particularly accommodating to this hobby, but for growing autoflowering seeds, Canada is as good a place as any.
What Makes Autoflower Seeds Perfect for Canada?
While the laws differ from province to province, the rule of thumb is that adults can grow up to four cannabis plants with few legal repercussions or none at all. The climate in Canada, on the other hand, is much more restrictive than the legislation. Relatively short summers and cool weather in fall make it impossible to grow many top-shelf photoperiod varieties outdoors. This is where autoflowering seeds come as a blessing for Canada's weed growers.
The extremely short maturation period of autoflowers allows you to have at least one harvest outdoors – and in some cases, two consecutive harvests – if you choose the fastest genetics and live in a warmer place in Canada or use a greenhouse. Thanks to the presence of Ruderalis genes, autoflowers aren't only fast but also uncommonly resistant to elements, be they cold, heat, constant rain, or drought. You're also less likely to face the issue of mold because you can harvest the buds before the weather gets cool and rainy.
And the best part of it all is that modern autoflowers produce the same premium smoke as traditional strains. Think of any famous variety – chances are that there's an autoflowering version available on the market.
Autoflowering Seeds Canada's Growers Should Consider
When compiling the list below, we tried to be as inclusive as possible, not forgetting dwarf autoflower seeds for those provinces in Canada where you still need to be discreet, high-CBD autoflower seeds for Canada's medical growers, and, of course, everybody's favorites – XXL autoflower seeds for bumper harvests, even in the less-than-perfect climate that Canada offers.
Strawberry Pie Auto
For those of you who want to conceal their cannabis patch among other crops, dwarf autoflower seeds like Strawberry Pie Auto are close to perfect. Usually measuring just 2 feet and rarely growing to more than 3'4'', this dominant Indica is high-yielding nevertheless. Her large, rock-hard buds are strikingly beautiful with their pink colors blushing from under a thick layer of frost. The attraction doesn't stop there, as the sweet smell and taste of berries and cookie dough make her one of the most delicious autos. Beware of this honeytrap's charms, though – 26% THC means powerful, almost narcotic relaxation that not everyone can handle.
Wedding Cake Auto
Wedding Cake Auto was meant as something special and unforgettable. Her charms start with the generous white frosting and the fruity and sugary smell emanating from enormous chunky colas. She can be as tall as some wedding cakes we've seen and just as heavy – you can harvest up to 750g per plant outdoors, at which point, all possession limits imposed in Canada go out the window. And the buds aren't just plentiful but super-potent as well – with 25% THC and more than 2% CBD, they produce giddy euphoria in the head and strong but mellow relaxation in the body.
Gelato Auto
Don't let the name of Gelato Auto fool you. Her smell may be sweet and her looks mouth-watering, but this is the kind of treat that you should savor in morsels and not stuff your face with. With 26% THC, it's definitely big-league – probably the most potent autoflower out there, in fact. This juicy, limey, creamy goodness immediately lifts your mood, making your mind bubble with happiness and creative thoughts. The best smoke to enjoy before or at a party, it dissolves social anxiety and sparks up lively conversations with a lot of giggles and hearty laughs.
Blue Auto Mazar
If you prioritize dependability, what's better than a cross of two time-proven classics? Blue Auto Mazar combines the potency of Mazar with the unique mellowness of Blueberry as well as their outstanding growth characteristics stabilized over many generations. And all this is packaged as a fast and resilient autoflower that takes just 10 weeks from seed to harvest and will flourish in Canada outdoors! Her strong Indica character and 22-26% THC ensure a profound relaxation of the body and the perfect mental calm – just what you need after a stressful day at work.
Bruce Banner Auto
As any comic book hero should be, Bruce Banner Auto is larger than life in every way. This autoflower grows as big as 5 feet and produces bumper harvests both indoors and outdoors. The buds are chunky, dense, and so covered in white trichomes as to obscure the original neon-green color. The hybrid effects will satisfy any cannabis lover, as the initial Sativa kick will enable you to move mountains before the relaxing Indica takes over and lets you chill after all those mighty feats.
Amnesia Haze Auto
Among the best XXL autoflower seeds for Canada's outdoor gardens, Amnesia Haze Auto stands out as a dominant Sativa whose buds are not only oversized and heavy but also have a loose enough structure to give them extra protection against mold. So, you get to grow a variety that originates in the tropics but can be confident that she'll deliver every time. Apart from finishing in as little as 90 days, this is a true Haze, offering upbeat, clear-headed, and euphoric effects that, thanks to the whopping 21% THC, last for several hours.
Fruit Punch Auto
In a better world, Fruit Punch Auto would be a permanent fixture at any social gathering for adults, as this juice-tasting smoke spiked with 21% THC makes you animated, talkative, and friendly. At the same time, the 1.1% CBD takes care of social anxiety, enabling you to network with perfect strangers as if they were your childhood friends. This dominant Sativa has only a moderate height of 3-4 feet but brings bountiful harvests. She's especially productive indoors, but grow her in the warmest part of summer outdoors and she'll be just as rewarding.
CBD Lemon Auto
High-CBD autoflower seeds are getting more and more popular in Canada and elsewhere because they're chock-full of the healing power of CBD – and some of them have just as much THC to imbue your medicine with an enjoyable euphoric effect. Lemon Auto CBD is just that kind of strain. Caked in crystals and packing 17% CBD and 17% THC, these beautiful and potent buds also smell great – like fresh lemons and other fruit – and have a spicy and earthy taste.
Trippy Gorilla Autoflowering
If you want to buy autoflower seeds in Canada, be sure to have some GG#4 Original Glue variety on your shopping list. Trippy Gorilla Autoflowering is the perfect representative of this famous family. The trippy part comes from the THC level of 28% – so high that even the most seasoned of smokers will be completely spaced out at times while their thoughts turn into a colorful blur like on a rollercoaster ride. It takes some getting used to, but ultimately, you can draw on this strain's potential as a daytime smoke – energizing, motivating, and creative.
Girl Scout Cookies Auto
One of the most popular strains in North America, Girl Scout Cookies Auto offers that signature happy high, a delicious earthy and minty taste, and the smell of citrus that's fresh and zesty. Whether you want to self-medicate for pain and muscle spasms or smarten yourself up for a party, the 22% THC in these buds will make you feel warm and fuzzy on the inside and high-spirited outside – perfect for social occasions. You may also be thrilled to learn that this cultivar was bred from a photoperiod GSC and a Canadian Ruderalis. The latter heritage makes her as resilient as she is fast, taking just 55-63 days from seed to harvest.
Herbies Head Shop expressly refuses to support the use, production, or supply of illegal substances. For more details read our Legal Disclaimer.