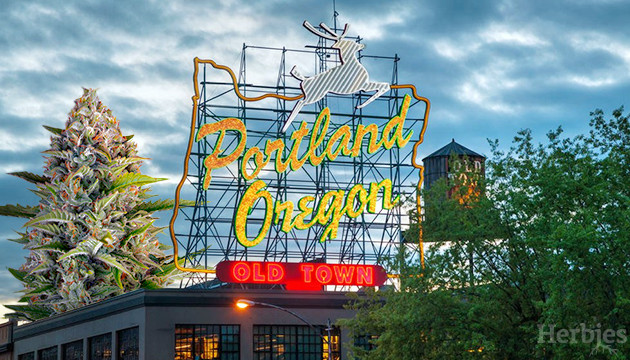 As Oregon state's most bustling city with a population of over half a million people, there is no shortage of cannabis lovers in Portland! Its Mediterranean climate and forward-thinking way of life make planting cannabis seeds in Portland a no-brainer.
However, that doesn't leave this city without its rules and regulations, or region-specific growing troubles. From legal matters to the best marijuana seeds for sale in Portland, let's discuss the ins and outs of growing weed in the City of Roses.
Can You Grow Cannabis Seeds in Portland?
You wouldn't want to end up botching every grow attempt thanks to early snowfall, or facing fines by unknowingly breaking the law. So, let's get into everything you need to know to buy cannabis seeds in Portland and grow them successfully.
Is It Legal to Buy Marijuana Seeds in Portland? What about Growing?
The first and most important question to ask is whether or not it is legal to buy weed seeds in Portland, as each state or city can have its own independent laws and regulations.
In Portland, as long as you are over 21 years old, you can buy weed seeds and grow them for any reason. It has been legal to grow cannabis in Portland since mid-2015 when the Oregon cannabis laws changed to encompass all cannabis users and not just medical cannabis use - the original cannabis law that had been in place since 1998.
Growers are prohibited to grow more than 4 plants per household, which includes anything from apartments to larger dwellings, and does not account for how many adults live in the household. In light of the new law, you no longer need any sort of permittance to grow your own marijuana seeds in Portland. Although, if you qualify for a medical marijuana license, you can grow up to 6 cannabis plants and hold as many as 18 seedlings in a single household.
Climate in Portland: Is It Suitable for Growing Cannabis?
During the summer months, the climate is not a problem when growing cannabis in Portland as the weather is dry and hot reaching ideal temperatures for outdoor cannabis cultivation. You can safely plant your cannabis seeds during this time so long as you account for the flowering period of the strains you choose to grow.
This is due to Portland's quick approaching winter season towards the end of September. Once winter sets in, temperatures reach near freezing with an annual snowfall so be sure to plant strains that finish flowering no later than mid-September. You won't have to do much searching here – we've already made a list of cannabis seeds ideal for Portland's climate. Here you go!
Best Cannabis Seeds to Grow in Portland
If you want to grow cannabis seeds in Portland, there's no doubt that you are searching for the perfect strains to fit your every need including climate, potency, and tastebuds. We've compiled a list of fast-finishing photoperiod strains, and potent autoflowers. The latter, thanks to extra quick turnarounds, can be harvested twice in one season in Portland, back to back. Take a look.
Sugar Black Rose Early Version (Delicious Seeds)
A perfect choice for the City of Roses, this multiple-cup-winning strain, Sugar Black Rose Early Version, sets the bar high when you buy marijuana seeds in Portland. A connoisseur's favorite, she is an Indica dominant plant that blooms with a complex flavor palate of sweet fruity delight with hints of skunk and spice.
Her effects are equally as delightful, as she has a THC percentage of up to 25%, delivering a fast-hitting yet long-lasting full-body soothe, followed by a pleasant cerebral effect ideal for nighttime pain, and nausea relief.
Purple Juice Auto (Herbies Seeds)
One for the purple weed enthusiasts, Purple Juice Auto is not only brightly colored but brightly experienced as well. With every hit, her delicious sweet-and-sour citrus explosion tickles the tastebuds leaving you wanting more along with her 23% THC content and well-balanced effects.
Despite being an Indica dominant strain, enjoy her at any time of day as couch-lock is not an issue here. Let her soothing wave of relaxation sway you into a clear and uplifting headspace after a deep Indica body feel eases away tension and pain.
Sweet Skunk F1 Fast Version (Sweet Seeds)
If you're late to start growing cannabis in Portland then Sweet Skunk F1 Fast Version is here to save the day! A gorgeous well-balanced hybrid with a super-fast flowering time of just 6-7 weeks she is perfect for harvesting in early September, right before the cold weather hits Portland, OR.
Naturally, she is potent with up to 23% THC and hooks you in with her pungently sweet and spicy skunk aromas coming from thick, trichome-rich buds.
Californian Snow Auto (FastBuds)
If you're ready to see some snow before winter sets in then Californian Snow Auto is your go-to trichome-coated strain. Sure, you can buy marijuana seeds in Portland any day, but this Sativa-dominant snow queen never disappoints.
With her potency of up to 23% THC, she offers wildly energizing and uplifting effects that work wonders for treating glaucoma, epilepsy, nausea, and more. There's nothing a sweet and citrusy smoke of this lovely lady can't fix.
C4 Auto (FastBuds)
With shorter summers to look out for, C4 Auto is one of the best marijuana seeds for sale in Portland thanks to a conveniently short 9 week seed-to-harvest time and impressively high yields of 20% THC hybrid buds.
Her effects fit nicely into the mix offering a pleasant long-lasting cerebral high while her noticeably pungent citrus and spice aromas fill your nose in a memorable way.
Extreme Impact Auto (Heavyweight Seeds)
If you're looking for a magical Indica-dominant strain with heartwarming effects, Extreme Impact Auto is your knight in shining armor. With intense and relaxing body sensations for the perfect bedtime smoke, enjoy a 21% THC content and flavors from a stoner's fairytale consisting of hashish, lemon, and lime.
Finishing its cycle in just 8 weeks, you can't go wrong growing these weed seeds in Portland.
Blue Sunset Sherbert (Barney's Farm)
If potency is what you're looking for, look no further as Blue Sunset Sherbert's 28% THC content blows your mind in a powerful blend of hybrid effects from deep body tranquilization to a euphoric, creativity-inducing cerebral high.
It's also not just the potency of effects and fruity flavors she strives for, but the potency of yields too, managing up to 1kg (2.2lbs) of bud per plant outdoors!
Monster Bruce Banner (Monster Genetics)
The Monster Bruce Banner strain is the ultimate green monster to help battle overwhelming anxiety and stress for a peaceful night of sleep thanks to its hybrid effects and underestimated 25% THC content.
Coming to the rescue in just 6-8 weeks flowering time get ready for a cloud of smoke that transforms in your mouth, shifting between sweet citrus and earthy diesel.
Solomatic Auto CBD (RQS)
Before you CBD lovers click out, Solomatic Auto CBD is here to make this list of marijuana seeds in Portland complete with her powerfully therapeutic 21% CBD and less than 1% THC content.
As you enjoy this bud to your heart's content without worrying about unwanted psychoactive effects savor the complex terpene profile of sweet citrus with hints of pine and ginger.
Godzilla Cookies Auto (Herbies Seeds)
Competing closely with other potent plants on this list, Godzilla Cookies Auto flies in, fists swinging at up to 27% THC content and a much-needed resilience to cold weather. As the monster she is, you can look forward to heavy buds in a short flower time and hard-hitting hybrid effects.
As you puff in the thick cookies and diesel smoke with hints of citrus, embrace the stronghold of euphoria melting into a relaxing body buzz that starts in your giggling cheeks.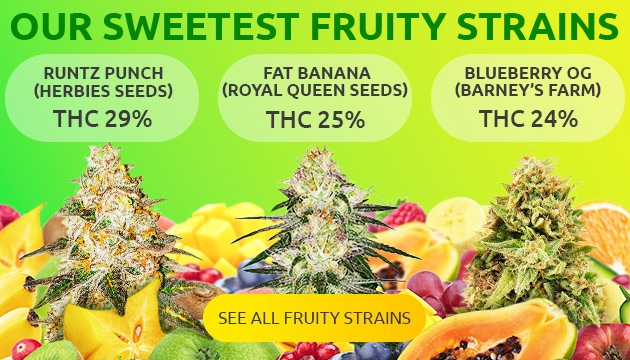 Marijuana Seeds for Sale in Portland
As you buy cannabis seeds in Portland to grow and enjoy before the cold approaches, choose a strain from this list that you can rest assured will flower in time so you can enjoy a warm toke of your delicious new bud while you watch the snow fall later this year.
Every parcel from Herbies is delivered in discrete packaging to your address with free seeds in every parcel, so don't delay! Get your seeds and squeeze in a harvest this sunny season.
Herbies Head Shop expressly refuses to support the use, production, or supply of illegal substances. For more details read our Legal Disclaimer.