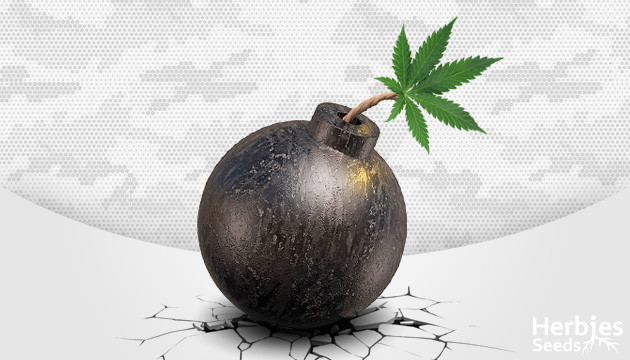 Bomb Seeds are a cannabis seed bank based in Holland and offering a variety of high-quality cannabis seeds. They specialize in a unique range of seeds, meticulously selecting and improving classic strains and combining them with their in-house Bomb genetics. The results are high-performing, award-winning genetics so that each strain provides a high yield, high THC and resin production, rapid growth period and amazing yield potential.
Origins
From the start of their journey, Bomb Seeds has ensured that they use only the best of the best cannabis genetics when trying to produce new strains. The company's values have remained the same since their beginning – "while others improvise, the specialists will innovate" – and this is truly reflected in their attitude toward the development of new and potent cannabis strains. Although Bomb Seeds made their entrance into the cannabis industry in 2007, they set the ball rolling many years before that. In the mid-1990s, cannabis breeders at Bomb Seeds embarked on a journey through Southeast Asia to collect never-seen-before landrace cannabis strains. Fortunately for cannabis users, they were able to retain these seeds to this very day. Fast-forward ten years, they settled in Holland and commenced the "Manhattan Project", wherein the vigorous experimentation with the Southeast Asian cannabis genetics resulted in the birth of the first two major Bomb Seeds strains: Buzz Bomb and THC Bomb. These oddly powerful combinations have been the foundation of a number of popular Bomb Seeds strains ever since!
What's The Secret Behind Bomb Seeds' Success?
Bomb Seeds are recognized worldwide as one of the best cannabis breeders out there, famous for being one of a handful of companies in the cannabis industry to specialize in creating extremely potent and highly effective cannabis seeds from landrace genetics. When breeding seeds, they only select the best genetics; superb quality and high potency partnered with large yields results in some of the best strains available on the market. They have won multiple awards for many of their spectacular strains, one of them being one of their very first creations, THC Bomb.
Our Bomb Seeds' Picks – The Best Of Bomb Seeds
The strains listed below are our top picks from Bomb Seeds. Among the best-selling strains at Herbies Seeds, they're incredibly popular among our clients – a testament to their excellent genetics. Let's find out more about the best from Bomb Seeds!
Banana Bomb – An Explosion Of Sweet, Candy-Like Flavor
Banana Bomb is an excellent photoperiod cannabis strain bred by Bomb Seeds. An 80/20 Indica and Sativa hybrid, Banana Bomb crosses their award-winning THC Bomb – a Sativa-dominant hybrid – with a sticky Banana Kush, to create the tastiest Kush hybrid available on the market. Yields of as much as 600g/m2 in only 56 days of flower, paired with the other properties of the plant, ensure its place on our list of Bomb Seeds' top picks.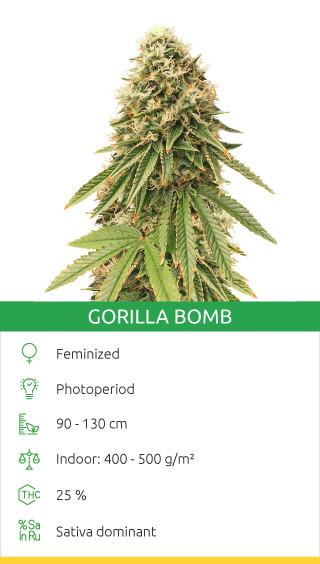 Gorilla Bomb – Pungent Terpene Profile
The magnificent Gorilla Bomb is a photoperiod hybrid cannabis seed delivered to you by Bomb Seeds. The lovechild of two classic cannabis strains, the super potent and sticky Gorilla Glue and Bomb Seeds' very own THC Bomb, Gorilla Bomb brings together attributes from both strains' genetics, creating an ultra-powerful plant with THC levels as high as 25%. Indoor growers can expect to harvest up to 550g/m2 of dense, sticky cannabis flowers in less than 63 days from germination.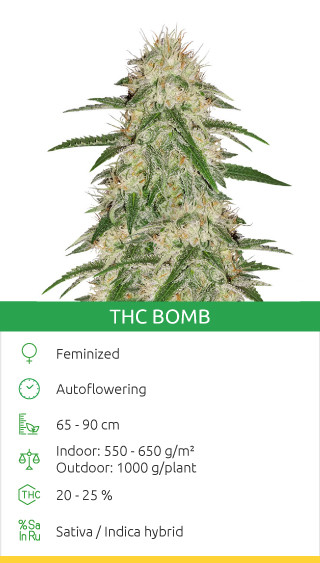 THC Bomb – A Potent Hybrid With Up To 20% THC
THC Bomb is an amazing photoperiod cannabis strain offered in feminized form. An equal Indica/Sativa hybrid, THC Bomb packs a punch while providing users with the best of both worlds, starting with a head high that slowly progresses to your limbs and extremities. As its name suggests, this cannabis strain contains high levels of THC with well-grown specimens ranging from upward of 20%. A rapid growth cycle of 7-9 weeks and a potential yield of 550g/m2 makes this plant an especially lucrative addition to any grower's garden. While its yields are already high, a Sea of Green (SoG) grow will take this plant to a different level.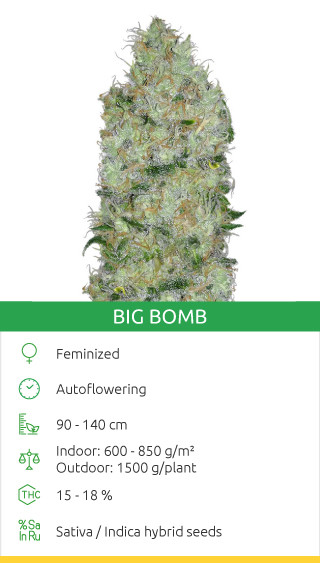 Big Bomb – Best Of Both Worlds
This signature cannabis strain comprises both Indica and Sativa genetics in a 50/50 split – a photoperiod cannabis strain and all-in-one offering in compact seed form by Bomb Seeds. A well-balanced hybrid, Big Bomb came about as a cross between a Big Bud descendant crossed with Bomb #1. This led to a heavy-hitting cannabis strain combining the best attributes from both parents to create the tastiest concoction of flavors that's bound to leave anyone's mouth watering. Even with a basic setup and little feeding, this plant can grow up to 140cm in height and deliver a more than impressive 850g/m2 yield after only 8 weeks!
Cherry Bomb – A Sweet And Fruity Flavor Sensation
Cherry Bomb is an Indica-dominant cannabis hybrid with an unknown genetic lineage. While it's known that it stems from Bomb Seeds' Big Bomb, the second parent strain is unknown. Respected for its medicinal and healing properties, the sedating effects of Cherry Bomb are guaranteed to tame even the heaviest of users. A super speedy growth cycle of only 8 weeks and huge harvests of up to 650g/m2 indoors explains why it became an instant favorite in the cannabis industry.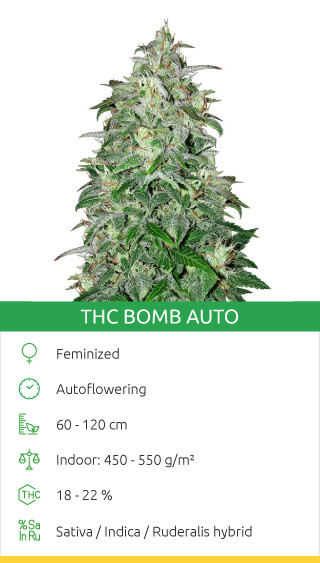 THC Bomb Auto – Autoflowering THC Bomb
THC Bomb Auto is an autoflowering version of Bomb Seed's award-winning THC Bomb. This strain was created by crossbreeding THC Bomb with a developed Ruderalis clone. As a result of its autoflowering nature, this strain grows short and compact without compromising on strength, quality or yield. When grown in optimal conditions, this strain can achieve whopping yields of 550g/m2 of dense, trichome-laded cannabis flowers after only 9 weeks from start to finish.
Did you know?
Here are some fun facts you might not know about Bomb Seeds and their wonderful catalogue of cannabis strains.
A few of Bomb Seeds' strain lineages can be traced back to prized land races from Afghanistan.
They have won many awards for their superior cannabis strains and stable cannabis genetics.
Bomb Seeds is one of the only seed banks with truly original landrace strains.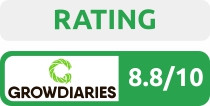 Easy-To-Grow Cannabis
Open collection