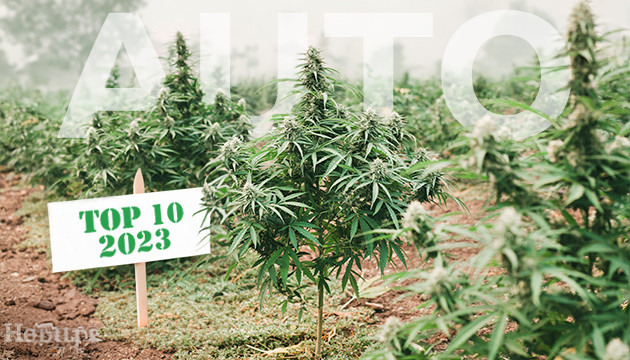 Are you ready to kick-start the new growing season with a bountiful harvest? Look no further, because we have just what you need with this list of the top 10 best outdoor autoflower strains for the 2023 season.
What are Autoflowering Seeds?
Autoflowering seeds are a game-changer for outdoor cannabis growers, offering unmatched convenience and simplicity. Compared to traditional strains, autoflowers have Ruderalis genetics infused in them, and like Ruderalis, they don't depend on light cycles to switch from vegetation to flowering. This enables autoflowers to complete their growth cycle within just 2-2.5 months from seed.
Why You Should Grow Autoflowers
Growing autoflowers outdoors offers a host of advantages for growers. One standout benefit is the opportunity to harvest throughout the growing season, allowing for two or even more back-to-back harvests instead of just one in the fall. Autoflowers also excel in cooler climates where growing photoperiods may be difficult.
These tough and discreet plants are perfect for discreet gardens. With advancements in breeding, the top outdoor autoflower strains now offer the same quality and potency as photoperiod varieties.
Best Autoflowers for Outdoor Growers
Get ready to discover the crème de la crème of autoflower seeds for outdoor growing. These top 10 autoflowering strains will take your gardening experience to new heights.
Critical XXL Auto (Herbies Seeds)
We start with the resilient and high-yielding Critical XXL Auto by Herbies Seeds. This autoflowering marvel inherits its hardiness from Afghani strains and its stability from Skunks, making it a reliable choice for outdoor cultivation.
With yields reaching 800-900 g (28-32 oz) per plant, Critical XXL Auto takes 70 to 80 days to finish flowering. And once you're finally free from 'trimming jail,' experience the power of 23% THC and indulge in blissful sedation and full body relaxation.
Gorilla Glue Auto (Barney's Farm)
Savor the trichome-laden wonders of Gorilla Glue Auto, a strain that defies the notion that frosty buds are exclusive to indoor cultivation. With over 25% THC, Gorilla Glue Auto has a smooth, creamy taste and produces exhilarating full-body effects that transport you to new heights.
This super-resinous plant produces up to 800 g (28 oz) of buds with a breathtaking amount of sticky goodness. All it takes is 70-75 days from the moment you sprout the seeds.
Gorilla G4 Auto (Blimburn Seeds)
Conquer any climate with Gorilla G4 Auto, another 'gluey' strain that thrives in diverse outdoor settings. Packing a punch of 24% THC, this herb will wash you over with serenity and happiness as the pine flavor with fruity undertones teases your taste buds.
In just 10 weeks or less, this mighty cultivar reaches full maturity, delivering 700-800 g (25-28 ounces) per plant when provided with ample medium to feed its roots.
Wedding Cake Auto (Barney's Farm)
If there's a strain that thrives in the splendor of the outdoors, it's Wedding Cake Auto. Boasting 25% THC and over 2% CBD, the smoke delivers a harmonious blend of creativity, euphoria, and relaxation. Another highlight is the sweet and creamy flavor reminiscent of the cake this weed is named after.
Just like a sun-kissed wedding ceremony, Wedding Cake Auto is made for beautiful weather, yielding 750 g (26 oz) per plant despite its petite size. Ideal for concealed outdoor gardens, this plant reaches just 90 cm (3 ft) in height.
Glueberry Auto (Expert Seeds)
Yet another gluey variety on our list, Glueberry Auto is the epitome of sticky awesomeness. With 21% THC, this berry-flavored weed delivers a dependable fusion of taste, potency, and balanced effects that uplift the spirit, cause intense giggles, and energize the body.
This sturdy and compact strain has a short flowering time of just 8 weeks but still manages to yield up to 700 g (25 oz) per plant outdoors.
Monster Bruce Banner Auto (Monster Genetics)
Immerse yourself in the larger-than-life presence of Monster Bruce Banner Auto. Brace yourself for the incredible potency of its 25% THC content, delivering a mix of relaxation and happiness.
With a remarkable flowering time of just 56 days, this compact and discreet-smelling cultivar surprises with massive yields of 700 g (25 oz) per plant. This is truly one of the best autoflowering seeds for outdoors – a real monster in a compact but awe-inspiring package.
New York Diesel Auto (Expert Seeds)
New York Diesel Auto by Expert Seeds has become a household name among Sativa enthusiasts. Its invigorating effects melt away anxiety and uplift your spirits in a swirl of social bliss, relaxation, and euphoria. Prepare for a sensory explosion as the buds emit a vibrant fusion of diesel fumes and zesty citrus notes.
NY Diesel Auto boasts a short flowering time of just 8 weeks, thriving even in subpar conditions, and it has a compact and discreet stature that ensures it always flies under the radar. Outdoor-grown crops yield 600 grams (21 oz) per plant.
Sour Diesel Auto (Herbies Seeds)
Get ready to rev up your engines with Sour Diesel Auto. With a tantalizing aroma reminiscent of pungent diesel fumes, this wake-and-bake smoke delivers a great sour taste and puts you in a dreamy yet productive state that lasts for many hours thanks to its 25% THC.
Sour Diesel Auto is a resilient and beginner-friendly cultivar. The strain can break through pavement cracks and still produce up to 550 g (19.5 oz) per plant outdoors.
Critical Neville Haze Auto (Delicious Seeds)
It might seem strange to you to discover a Haze among the highest-yielding autoflowers in the world, but Critical Neville Haze Auto really is that productive. Despite its exotic nature, this strain is a breeze to cultivate, making it accessible to any grower, and it produces up to 400 g (14 oz) per plant outdoors.
Experience a pure Sativa rush from this smoke, with its 21% THC content delivering a euphoric and creative high that awakens your senses and unleashes your inner artist while combating fatigue.
Neville Haze Auto (World of Seeds)
Here's another sensational Haze to rock your world! Neville Haze Auto retains its captivating Sativa traits with effects that elevate your senses and fuel your creativity.
An attempt to tame a tropical Sativa's height and long flowering times with a touch of Ruderalis genes, Neville Haze Auto also turned out surprisingly productive, delivering up to 400 g (14 oz) per plant outdoors. With a short flowering time of 80 days from seed, this jewel of sultry climes can thrive in almost any location worldwide.
Tips for Growing and Harvesting Autoflowering Strains Outdoors
Choose any of our best autoflower strains to grow outdoors and you'll instantly set yourself up for success, as good genetics can shine in even the most inexperienced hands. Additionally, you can improve your growing techniques and achieve even better results by following these tips:
Choose the warmest and sunniest time of year. You have the luxury of two good summer months in practically any climate. If your climate is very cool, the best spot will be a south-facing slope.
Use big containers or plant your autoflowers in raised beds. Otherwise, the yield potential of these champs will go to waste.
Amend the soil with organic nutrients. While Sativa-dominant autos are less demanding, those that lean to the Indica side have a greater appetite, and all of them will only achieve substantial growth and high yields with adequate nutrition.
Water regularly. Rains won't be enough in most climates, and you'll get the best results by watering first thing every morning.
Training autoflowers outdoors is optional, but it's highly recommended to use stakes and trellises for the highest-yielding varieties.
Monitor the color of the trichomes to choose the best moment to harvest. For the best results, cut the plants at dawn and before a rainy spell, if anticipated.
Your Record-Setting Harvest is Just a Few Clicks Away
We hope you now have enough candidates for your best outdoor autoflower harvest yet. Don't waste your time – buy some outdoor autoflower seeds here at Herbies and make the growing season of 2023 the stuff of legends!
Herbies Head Shop expressly refuses to support the use, production, or supply of illegal substances. For more details read our Legal Disclaimer.