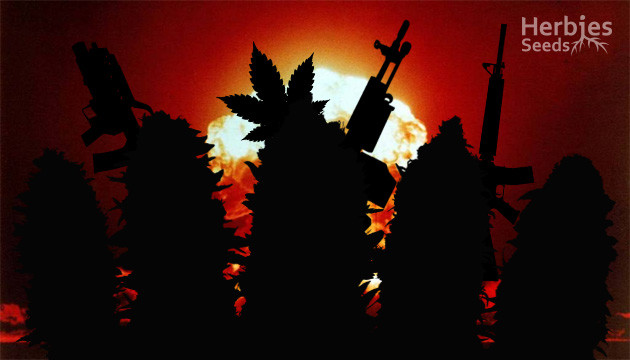 Oh, Indica! One of the two main subspecies of cannabis, it's universally adored by growers all around the globe – and for good reason! Whether you're an experienced grower or just a casual smoker, there are so many benefits behind the genetic profile and chemical composition of strong Indica strains. So, before we introduce the list of our top ten strongest Indicas, let's clear the air on what exactly makes Indicas so great.
Due to their origin, Indicas don't mind getting a little chilly, so a wider number of regions is suitable for their outdoor cultivation.
If you prefer keeping your plants close by and growing them at home, this is always a breeze with Indicas as well. After all, a compact and bushy plant is easier to find room for, as well as to take care of afterward.
Even the strongest of Indicas remain short until the very last days of their cycle, yet they still manage to produce generous yields that are generally larger than those of Sativas.
More often than not, Indica plants are thought of as less potent due to their lower THC content. Don't be fooled – there are some incredibly heavy Indica strains out there!
Indicas are typically richer in CBD, one of the cannabinoids that gives them their medicinal qualities, than Sativas. For the same reason, many see strong strains of Indica as night-time strains, as they'll get you happily stoned, locked to the couch, or just sleepy and hungry.
Rumor has it that Indica strains can feature extreme levels of potency that even Sativa lovers will envy. If you've ever wondered how far the possibilities high-THC Indica seeds can go and what the strongest Indica strains are in the world, we've got you covered. Let's dive into our list of the top ten strongest Indica strains!
Grandmommy Purple: Peak Comfort, Inside and Out
The strongest Indica strain produced by Herbies, Grandmommy Purple is no regular grandmom – she's a cool grandmom! Casually testing at 30% THC, this feminized cannabis strain often shows levels of THC as high as 33%, which puts her among the strongest Indica strains in the world! For this reason, novice tokers should start slow, with only a single toke. From this 80% Indica, you can expect all the classic purp traits, including that delightful purple flavor and complex relaxing effects. A single toke of Grandmommy Purple will make you feel like your body is tucked up with the coziest blanket, and your mind as if nothing can ever worry you.
Mimosa x Orange Punch: A Hard-Hitting Indica Cocktail
If you ever go to a Barney's Farm bar and ask for the strongest stuff they have, they'll mix Mimosa EVO with some Orange Punch, shake it well, and there you go. Just try to stand upright afterward – mission impossible! Mimosa x Orange Punch is a heavy 30% THC cocktail, and definitely one of the best Indica seeds from this breeder. This strain takes the best traits from her parents to serve up bursting flavors of tangerine and other citrus, along with euphoric effects and hefty yields of up to 1.5kg (3.3lb) per plant!
Runtz Punch: A Potent Flavor-Bomb
Runtz genetics have been at the forefront of the game for the last couple of years, so it's no wonder that Runtz Punch made it onto our list of potent Indica strains. Packing 29% THC under its belt, our very own Runtz Punch, created in cooperation with top-tier Spanish breeders, is a serious contender for the title of strongest Indica. Its effects are complex and layered, inducing a dream-like, happy high in a matter of seconds. Beware: due to its extreme potency, one toke too many can actually send you to sleep! Flavor-wise, Runtz Punch is an aromatherapy session in a bud – you'll love her punchy, therapeutic flavors and aromas of tangerine and lavender.
Banana Sherbet : 28% THC to Lift Your Spirits
Whenever you're feeling down, go for Banana Sherbet! One of the strongest Indica strains in the world, this 28% THC variety is known for its uplifting and euphoric effects. Your frown will definitely turn upside down as you become happier and more creative while the high takes effect. It starts off highly energetic keeping you creative and focused for hours before it turns an enjoyable calming turn. The best part is that you won't need to wait for long to experience this – Banana Sherbet isn't just among the most potent Indica strains out there, but also one of the fastest ones with its 60-day flowering period.
Forbidden Runtz Auto: A Rollercoaster High
The only autoflowering strain on our list of high THC Indica strains (for now), Forbidden Runtz Auto is up there thanks to its 26% THC content. Due to a wild combination of cannabinoids and terpenes, Forbidden Runtz Auto provides users with complex effects that start with bursts of energy and laughter and later settle in with warm, cozy relaxation and beautiful introspective thoughts. The flavor profile is delicate, with pronounced fruity notes backed up by tart, earthy undertones. And of course, as a true autoflower, Forbidden Runtz Auto is an absolute pleasure to grow with its short 7-week lifecycle.
Wedding Cookies : Euphoric Zen in Huge Yields
This feminized Wedding Cookies strain produced by OSS easily proves our statement about the increased productivity of Indicas. Have a seat first, because this powerful Indica's yields reach 28oz (800g) per plant. Massive! On top of that, Wedding Cookies is an exceptionally potent Indica strain, testing at 28% THC. Its aroma of decadent vanilla is so penetrating that it immediately clears your head and makes you blissful for hours of an unforgettable experience, all while relaxing every inch of your body. Make the experience even better and share it during a night in with friends.
Wedding Cake: Your Tastiest Partner
Once you try Wedding Cake, you won't be able to imagine life without it! One of the strongest Indicas in the world, this variety can make anyone fall in love with it after a single date. The incredible charm of Wedding Cake comes from its serious THC content of 25%. It also provides an unforgettable euphoric and uplifting high – pure ecstasy layered between the luscious tastes and aromas of sweet cookie dough, berries, and some hash for an added kick. Suitable even for daytime consumption, Wedding Cake will motivate you to be the best version of yourself. Say "I do" to this heavy Indica and feel like it's the biggest day of your life… every day!
Strawberry Pie Auto: Berry-flavored Relaxation
Strawberry Pie Auto by FastBuds is an Indica that will add more color to your life. Hardy thanks to its autoflowering properties, this strain is resistant to colder temperatures and harsher climates. One of the strongest Indicas in the world both inside and out, when facing the cold, Strawberry Pie Auto will just produce beautiful purple hues in response. True to its namesake, its buds taste and smell just like fruit strawberry pie, giving smokers a feeling of joy and contentment. The ones who tried this strong Indica report that she provides great mental clarity while simultaneously relaxing the body. Had a hard day? Finish up on a good note with Strawberry Pie Auto.
Do-Si-Dos: THC Overload
Do-Si-Dos, an Indica-dominant marijuana variety by Big Head Seeds, rules the world of cannabis with its groundbreaking 30% THC. Boom! With its innocent minty-lime aroma and featuring the fresh taste of pine, this heavy-duty machinery of a strain is so potent that it's only recommended for experienced users. However, even those users won't be able to move for hours afterward, feeling like they've been pressed to the couch by literal tons of pure euphoria! Make sure you're already comfortably seated before taking a hit of this one, and don't dare try smoking it during the day. Trust us, you won't feel any need to move at all! The strongest Indica in the world? Quite possibly.
Golosa: Monstrous Crops Made Easy
Golosa might not be the number one strongest Indica strain on our list, but with its 26% THC, it's definitely still one of the strongest in the world. A perfect all-rounder, this marijuana variety is well-known for being incredibly easy to grow, allowing cultivators to harvest massive crops in as little as 55 days of flowering! If extra effort feels like a burden to you but you'd still love to snatch 50oz (1,500g) from a single plant, Golosa is a perfect choice. Dank, minty, and sweet with hints of grapefruit, this heavy Indica is also known for its instant deep body and mind relaxation effect, making it a perfect all-over nighttime strain.
Most Potent Indica Strain: What's Your Pick?
We've shared our list of the strongest Indica strains at Herbies. Their THC levels are all different, but their effects highly depend on many factors other than cannabinoid levels, so each of these strains can surprise you in its own way! What's the most potent Indica strain in your opinion? Alternatively, what's the strongest Indica strain you've ever personally tried? Share your thoughts in the comments below!
Herbies Head Shop expressly refuses to support the use, production, or supply of illegal substances. For more details read our Legal Disclaimer.