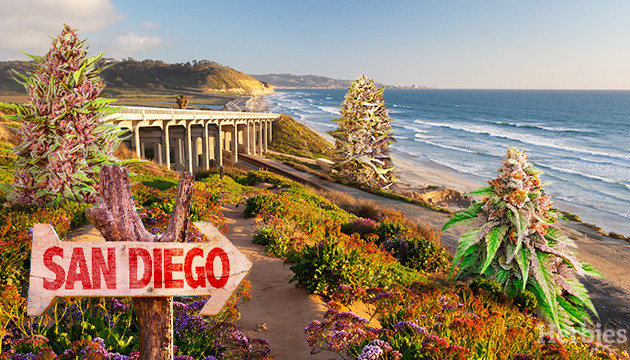 Often dubbed "America's Finest City," and a place of limitless opportunities, it's no surprise that you might be wondering where to buy cannabis seeds in San Diego. Nestled on the coast of California herself, you'd imagine San Diego to be a weed grower's paradise!
However, it's never good to assume anything as each state and city has its own regulations you need to consider for safety's sake. So, keep reading to find out whether or not it's legal to grow cannabis seeds in San Diego, and if the climate is in your favor.
Is It Legal to Grow Cannabis in San Diego?
The great news is, not only is it legal to smoke cannabis, but it's legal to grow marijuana seeds in San Diego too! Provided that you are over 21 years of age, you can grow up to 6 plants of your own accord and even more if your doctor prescribes it.
If your medical condition requires it, you can grow as much as you need to accommodate the condition. There are also exceptions to the age rule, allowing under 21's to possess and smoke weed provided that they require it for medical reasons and receive a prescription.
The only catch about growing San Diego cannabis seeds is that you can't sell your produce for profit, and depending on your area you may not be able to grow outdoors.
In general, only those in Chula Vista, Oceanside, and San Diego County Unincorporated areas may legally grow weed outdoors. Besides this, it's up to your landlord to allow indoor cultivation or not. So, before you move into your dream home, make sure it's 420-friendly!
Is The Climate of San Diego Good For Growing Weed?
There's no question that the Golden State of California, is known as the weed central in the country. One reason for this is the long hot summers, providing sun-hungry weed plants with ample sunlight and warmth to flourish.
However, with all that sun and very little rainfall, sometimes even none, things can get pretty dry down in San Diego. With that in mind, make sure your watering schedule is on point, and be sure to check your plants for signs of dehydration regularly.
On the bright side, with summers like this growing autoflower seeds in San Diego is also a smart choice! You might find yourself getting a few harvests out within the season.
Best Marijuana Seeds for San Diego Growing
To help you get a head start on your grow plans this year, we've put together this list of ideal marijuana seeds in San Diego so you can grow the best harvest you've ever pulled off in no time. Every strain is just a click away. There's something for everyone, so take a look!
Bruce Banner #3 (Original Sensible Seeds)
Don't let the three fool you, Bruce Banner #3 is no third place, making the top of the list for best cannabis seeds in San Diego! With an impressive flex of up to 28% THC and bulky harvests every time, it's no surprise this strain is named after a beefy green monster!
She doesn't disappoint with effects or flavor either, offering a tasty sweet, earthy-diesel combo on the tongue and a delightfully uplifting balanced high for the brain and body.
Orange Sherbet Auto (FastBuds)
Like a sugar boost to the brain, Orange Sherbet Auto is some of the top autoflower seeds in San Diego for this list. As a 70% Sativa hybrid, she is energizing and uplifting for any time of day and grows like a charm in the San Diego climate.
Enjoy yummy citrus flavors as her 24% THC content lights up your world and leaves no room for laziness. However, the sugariness in her name is not for her sweetness, but for her bucketloads of sticky trichomes coating every bud like a thick dusting of sherbert. Yum!
Gelato (BlimBurn Seeds)
A strain that never gets old, Gelato by BlimBurn Seeds is a refreshing feminized version of the long-time favorite cannabis seeds in San Diego. Enjoy a calming yet uplifting high ideal for any time of day and impressive potency of up to 27% THC.
Not only is Gelato delicious with inviting effects, but her bag appeal is also something to get excited about, flaunting dark-purple and lilac hues on her leaves and buds.
Runtz Punch (Herbies Seeds)
Get ready for the potent yet therapeutic qualities that come when smoking Runtz Punch by Herbies Seeds. Not a strain for the faint of heart, these recommended weed seeds in San Diego will take even the seasoned smoker by surprise with up to 29% THC and prominent Indica dominant effects.
Along with her deep, dreamy effects get swept off your feet in a delightfully creamy flavor, savored with hints of tropical fruit and lavender herb aromas.
Malawi (Ace Seeds)
Growing dense trichome-covered buds in buckets, Malawi by Ace Seeds is a strain to be reckoned with! Not only is she a 100% Sativa queen, but she also boasts up to 27% THC leaving you with a butt-kicking high with the potential for psychedelic effects.
A strain suited for veteran smokers only, you won't be disappointed after savoring the woody flavors and refreshing linger of lemon. Just go easy with her or risk being taken for a journey you may not be ready for!
Godzilla Cookies Auto (Herbies Seeds)
A king amongst great cannabis seeds in San Diego, Godzilla Cookies Auto offers you a new view of the world from sky-scraper heights of up to 27% THC. Not only big in potency, but in flavor and yields as well, you can't go wrong shaking hands with this beast.
Expect well-balanced hybrid effects, leaving you giggly and relaxed with a euphoric head and body buzz to take you away into the sunset. And, before we forget, this is a strain you will smell before you see, leaving strong whiffs of diesel and cookies floating about in the air.
Lemon AK Auto (FastBuds)
As one of the best-selling autoflower seeds in San Diego, Lemon AK Auto never fails to impress both experienced and beginner growers alike. A fantastic Sativa dominant all-rounder, this lemon explosion comes in with up to 24% THC and a wonderful array of classic Sativa effects.
Great for many medicinal ailments such as glaucoma, anxiety, and asthma, this is the ideal daytime companion ready to energize and uplift any situation.
Girl Scout Cookies (Garden of Green Seeds)
What's a list of best cannabis seeds in San Diego without the famous Girl Scout Cookies strain from California? Blending mind-blowing flavors with mind-blowing effects makes for an all-time favorite amongst growers around the globe.
Buckle up for a 28% THC endorphin rush, balanced perfectly between a 50/50 hybrid and spellbinding flavors of wild cherries, lemon hash, cookie dough, and more.
Caramelo (Delicious Seeds)
Sprouting from the epic lineage of strains like Super Skunk and Hawaiian, Caramelo by Delicious Seeds was bred to make headlines. She blesses you with a hard-hitting energetic rush followed by relaxing cerebral massage, thanks to her Sativa dominant 24%+ THC content.
There's no such thing as a safe distance from this potent mistress as Caramelo lures you in with her sweet floral aromas and hints of skunk only to follow suit with a melt-in-your-mouth walnut flavor.
Blue Sunset Sherbert (Barney's Farm)
Living up to her name, Blue Sunset Sherbert sports some serious bag appeal blooming beautiful leaves and buds of many hues. Adding to her beauty is her 28% THC content and enjoyably balanced Sativa/Indica effects of creativity and tranquilization.
Topping it off with a bang, these perfect weed seeds in San Diego grow super fast in just 60 days and burst with zesty dessert flavors you can't resist.
Grow in the Golden State
Whether you're growing this season or the next, don't miss out on Herbies San Diego cannabis seeds! Every strain on this list is built to thrive in your hometown climate. Simply pick the one that's calling you and get ready to drool.
For every Herbies order, you can rest assured your parcel will arrive in discrete packaging to help you avoid that nosy neighbor in your building. So, what are you waiting for! Your future harvest awaits.
Herbies Head Shop expressly refuses to support the use, production, or supply of illegal substances. For more details read our Legal Disclaimer.