Cannabis Seeds in Georgia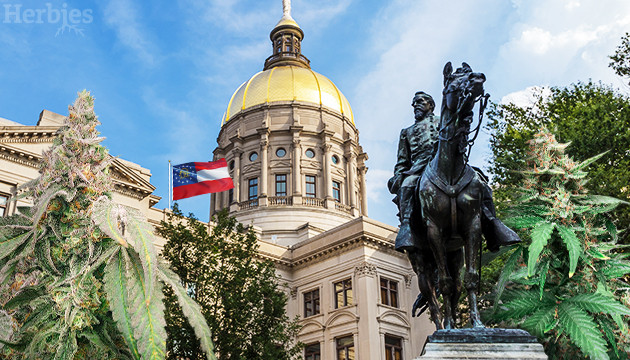 The south is mainly behind the rest of the USA's legalization efforts. However, that doesn't mean that residents aren't looking for cannabis seeds in Georgia and other southern states. Those willing to cultivate at home can find quality products online. Herbies Seeds offers the best selection from Spain, the Netherlands, the USA, and other countries with leading seed banks. Keep reading for the list of top picks to grow in Georgia.
Is It Legal to Buy Cannabis Seeds in Georgia?
Even in the Peach State, it's legal to possess cannabis seeds. However, that's about all you can do before being at risk of penalties. Once they germinate, pot seeds in Georgia can put you in trouble. That said, some cities have decriminalized cannabis, so do your research.
Either way, you won't find weed seeds in Georgia in stores. Instead, growers in Georgia often purchase from online seed banks.
Can You Grow Cannabis in Georgia?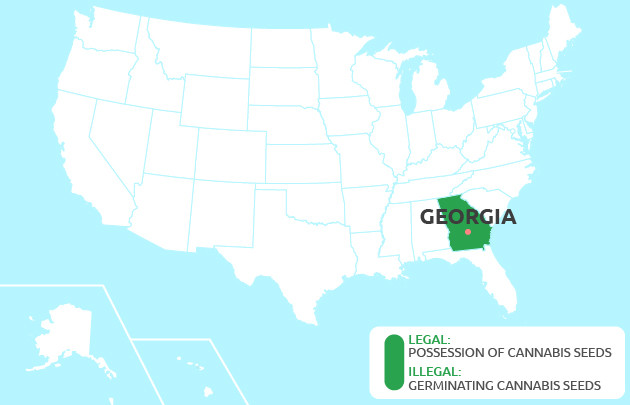 GA has always been a terrific place to grow just about any crop, and cannabis plants in particular seem to take exceptionally well to the soil and climate. Unfortunately, it's still illegal to grow marijuana seeds in Georgia. Those willing to risk cultivating recreational cannabis will need strains that are more discreet.
Hopefully, as more residents apply for limited medical marijuana, laws will change. You'll have to collect seeds as a novelty product only until then, and it might be some time before you'll see cannabis seeds for sale in Georgia's offline stores.
What to Consider When Buying Weed Seeds in Georgia
In addition to its legality, there are other things to consider. Before you order, you should learn more about the climate – from there, you'll see what marijuana seeds for sale in Georgia will work best in the state's outdoors.
The Climate in Georgia
The climate in Georgia is ideal for growing cannabis. Here, plants have until mid-October before colder weather sets in, allowing you to grow a wide range of strains, Sativas included.
The beginning of August sees the hottest temperatures and high humidity, so overheating and possible mold are issues to keep in mind when growing weed in Georgia.
Around September, it's still very warm with an average of 27˚C (81˚F). This means that if you plant autoflowers and start in early spring, you can likely get two harvests in one season.
Where to Buy Marijuana Seeds in Georgia
There's nowhere better to buy cannabis seeds in Georgia than Herbies Seeds. We've operated for two decades, bringing together the best strains worldwide and successfully delivering them to growers and collectors in Georgia.
We deliver your orders using stealth packaging to keep your items safe and discreet. Moreover, every order comes with at least one free seed, depending on the size of your purchase. We guarantee each seed we sell will germinate, and in case of any issues, our support agents stay prepared to chat and help you 24 hours daily. You can see why Georgians prefer our selection of products.
Now to the best part – finding your new favorites from prized seedbanks from our top eight picks of cannabis seeds to grow in Georgia.
Best Cannabis Strains to Grow in Georgia
Those who cultivate know that nature knows best in the Peach State. We've chosen these strains for their heartiness and growing speed – all of these seeds will finish by early October, so you don't have to worry about losing your harvest to bad weather.
This selection includes both autoflowering seeds and photoperiod plants to maximize your yields – it wouldn't make sense to not benefit from the local climate and soil.
Mimosa Shot (Herbies Seeds)
Mimosa Shot is a balanced hybrid with a tasty sweet and spicy taste. With 65% Indica genes and 30% THC, it's perfect for a shot of energy during lazy mornings or demanding projects. Mimosa Shot creates waves of happiness that suit any occasion.
This strain matures in 55-65 days of flowering and stays at a manageable height, reaching only 65-80cm (25.5"-31.4") indoors and 140-180cm (55"-70.9") outdoors, which can be shortened further with training. Expect to harvest up to 800g/m² (2.62oz/ft2) indoors and 1600g (56.4oz) per plant outdoors.
Runtz Muffin (Barney's Farm)
Runtz Muffin is a dessert-like flower that's perfect for unwinding after a hard day. Melt away any stress with 29% THC and gelato-like flavors.
This photoperiod plant is a 30% Sativa/70% Indica hybrid that anyone can grow. It reaches 100-120cm (39"-47") indoors and 150-200cm (59"-78.7") outdoors. Runtz Muffin matures in 63 days of flowering indoors or in early October outside. Expect to harvest up to 600g/m² (1.97oz/ft2) indoors and 1000g (35.2oz) per plant outdoors.
Black Cherry Punch (Pyramid Seeds)
Black Cherry Punch is a gorgeous photoperiod strain with 90% Indica genetics. Not only does it look intriguing, but it's also hard to beat its fruity, earthy flavor. With a powerful cerebral high, 25% THC, and 1% CBD, you'll feel instant relief and pure joy overtaking your mind.
It matures in 60 days of flowering indoors, when you can lower night temperatures to trigger purple hues. Outdoors, Black Cherry Punch finishes in September, perfect for late autumn evening sessions. Yield up to 350g/m² (1.15oz/ft2) indoors and 1000g (35oz) per plant outdoors.
Girl Scout Cookies (Garden of Green Seeds)
Girl Scout Cookies may be among the most popular hybrid strains in the world, and Georgians order these seeds pretty often too. Consumers love its sweet and woody flavor, relaxing and deeply euphoric highs, and 28% THC level. Girl Scout Cookies produces a creative and energetic effect that can easily become your go-to.
This strain matures in 65 days of flowering, and even beginners see great results. You can anticipate 450g/m² (1.47oz/ft2) in yields – enough to fill many cookie jars.
Tutankhamon (Pyramid Seeds)
Tutankhamon is a potent hybrid that reaches 30% THC and 2% CBD. You can enjoy its citrusy flower at any time of day – Tutankhamon produces a euphoric and cerebral high and is great for treating stress and anxiety.
This strain can get tall, growing to 75-150cm (29.5"-59"), so don't forget to train the plant. It matures in 60 days of flowering and finishes outside in mid-September. Expect to yield up to 500g/m² (1.64oz/ft2) indoors and 1500g (53oz) per plant outdoors.
Auto Cinderella Jack (Dutch Passion)
Auto Cinderella Jack is a balanced hybrid strain that reaches 26% THC. These sweet and fruity flowers keep you happy, creative, and focused – Auto Cinderella Jack is sure to make you giggle and relax. This strain also produces a pleasant earthy aroma, making it very popular.
It fully matures in 77 days from germination, creating dense and sticky buds. Anticipate harvesting up to 500g/m2 (1.64oz/ft2) when you grow this incredible strain. 
Lemon AK Auto (FastBuds)
Lemon AK Auto creates a citrusy blast of uplifting, cerebral, and energetic effects with potent 24% THC levels.
Lemon AK Auto is suitable even for beginner cultivators, and it grows fast, maturing in about 70 days from seed and producing tall and dense cones. This strain grows to a medium height of 70-130cm (28"-51"). Anticipate up to 650g/m² (2.1oz/ft2) indoors and 250g (8.8oz) per plant outdoors. It will yield even more if it receives 16-20 hours of light daily, making it a perfect summer crop.
Fruit Punch Auto (Heavyweight Seeds)
Fruit Punch Auto is a fruity Sativa strain reaching 21% THC and 1.1% CBD levels. Its unique genetics create a social and uplifting high while leaving you relaxed.
This plant matures in 80 days from seed, and it's excellent for beginners. It grows to a medium height of 80-120cm (31"-47"), showing pretty white hairs and frosty buds that come in big amounts. Yield up to 800g/m² (2.6oz/ft2) indoors and 150g (5.3oz) per plant outdoors.