Cannabis Seeds in Idaho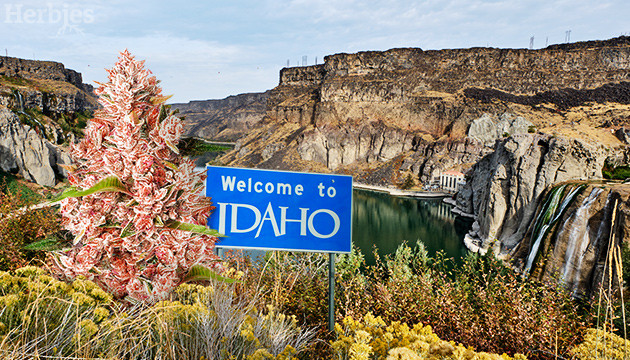 Buying cannabis seeds in Idaho is best kept a secret, as the cannabis policy in the state is basically draconian, at least when compared to its immediate neighbors to the west (Oregon and Washington) and north (British Columbia and Canada). The authorities would like you to live as if weed didn't exist at all and subject you to harsh penalties for trying to obtain it illegally. All the more reason to become self-sufficient.
Is it Legal to Buy Cannabis Seeds in Idaho?
Although you aren't likely to find cannabis seeds for sale in Idaho, they are legal here as in the rest of the USA. So, you may purchase and possess cannabis seeds without running afoul of the law. The legal basis for this is the 2018 Farm Bill, which allows for the cultivation of hemp throughout the country. Since, botanically, hemp and marijuana are the same species and their seeds contain zero THC, you won't get in trouble if you buy cannabis seeds in Idaho.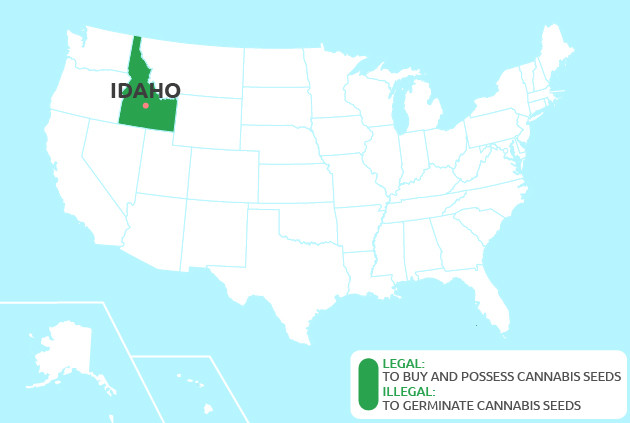 Can You Grow Cannabis in Idaho?
The bad news for Idahoans is that anything that has to do with cannabis, including its cultivation, is illegal in the state. The authorities seem to dislike the plant so much that they've tried on more than one occasion to turn this dislike into law. The last attempt was in 2021 when they attempted (unsuccessfully) to amend the constitution with the ban on ever legalizing any illicit substance. In a more positive vein, the same year, they also allowed the cultivation and transport of cannabis if it contains no more than 0.3% THC, so things do change, albeit slowly.
What to Consider When Buying Weed Seeds in Idaho
When you buy marijuana seeds online in Idaho, choose a shop that ensures your maximum privacy and protection. Here at Herbies, we use secure connections when taking your order and processing your credit card payment. Paying with Bitcoin is an even more discreet option, and to users who live in states with overly strict cannabis policies, we offer stealth shipping – when seeds are sent not in their original (and often showy) packaging but rather in non-descript packaging and hidden among other innocuous items.
The Climate in Idaho
Another thing to consider when shopping for marijuana seeds in Idaho is the climate. Fortunately, the conditions are very accommodating for outdoor growers. Just bear in mind that the summer is not very long, so it's best to choose a strain that will finish flowering by the first two weeks of September. October-finishing varieties may suit you fine as well, but not every year, so they're probably not worth the risk.
Otherwise, the climate in Idaho will be your weed's best friend thanks to its comfortable relative humidity, just the right amount of rain, enough warmth and sunshine, and no strong winds to threaten your garden when branches are long and bend under the weight of heavy 'fruit'. And if you choose an autoflowering strain, you can have two harvests per season – one in July and the other in September – and in both cases, the conditions will be close to perfect.
Where to Buy Marijuana Seeds in Idaho
You won't find marijuana seeds for sale in Idaho dispensaries (since there are none), so let's look at your online options. Though not the only seed shop out there, Herbies is a terrific choice because with 20 years in the business and almost a million filled orders, we can offer you the perfect shopping experience.
We have around 2,000 strains in our catalog covering the whole genetic spectrum. Whatever you're looking for, we have it. We give out free seeds with every order, offer extra freebies and promotions all the time, and have a tiered discount system. Our shipments to the US work like clockwork, and we offer a germination guarantee for every seed we sell.
Best Cannabis Strains to Grow in Idaho
If you want to grow weed seeds in Idaho, your only enemies are the law and short summers. So, many top varieties from Herbies' huge collection will thrive in your garden, but it's safer to choose the fastest Indica-dominant photoperiod varieties as well as the so-called early versions and autoflowers of any genetic makeup. We've hand-picked some of the best strains for Idaho for you – without further ado, here they are.
Caramelo Early Version
When looking for pot seeds in Idaho, why not start with the most sugary one out there? Caramelo Early Version is as sweet as the name suggests, but it's no children's treat, that's for sure. With 24% THC, you'll need years of smoking before you can take more than a couple of puffs and not pass out. However, if you're a long-time user or know what moderation means, you'll find the effects exhilarating, motivating, and upbeat. At the same time, it's medical marijuana at its finest, with body-numbing qualities that can take care of all types of pain as well as headaches.
Despite her 70% Sativa dominance, this plant will finish by early September, bringing you as much as 17.5oz/plant of fat but mold-resistant buds.
Trippy Gorilla Autoflowering
One of the features of great recreational cannabis is its ability to bend the mind, distort perception, and give you a rollercoaster of a trip. If you're into this kind of thing, try Trippy Gorilla Autoflowering. With up to 28% THC in the best-grown samples, you can look forward to a crazy strong high that can either clear your mind and fill it with creative ideas or obliterate your very personality, depending on the dosage. Her resin is also packed with aromas of pine and lemon, creating a flavorful and unforgettable smoke.
With Big Head #1 as one of her parents, this autoflower is a very generous cultivar and produces her abundant fruits in 56 days of flowering in any part of the growing season.
Grandmommy Purple
The flagship strain of Herbies' own seed bank, Grandmommy Purple is our pride and joy, as she packs an unbelievable 33% THC and is full of sweet and berry-like pungency. This is an ultrapotent bedtime smoke, ideal for the end of a long and busy day. All your worries will melt away, the tension from your back and shoulders will evaporate, and you'll sink into a euphoric abyss, full of hazy but happy thoughts that eventually end in a blissful sleep.
It's surprising how this generous plant can produce so much bud – up to 16-19oz/plant – despite not growing bigger than 5 feet outdoors and being ready for harvest in September.
Tropicanna Poison F1 Fast Version
Tropicanna Poison F1 Fast Version is a balanced Sativa-Indica hybrid that any type of smoker will love. Her sweet, mango-smelling buds produce the taste of earth with woody undertones and give you a high that first jacks up your mood and creativity several notches and then lets you sink into warm and fuzzy relaxation. Perfect both for workday nights and weekend parties, this can become your staple smoke for any occasion.
Despite her tropical name, this fast-flowering version will be ready for harvest in your ID garden as early as the end of August and can yield up to 16-21oz/plant.
Smoothie Auto
Smoothie Auto is a treat for your tastebuds with her delicious creamy quality and the smell of mango and blueberry. This amazingly smooth flavor is just a prelude to an uplifting euphoric high that will make everything you do feel fun, from work and chores to sports and parties. Just make sure you understand her potency – with up to 24% THC, the Indica side can easily take over and relax you to the point where you can't do anything but chill.
Idaho gardeners will appreciate this plant's speed of just 70 days from seed and her modest size of no more than 3-4 feet. Despite her discreet nature, this autoflower is quite productive delivering 1.75-8.8 ounces per plant outdoors.
Bruce Banner #3 Fast
Pheno number three was the best one in the original BB line, and in Bruce Banner #3 Fast, these exceptional genes were extended by the Indica-leaning Black Domina to make the resulting hybrid very fast. Other than that, this weed remains the same – she creates an intense initial burst of euphoria where you can't really do anything but enjoy the happy side of life. After a while, this rush settles down into something more functional, allowing you to do anything while staying thoroughly medicated.
Amazingly, you can harvest these top-shelf, 25%-THC buds no later than September, while indoors, flowering lasts only 50-55 days. No compromise was made between the speed and the productivity, the latter of which reaches 2.2 pounds outdoors and 800g/m2 (2.5oz/ft²) indoors.
Skywalker OG Auto
Skywalker OG Auto is the ultimate medicinal strain, as her high melts your body and mind, purging them of any tension and stress and leaving you with nothing but blissful relaxation. This is the kind of mellow medicine you deserve after a long and busy day. You'll also love the classic and smooth flavor that balances the citrusy and gassy aromas with the taste of pine and earth.
A generous indoor cultivar, this autoflower also shines in outdoor gardens, where she grows big and strong and produces up to 650g/m2 (2oz/ft2) of buds covered in frost and packing up to 23% THC.