Cannabis Seeds in Rhode Island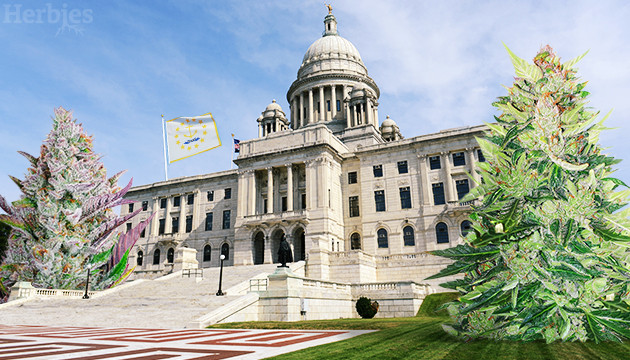 The Ocean State continues to become 420-friendlier with favorable recreational and medicinal policies in place. To stay supplied, many residents need a source of cannabis seeds in Rhode Island. From buying quality seeds to growing them, learn about the best strains with Herbies, your trusted online supplier.
Is It Legal to Buy Cannabis Seeds in Rhode Island?
Not all residents understand the legality of having weed seeds in Rhode Island. Luckily, it's not that difficult: anyone in the USA can collect them under souvenir product laws. In most areas, you aren't yet allowed to let them germinate. However, RI residents can possess cannabis seeds and germinate them without fear of retaliation.
Nonetheless, you likely won't find pot seeds in Rhode Island sold in stores. Instead, your best bet is to purchase them online, where the choice is practically unlimited. Even if you haven't grown before, we can help you succeed – keep reading for the top cannabis seeds for sale in Rhode Island.
Can You Grow Cannabis in Rhode Island?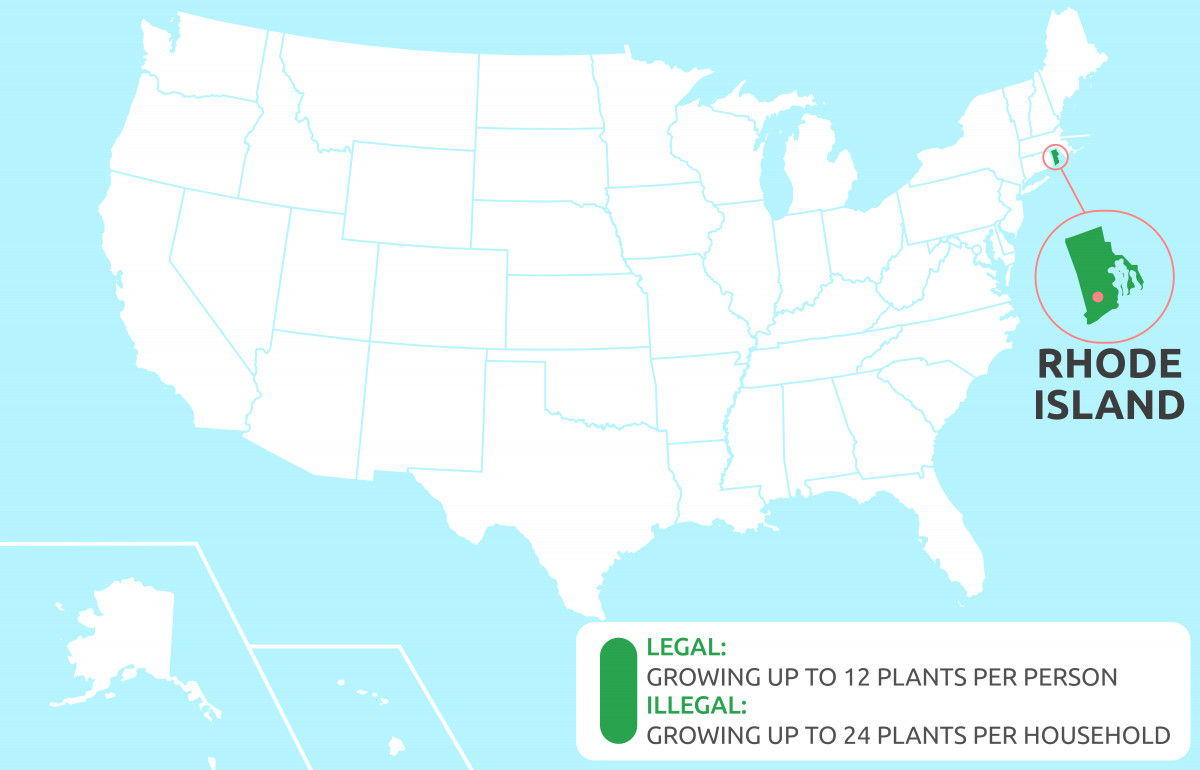 Thanks to recreational cannabis law updates, residents can cultivate at home. RI allows for home cultivation with a generous number of plants. You can keep 12 plants, and all of them can be flowering at the same time. Households may even double that amount to 24 plants in total.
With the right strains, at-home cultivation is easier than you think. Keep reading and by the end of this article, you'll be able to buy state-specific quality marijuana seeds in Rhode Island without leaving the house.
What to Consider When Buying Weed Seeds in Rhode Island
Before you place your order, there are a few considerations to make first. Cultivating isn't as simple as tossing seeds into your yard. Instead, your cannabis plants will face the same challenges as other species in the area. Before you buy cannabis seeds in Rhode Island, make sure you know how to cultivate them – we have a whole blog dedicated to growing.
The Climate in Rhode Island
The Plantation State, despite its name, isn't the best place to grow cannabis, but it's absolutely possible. You'll see short hot summers, long snowy winters, and mostly cloudy days, so you need to be careful when picking your strains.
July is the hottest month in Rhode Island, with temperatures reaching 28 ˚C (83 ˚F). Like many coastal areas, the inland region stays warmer than near the sea, and there's a chance of rain virtually every day.
You'll therefore want strains that are mold-resistant and finish in September, before the cold weather hits. Luckily, we've already prepared seven marijuana seeds for sale in Rhode Island that will thrive in the state's climate.
Where to Buy Marijuana Seeds In Rhode Island
While there's a strong cannabis culture here, options for cannabis seeds can feel limited. This is why many residents choose to buy marijuana seeds online. In Rhode Island, there aren't many stores that have seeds for sale. Rather than using only one offline shop or a single seed bank, we have thousands of strains from many renowned producers worldwide.
Our online shop carries around 2,000 potent THC and CBD strains at any given time. Whether you grow for medication or recreation, we can help with finding the best pot seeds in Rhode Island at affordable prices.
Best Cannabis Strains to Grow in Rhode Island
Those willing to brave the outdoors will likely need photoperiod Indica-leaning varieties or autoflowers of any kind, Indica or Sativa. These grow quickly with the ability to finish before the cold hits in Rhode Island, and they usually don't become too tall, making them suitable for any medium.
The Incredible Bulk (Dr. Krippling Seeds)
The Incredible Bulk is ready to save anyone who's getting angry or anxious. This mighty strain packs a punch with 24% THC and is best for night sessions. You're going to enter a deep feeling of relaxation, perfect for those with insomnia.
The Incredible Bulk matures in 56 days of flowering, creating large, crystallized nugs. The yields are of course impressive – expect to harvest up to 1000g/m² (3.3g/ft2) indoors and 1500g (53oz)/plant outdoors.
Lemon Auto CBD (Herbies Seeds)
Lemon Auto CBD is a deliciously fruity hybrid of medicinal marijuana that leaves you relaxed and creative. Enjoy 17% THC and 17% CBD, making for an uplifting buzz that also helps treat anxiety, inflammation, and other symptoms.
This strain also has many natural resistances, which makes it especially great for the outdoors. It stands its own against pests, heat, and mold and reaches 100cm (39"). Lemon Auto CBD matures in 75 days from seed and yields about 500-600g/m² (1.64-1.97oz/ft2).
Golosa Early Version (Delicious Seeds)
Golosa Early Version is a fast-growing Indica-dominant strain with unique dark colors. Its appearance alone clues you into its 26% THC content, body-numbing effects, and fruity flavor.
It maintains a medium height, ideal for indoor and outdoor growing. It also has great resistance against mold and pests, which is perfect for beginner growers in RI. Golosa Early Version matures in 45 days of flowering indoors and in September outdoors. Expect to grow up to 550g/m² (1.8oz/ft2) indoors and 1000g (35oz)/plant outdoors.
Wedding Glue Auto (FastBuds)
Wedding Glue Auto dresses in feathery white and tastes like vanilla cake. This balanced 26% THC hybrid creates a cerebral high for renewed focus and creativity.
This plant matures in about 70 days from seed, producing dense buds and a pleasant aroma in the grow room. It reaches 70-120cm (27.6"-47.2"), growing well both indoors and out. Expect to yield up to 550g/m² (1.8oz/ft2) indoors and 160g (5.6oz) per plant outdoors.
Auto Orange Bud (Dutch Passion)
Auto Orange Bud is a 26% THC autoflowering strain that lives up to its name with vibrant orange hairs and a pungent citrus flavor. It leaves you feeling creative and ready to take on the next challenge.
This Sativa-dominant strain matures in 77 days and is excellent for new cultivators. Auto Orange Bud is hearty and compact, ideal for indoor growers or stealthy outdoor ones. Harvest 400-500g/m² (1.3-1.6oz/ft2) from this updated classic strain.
Bruce Banner #3 Fast (Original Sensible Seeds)
Bruce Banner #3 Fast improves upon an already incredible hybrid strain. These tall and hairy buds reach 25% THC, leaving you uplifted and creative. It has a pleasantly sweet and gassy flavor and contains 65% Indica genetics.
It can hulk out to 140-280cm (55"-110"), yet it matures in just 55 days of flowering. Bruce Banner #3 Fast finishes in September and develops highly sticky flowers for excellent hash. Grow up to 800g/m² (2.6oz/ft2) indoors and 1000g (35oz) per plant outdoors.
Girl Scout Cookies Auto (Auto Seeds)
Who doesn't need another serving of Girl Scout Cookies Auto? This Sativa-dominant strain has an earthy and chocolatey flavor with 24% THC and 1% CBD. This plant improves any mood with a euphoric rush before crashing you into the couch.
Girl Scout Cookies Auto has a pleasant aroma and develops thick buds. It reaches 65-100cm (26" -39") and matures in just 75 days from seed. This popular strain yields up to 650g/m2 (2.13oz/ft2).