Cannabis Seeds in Tennessee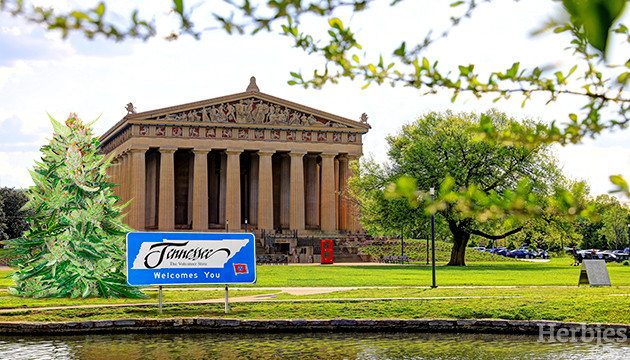 A highly conservative state as it is, Tennessee has very harsh cannabis laws. Almost anything cannabis-related, including medical marijuana, is strictly prohibited in the state. Stick with us to learn more about things you need to know to successfully cultivate cannabis in Tennessee.
Is it Legal to Buy Cannabis Seeds in Tennessee?
Buying marijuana seeds in Tennessee is completely allowed by federal law, so you can legally possess cannabis seeds as long as they don't germinate. Pot seeds themselves don't have any psychoactive effects, and therefore they don't classify as a drug. Any person above the age of 21 can legally buy cannabis seeds in Tennessee.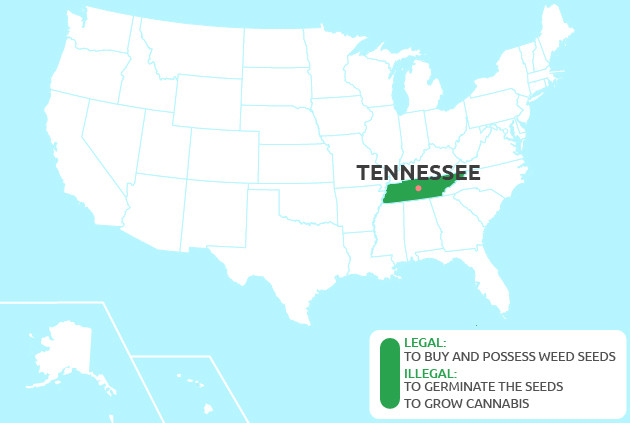 What to Consider When Buying Weed Seeds in Tennessee
Very strict laws are the first thing to consider before buying cannabis seeds, so you'll want to carefully plan your garden. However, despite the harsh cannabis laws, some growers are still successfully cultivating their seeds. The next step is to search for an experienced seed bank from which to purchase the seeds. Before choosing a strain, you also have to understand the laws and the climate in your area and which strains are suitable for it – you can read more about this right below.
Can You Grow Cannabis in Tennessee?
Both medical and recreational cannabis is illegal in the state to possess and cultivate. Possession of cannabis could lead to some serious penalties, and cultivators can even face jail time based on the amount. Growers should therefore be extra careful with their intentions.
Climate in Tennessee
Tennessee exhibits a mild and slightly humid climate, where winters are not very cold and summers are hot and filled with sunshine. The type of climate in this area is ideal for outdoor growers. Temperatures that are suitable for growing last from April until late September. Those who live in the northern part of the state might wait until May to move their seedlings outdoors.
When picking a seed, we recommend taking autoflowering or Indica-dominant photoperiod strains that will finish flowering before late September when the temperatures drop. You should also look for a strain that's suitable for a humid climate to avoid any risks of getting your buds moldy. That said, we've already picked strains like this out for you, which you can find at the end of the article.
Where to Buy Marijuana Seeds in Tennessee
Considering that cannabis is strictly illegal in the state, you won't be able to find any local cannabis seeds for sale in Tennessee. But don't worry – there's an even better way to get cannabis seeds. At Herbies, growers can easily purchase cannabis seeds online. Here, you can find a catalog with thousands of cannabis strains with 100% guaranteed germination. For any doubts or questions, our 24/7 customer support is there to help. Herbies has been successfully shipping to Tennessee for years, offering strains of the best quality. On each placed order, we prepare free seeds for our customers. For those who are looking for a discreet way of shipping, you can always choose our stealth delivery option for extra safety.
Best Cannabis Strains to Grow in Tennessee
Growers in the Volunteer State want the best seeds available, and that's exactly what we offer. All of these strains will thrive in Tennessee – you can take our word for it!
Auto Orange Bud (Dutch Passion)
Auto Orange Bud is a Sativa-dominant strain that was developed by crossing the famous Orange Bud with Auto Daiquiri Lime genetics. THC levels can reach up to 26%, providing potent Sativa-dominant uplifting effects that will unlock your creative side. The fruity flavor and aroma of blood orange and lime resemble the original Orange Bud. Yields can produce 400-500g/m2 (1.3-1.6oz/ft2) after a flowering time that lasts between 70 and 77 days.
Sweet Skunk F1 Fast Version (Sweet Seeds)
Sweet Skunk F1 Fast Version is a well-balanced hybrid created by crossbreeding Sweet Skunk Auto and Early Skunk. The resinous flowers can contain up to 23% THC, offering relaxing Indica effects for your mind and body. This strain has a sweet and spicy flavor with hints of skunk. Sweet Skunk F1 Fast Version can bring impressive yields after only 49 days of flowering – indoor plants can produce up to 550g/m2 (1.8oz/ft2), while you can expect 350-600g (12.3-21.1oz) per plant outdoors.
Bruce Banner Auto (FastBuds)
Bruce Banner Auto is a highly potent hybrid strain with 65% Sativa genetics. This strain has 25% THC-infused flowers and strong euphoric and stress-relieving effects, making it a great option for early sessions. The super-sized buds are packed with the sweet fruity aroma of berries with diesel undertones. Bruce Banner Auto has a flowering time of just 11 weeks, after which the plant can produce anywhere between 450-650g/m2 (1.5-2oz/ft2) if grown indoors and up to 200g (7oz) per plant outdoors.
Candy Kush Express (Fast Flowering) (RQS)
Candy Kush Express is a crossbreed of Sweet Special and Royal Kush strains with an almost perfect Sativa/Indica ratio. This strain contains between 15 and 20% of THC, offering a well-balanced cerebral and body high that will leave you fully relaxed. Its flowers have a sweet and spicy taste with a pungent pine aroma and hints of citrus. This beginner-friendly strain has a flowering time of 50 days, after which growers can expect great results. Indoor yields can reach up to 525g/m2 (1.7oz/ft2). If grown outdoors, plants can produce 450-500g (15.8-17.6oz) by early September.
Fruit Punch Auto (Heavyweight Seeds)
Fruit Punch Auto is a Sativa-dominant hybrid strain, resulting from crossing Skunk, Haze, and a Ruderalis. This autoflower contains 21% THC and produces uplifting and energizing Sativa-dominant effects, making it a great strain for social situations. Its sweet buds are full of tropical fruity flavors with notes of citrus. Fruit Punch Auto finishes flowering within 80 days, bringing insanely high yields. Indoor harvests can reach up to 800g/m2 (2.26oz/ft2), while outdoor growers can get expect a whopping 1500g (53oz) per plant!
CBD Lemon Auto (Herbies Seeds)
CBD Lemon Auto is a balanced hybrid strain that was made by crossing Lemon Kush with CBD. This strain contains equal CBD and THC content, which can reach up to 17%. This strain is therefore a great option for both medical and recreational users, producing relaxing and pain-relieving effects that will leave you on cloud nine. The buds contain a strong and spicy aroma of lemon along with earthy notes. Growers can expect a harvest within 75 days from germination of up to 600g/m2 (2oz/ft2).
Sugar Black Rose Early Version (Delicious Seeds)
Sugar Black Rose Early Version is a multiple award-winning strain that was developed by crossing Critical Mass and Black Domina genetics. This Indica-dominant strain contains 25% THC and produces a potent cerebral and body high almost instantly. The flowers have a sweet and citrusy taste with notes of grape and slight skunk undertones. The flowering period lasts only 45 days, and with the optimal conditions, plants can produce very high yields. Growers can expect up to 450g/m2 (1.47oz/ft2) if grown indoors, while outdoor yields can reach up to an amazing 900g (31.7oz) per plant.