Cannabis Seeds in Wyoming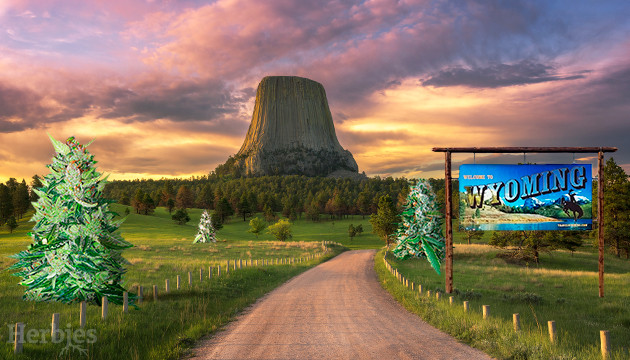 Wyoming isn't the friendliest US state to marijuana growers, but people here still manage to grow good weed, and it's not difficult to find cannabis seeds for sale in Wyoming. Read on to know more about the laws, climate, and best marijuana strains to cultivate in the Cowboy State.
Is it Legal to Buy Cannabis Seeds in Wyoming?
Since the federal government legalized hemp cultivation in 2018, hemp seeds (and in fact any other type of cannabis seed) are legal in the whole country. You can buy cannabis seeds in Wyoming, move them across state borders, or order them from an overseas seed shop such as Herbies and receive the package in your mailbox. In short, you can legally purchase and possess cannabis seeds. What you can't do is grow or even germinate cannabis seeds in Wyoming – the law only protects you as far as buying seeds as collectibles or souvenirs goes.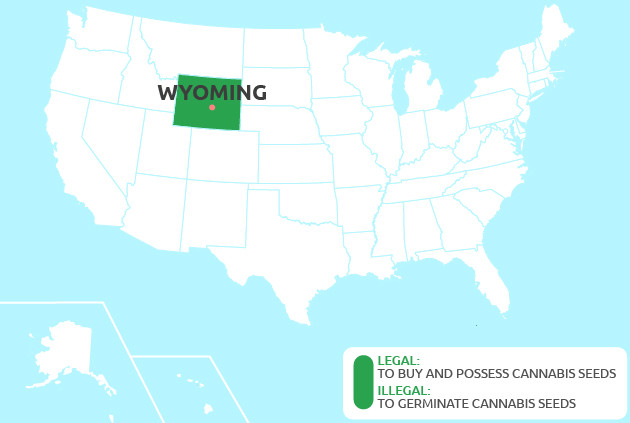 Can You Grow Cannabis in Wyoming?
The short answer is no. This state has one of the most backward cannabis laws and some of the harshest penalties in the whole of the USA. It only allowed the cultivation of hemp for research purposes in 2017, one year before the 2018 Farm Bill legalized the plant more comprehensively across the United States. Using hemp-derived CBD has also been legal since 2017, but only for one condition – epilepsy – and this legislation is of little value since CBD is now legal federally anyway.
Growing any other forms of marijuana, whether for medical or recreational purposes, is forbidden, and even simple possession of either recreational cannabis or medical marijuana can land you in jail or prison.
What to Consider When Buying Weed Seeds in Wyoming
When you buy marijuana seeds online in Wyoming, you should do so without attracting unnecessary attention. Fortunately, Herbies Seeds ships your order in unmarked plain envelopes and uses the stealth shipping option upon request – this is when we take the seeds out of their original flashy packaging and hide them in plain Zip-lock bags among random items.
With discreetness taken care of, the main question is what the best marijuana seeds are to grow in Wyoming. Continue reading to find out.
Climate in Wyoming
Growing weed seeds in Wyoming is on the whole a very satisfying experience. This is because the weather is warm, dry, and sunny enough exactly when it matters – in late August and September. It's during this crucial period that cannabis flowers really fill out and become resinous. The growing season can be theoretically extended to October too, but keep in mind that, with day temperatures in quite a comfortable range, night temperatures drop considerably, and this difference can lead to mold and bud rot.
For this reason, we advise Wyomingites to stick to fast-flowering Indica-dominant varieties – those that finish in September. And it goes without saying that any autoflower will have enough time to mature in the Wyoming climate. Whatever strain you choose, don't plant your pot seeds in Wyoming earlier than May – or do so indoors to replant later.
Indoors, Avoid the Hottest Summer Months
With the weather in mid-summer so muggy that it becomes oppressive, time your grow so that your cannabis doesn't flower in July. Otherwise, you'll find it difficult to bring down heat and humidity in the grow tent, or else you'll spend a small fortune on air conditioning.
Where to Buy Marijuana Seeds in Wyoming
Since you're not likely to find a dispensary with marijuana seeds for sale in Wyoming any time soon, your only option is an online seed store. Herbies is your one-stop shop that offers over 2,000 different strains from every major seed bank. We accept credit cards as well as wire transfers and Bitcoin, and we send the purchase to your WY address the same business day.
Our team of experts will help you with the choice and will gladly consult you on matters of cultivation once you safely receive your marijuana seeds in Wyoming. Among our other perks are free seeds with every order and several discount tiers. We bet you'll love our service, just as hundreds of thousands of gardeners have before you.
Best Cannabis Strains to Grow in Wyoming
Below, you'll find a carefully curated list of weed strains that will be perfect for an outdoor grow in Wyoming. These varieties are fast enough to reach full maturity before the weather changes in fall and will bring you enough sticky-icky potent bud to last you until next year's harvest. Plus, any of these cultivars will be just as rewarding indoors as well.
Candy Kush Express
Candy Kush Express is a wonderfully mellow and relaxing hybrid that's perfect for any time of day and situation. With its mid to high THC levels (15-20%), nothing is easier than to regulate the effects the way you want: you can stay motivated, alert, and focused after a toke or two or smoke the better part of a joint to have wild fun at a party, or even just keep smoking until you become totally motionless and give in to blissful drowsiness.
This sweet and lemon-smelling plant is incredibly fast and ready for harvest in early September – exactly when she can soak in all the plentiful sunshine that the Wyoming fall offers. Indoors, she takes only 49 days of 12/12.
Sweet Skunk F1 Fast Version
The strong Skunky heritage of both her parents makes this weed an extremely relaxing smoke that fills your mind with giggly happiness as your body is seized with wave after wave of sweet euphoria. The 1% CBD is also felt in the high as a calming presence balancing the very serious 18-23% THC levels.
The injection of some autoflowering genes made Sweet Skunk F1 Fast Version an incredible early finisher – the buds will be at their peak in the first weeks of September. They won't grow very tall either (around 3-4ft), which makes them perfect for guerilla patches and stealth gardens.
Bruce Banner Auto
If you want some Sativa in your garden and in your bowl, it's best to stick to autoflowers in Wyoming, as their chances of finishing in time are 100% compared to photoperiod Sativas. Bruce Banner Auto is a perfect choice, as her effects are as exhilarating as they are relaxing. With 25% THC, you get a fast-acting and long-lasting high that's the equivalent of a cup of coffee in the morning. Besides megavolts of energy and enough focus to channel it into something useful and creative, these buds will make you euphoric and anxiety-free.
You can smoke this weed day in and day out, and luckily, the plants yield enough for any wake-and-baker – up to 7 ounces per plant outdoors and 2oz/ft² indoors.
Fruit Punch Auto
Like a bowl of fruit punch at a party (secretly spiked with something much stronger), this auto will make you uplifted and social, so make sure you have someone to talk to, as you'll be brimming with creative ideas. You'll also face the danger of smoking too much every time, as this weed has an exquisitely juicy sweet taste of lemons, mangos, and other tropical fruit – absolutely irresistible.
Another dominant Sativa in our list, Fruit Punch Auto will have plenty of time to mature in Wyoming. You can even have two consecutive harvests from May to September, provided that the mid-summer one doesn't suffer from humidity and excessive warmth. Still, with 5.3oz/plant, you'll probably only need one harvest per season anyway.
Lemon Auto CBD
Why limit yourself to recreational strains and not grow something that has greater medicinal value? Lemon Auto CBD is a kind of medicine no one can say no to, as she packs equal amounts of THC and CBD (17% of each) in her frosted, citrus-smelling nuggets. The high from this combination is pure nirvana – you'll feel as though you've left this world of toil and woe and gone to another dimension, full of mental bliss and bodily euphoria.
She's a perfect outdoor cultivar that doesn't mind the most trying weather, from rains and draughts to hot days and cold nights. Conditions in indoor setups can be trying too, yet this plant will shine in your home garden and bring you as much as 1.8-2oz/ft² in no more than 11 weeks from seed.
Sugar Black Rose Early Version
For star-struck growers, we have one of the most decorated Indicas of recent years. Sugar Black Rose Early Version has won more cannabis cups than you can count, and this blissful nighttime smoke deserves every one of them. Her complex terpene profile ranges from fruity to spicy with an always-present background of skunk, and her 25% THC promises you a high that overwhelms you with a toke too many but softly soothes every pain and ache when taken in moderation.
The early version of this famous genetic is as powerful, aromatic, and high-yielding as the original but finishes a week or two earlier – in early September outdoors. And 45 days of 12/12 indoors is also an amazing speed – welcome news to impatient growers.
Auto Orange Bud
The smell of blood oranges is something that everyone likes in their weed, and Auto Orange Bud is probably the most citrusy of them all. Her buds also pack 26% THC – enough to put a huge grin on the face of even the most seasoned smoker. This is the kind of power that energizes you and lifts your mood so that you can take on any creative task, do monotonous work like a never-tiring robot, or party like it's your last day on Earth.
This autoflower is a very stable and reliable cultivar, with hefty indoor yields of 1.3-1.6oz/ft² and an equally good production outdoors, where she can tough out bad weather and still deliver great results.