---
Who Invented GSC And What's Its Family Tree?
What info we do have is mostly rumors. It's believed that the founder of Girl Scout Cookies strain plant is Gilbert Millam, aka Berner, the well-known rapper and cannabis entrepreneur. Together with his associates from underground growing collective Cookie Fam, he bred this award-winning marijuana strain by crossing an OG Kush from Florida with their own F1 Durban Poison. Considering OG Kush is an Indica-dominant hybrid hailing from Hindukush in Afghanistan and Durban is a pure South African Sativa, one shouldn't be surprised by the top-tier qualities of their offspring – such genetic diversity usually does produce incredible results.
Berner introduced the Cookies strain to his friend, Whiz Khalifa, and it instantly shot to stardom. Girl Scout Cookies seeds have been produced in commercial quantities and dominated the West Coast ever since. Of course, this new celebrity couldn't help but go global, and it's now available as Girl Scout Cookies feminized seeds to growers in the EU and UK and the rest of the world. It's won many prestigious international awards, including first prize for Best Hybrid at the Southern California Cannabis Cup in 2013.
GSC Effects: At Times Overwhelming But Very Balanced
Any success story in the realm of cannabis starts with mind-boggling THC levels, and Girl Scout Cookies strain is no exception. So, if you're wondering if this weed might be overrated, consider the fact that its THC content usually starts at 20% in total dry weight of the buds and sometimes gets as high as 28%!
Whether you're an Indica or Sativa enthusiast, you'll find something here to your liking. Girl Scout Cookies effect starts all in the head, making you giddy and inducing helpless giggling and a ringing in your ears. This burst of happiness and euphoria then starts radiating throughout your entire body. Sometimes the effects come in waves, with surges of mental energy one moment and full body melting the next. Although you'll get enough cerebral stimulation from the 40% Sativa makeup, the other 60% of Indica will make you too relaxed for action.
Girl Scout Cookies cannabis strain is best used to quietly contemplate the world rather than try and change it, so walk your dog, feed your fish and renew your Netflix subscription before you dab this. Alternatively, use it in the company of friends or even people you've just met – GSC can turn even a wallflower into a motormouth.
CBD levels in this weed are close to zero, yet Girl Scout Cookies seeds are insanely popular among medical patients who grow them to use the buds for managing chronic pain, migraines and gastrointestinal problems (in hearty doses), as well as for depression and PTSD (here, micro-dosing will work best).
Both GSC Smell And Flavors Are Redolent Of Pastries
The name of the strain suggests that when you open a jar of cured buds, you'll be overwhelmed by the sweet smell that actually reminds one of cookies sold by the Girl Scouts, with their hints of mint and chocolate. Add to this the rich Indica-like earthiness that only gets stronger when you break up the nuggets, along with the spicy aromas contributed by the OG parent, with some old-school skunk and a fruity whiff of something like citrus.
This unique terpene profile of Girl Scout Cookies strain that's dominated by the peppery caryophyllene and hoppy humulene comes through in the taste as well, making the smoke lip-smacking delicious. Of course, as is the case with many celebrity genetics, these sought-after flavors won't be present in all plants that you grow. So, buy as many Girl Scout Cookies seeds as you can and hope for the best – what you're looking for is definitely out there somewhere.
Some Grow Tips To Increase The Production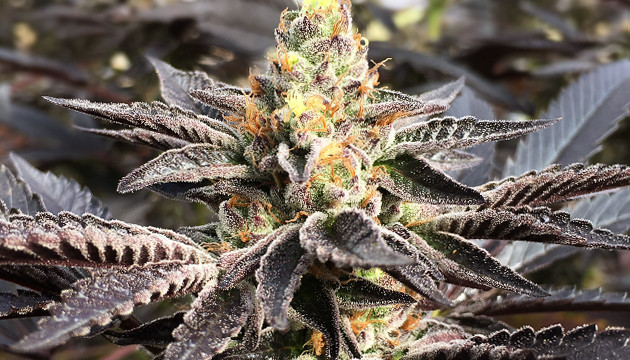 Girl Scout Cookie strain seeds are so good that they could make your ultimate cash crop. Growers can expect around 300 grams both per square meter indoors and per plant when grown outdoors. However, we have some tips how to improve the Girl Scout Cookies yield. This weed can be grown outdoors and harvested by mid-October, but only if your climate is both sunny AND dry. In less hospitable regions, try the greenhouse. Indoors, Girl Scout Cookies flowering time is 9-10 weeks, and here, low air humidity (down to 30% at harvest time) will not only help prevent mold problems (although the strain is not especially susceptible to mold and other diseases), but also increase trichome production.
Try growing your Girl Scout Cookie plant SOG-style, vegging it for two weeks or until it reaches the height of 25cm, and then inducing flowering, to achieve the best possible results, especially in hydroponic setups. Other techniques such as LST and HST aren't as effective, but still better than letting your Girl Scout Cookies strain plant grow naturally. If you want your flowers to produce as many terpenes as possible, lower the temperature (23-24°C would be ideal), go easy on the feeding and use organic nutrients whenever possible.
In any case, you'll get medium-sized and branchy plants with short internodes but long leaf stalks (petioles). The buds will be slim but super dense, with extra-large calyxes and almost no sugar leaves – ideal for trimming.
What's The Best In The Long List Of GSC Strains?
When buying Girl Scout Cookies seeds, every grower hopes to find that rare outstanding pheno that's the real deal. You now know what it should smell, taste and look like and what its effects should be. International growers are blessed with an abundance of Girl Scout Cookie seeds offered by at least a dozen producers. These GSC seeds can be in feminized, regular and even autoflowering form. The latter version was developed by FastBuds, whose mission is to introduce all famous US varieties into the European seed market. Anyway, in this collection of Girl Scout Cookies strain seeds you can find at least a handful of varieties to suit your personal growing and smoking needs. Now stop wasting your time, and go explore your delicious options!