They're back! 8 Super Potent & Best-Tasting Cannabis Strains From DNA Genetics
8 September 2020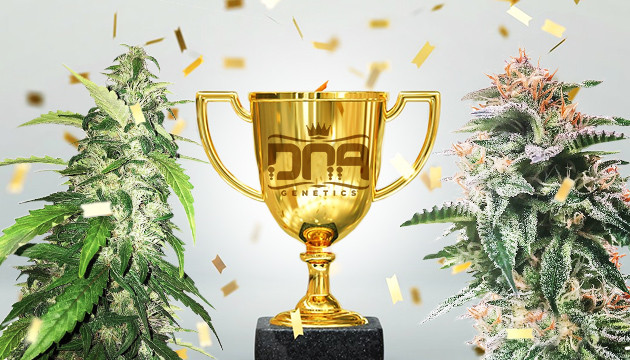 The wait is over! The most wanted strains from DNA Genetics are back in stock! Starting today, 24K Gold, Banana Sorbet, Holy Grail Kush, Bakers Delight, Rocklock, Sour Kosher, Kushberry and Cataract Kush are available in our online shop again. Let's have a look at some of these babes and recall how awesome they are!
Strains From DNA Genetics
VIEW ALL
24K Gold (aka Kosher Tangie): Sweet And Citrus-Tasting Euphoria
24K Gold (AKA Kosher Tangie) (DNA Genetics)
Photoperiod

On the Moon

No official information

450 - 550 g/m²
Go to strain
Glistering with resinous, yellow-colored buds, the 24K Gold cannabis strain crafted by DNA Genetics is a true treasure of a bud. This Indica-dominant hybrid brings a euphoric high that will leave you happy, relaxed and shining like gold. Tasting like ripe oranges, tangerines and all kinds of citrus fruits, this sweet and fruity cannabis strain is a perfect choice for those looking for a deep body-and-mind relaxation or a relief from migraines. If you're a fan of sweet tasting weed, you're gonna love 24K Gold!
Banana Sorbet: Hash-Maker's Dream-Come-True
Banana Sorbet (DNA Genetics)
Photoperiod

Peaceful warrior

No official information

450 - 500 g/m² indoors
Go to strain
Speaking of cannabis strains that taste and smell like fruit, Banana Sorbet from the DNA Genetics' Sorbet line is the best treat for lovers of tasty weed along with hash and concentrate makers. Radiating with the distinct aroma of ripe bananas, this stunning Indica-dominant hybrid offers more than a great taste. Banana Sorbet will impress you with its massive resin production, generous yields and easy-growing nature. If you love aromatic, fruit-tasting and resinous weed strains, look no further than Banana Sorbet!
Holy Grail Kush: Award-Winning Genetics For Supreme Results
Holy Grail Kush (DNA Genetics)
Photoperiod

Medicinal delight

No official information

500 - 650 g/m² indoors
Go to strain
Masterminds at DNA Genetics know how to craft a perfect weed strain that will please any grower and smoker. Featuring multi-champion genetics, Holy Grail Kush has it all: easy-cropping nature, heavy yields, strong highs and exquisite tastes. Each inhale of its THC-rich buds will bring you a mellow relaxation combined with a pleasant Indica buzz. Brimming with piney, herbal and citrusy flavors this Indica-dominant cannabis strain is perfect for nighttime use when you need to wash away stress, pains or muscle tension. Soothing, aromatic and strong, Holy Grail Kush is the right strain for you!
We've reviewed only 3 long-awaited strains from DNA Genetics that are back in stock. But let's be fair – each of DNA Genetics' masterpieces are worth trying if you're looking for quality cannabis genetics. Whatever you choose – Bakers Delight, Rocklock, Sour Kosher, Kushberry or Cataract Kush – any of these market-making cannabis strains are perfect options to grow, smoke and enjoy!
Herbies Head Shop expressly refuses to support the use, production, or supply of illegal substances. For more details read our Legal Disclaimer.