Herbies Seeds: Everything You're Looking For in One Collection
Herbies has been selling weed seeds for over 20 years now, and during this time, we've learned all the likes and dislikes of cannabis growers through and through. Extensive market research has proven that, whether someone is a home grower or involved in a large cannabis operation, everyone is looking for a combination of potency, favorable effects, stable genetics, and relative ease of growth. These are the four staples that we used as key benchmarks for evaluating the genetics that are to represent Herbies' seedbank.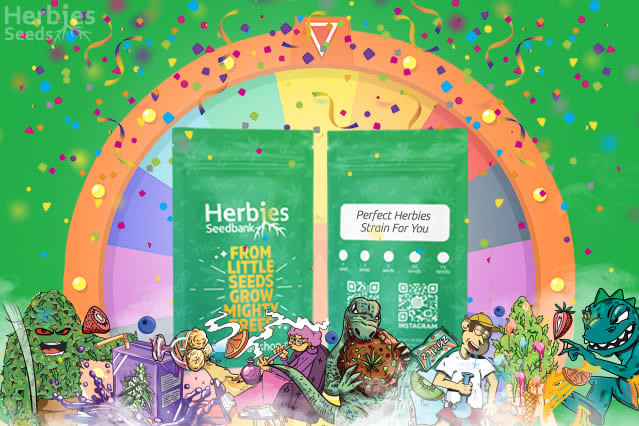 What Herbies Seed Is Right For You?
Essential Cannabis Seeds Only
As a customer of Herbies, you know that we pride ourselves on working with only the best breeders in the industry. We've kept to the same principle when choosing suppliers to provide us with the genetics chosen for our seedbank. In close cooperation with notable Spanish breeders, we've created a cannabis seed line of essential strains that need to be in every grower's repertoire. As of today, Herbies Seeds presents nine feminized and autoflowering genetics, all presented in sustainable packaging that you can later reuse for storing your harvest. Here they are:
Feminized potency champions: Godzilla Glue #4, Bruce Banner #3, Grandmommy Purple, Blueberry Hill, DDoS #33, and Runtz Punch
Autoflowering sweet cravings: Gelato Auto, Purple Juice Auto, and Godzilla Cookies Auto
Auto Mix Pack #1 with every autoflowering genetic from Herbies
The Best Cannabis Seeds for Beginners
Our genetics are stable and fool-proof, as we wanted to start with a collection of seeds that can be grown by anyone regardless of previous experience. There are no weak links here, and you can start exploring the line of seeds from Herbies with any of these strains. If you're completely new to growing, go for the Auto Mix Pack #1 to try several hit genetics in one season, and develop both a green thumb and a sense of what you'd like to grow next.
How Much are Cannabis Seeds from Herbies?
Last but not least comes the financial aspect of the first-ever collection of seeds from Herbies. We're proud to say that by taking the middleman out of the equation, we were able to set some of the most competitive prices for genetics of this level. We're making Herbies seeds affordable so that anyone can GIY and have access to clean, home-grown, high-quality bud.