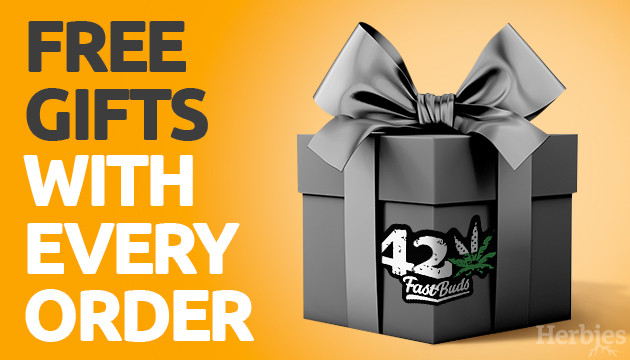 The summer is over but that doesn't mean it's time to hibernate just yet! For those stocking up and preparing for the winter, we've got a special promotion on offer. This time around, we'll be giving out free gifts with every order as a thank you for your loyalty and support.
For every order placed on Herbies, you'll get a free Gorilla Cookies Auto seed and a fancy joint holder* to keep your spliff safe. This deal was made possible thanks to our collaboration with the world-famous breeder Fast Buds.
Hurry to seize this opportunity! The offer is valid from 00:00 September 5th to 00:00 September 19th (PDT) or until the bonus items are in stock.
Gorilla Cookies Auto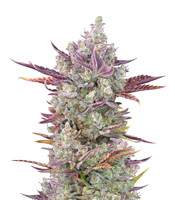 Gorilla Cookies Auto (FastBuds)
Autoflowering

500 - 600 g/m² indoors
50 - 300 g/plant outdoors

27 %

As high as a comet
View strain
Arguably one of the most powerful autoflowering strains in the game, Gorilla Cookies Auto boasts a staggering 27% THC. It delivers a potent head rush with intense giggly euphoria that will slowly send pleasant waves of tranquility throughout your body.
This is an ultimate late-night strain, perfect for when there's nothing left to do but get completely stoned out of your mind and have an amazing time – what else do you need on these long fall nights?
Joint Holder
This all-black plastic joint holder is the perfect accessory to carry your joints discreetly and keep them fresh; it embodies the one-size-fits-all approach, as it can fit anything from 0.5 up to 2 g joints with ease.
It easily fits into a pocket, backpack, or purse, and it grants extra protection and always keeps the smell inside. Plus, it looks really good!
You can enjoy this promo with every order, meaning that you can keep ordering your favorite strains but now with one of the most powerful strains on the market as an extra. As always, the rest of our bonuses and discounts remain active. Feel free to combine them to get the most out of your shopping experience at Herbies!
*For the sake of stealth and smooth delivery, we currently don't add joint holders to orders from the US, Bulgaria, Estonia, Germany, Australia, New Zealand, and Pakistan. We keep working on making our gifts available to customers from these regions as well – stay tuned for updates.
Herbies Head Shop expressly refuses to support the use, production, or supply of illegal substances. For more details read our Legal Disclaimer.